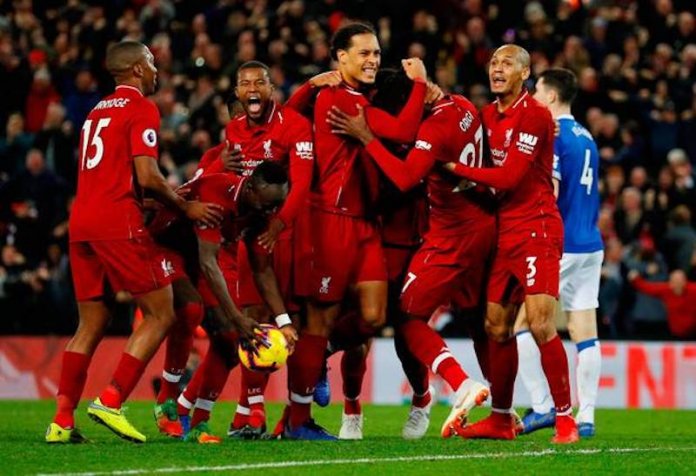 Summer transfer window to hold between July 27 and Oct. 5
Liverpool will lift the Premier League trophy in a special ceremony on the Kop following next Wednesday's fixture with Chelsea.
Jurgen Klopp's team secured their first league title in 30 years in June but fans will not be at Anfield to watch the ceremony because of Covid-19.
It will be aired for free on Sky's Pick channel in the UK.
Club legend Sir Kenny Dalglish will hand out medals before club captain Jordan Henderson lifts the trophy.
Henderson – who lifted the Champions League trophy last season – will be the first Liverpool captain to lift the trophy awarded to the English champions since Alan Hansen in 1990, despite his season being over because of a knee injury.
Henderson and his team-mates will receive the trophy on a podium surrounded by banners made by fans and built in the middle of the famous Kop Stand.
The club has urged fans to "stay at home to enjoy the ceremony" in light of the ongoing measures in place to safeguard against the spread of coronavirus.
"With supporters unable to attend the behind-closed-doors fixture, the historic occasion will involve a unique presentation designed to acknowledge and celebrate Liverpool fans," the club said.
In the aftermath of Liverpool mathematically sealing the title, fans gathered at Anfield despite being warned it was not safe to do so.
Fans also gathered at the city's waterfront the following evening and faced criticism from both the club and the city's mayor Joe Anderson.
Meanwhile, the Premier League and English Football League summer transfer windows will be open for 10 weeks between 27 July and 5 October, subject to FIFA approval.
In addition, the Premier League and EFL said in a statement on Wednesday that there will be a domestic-only window between October 5 and 16.
"During this window, clubs will only be able to trade with EFL clubs (either loans or permanent registrations)," said a Premier League statement.
"No transfers can take place between Premier League clubs in this period."
The EFL also said any new signings by its clubs could not play until the start of the 2020-21 season.
"This is applicable to clubs involved in the Championship play-offs," it explained in a statement.
The EFL added: "The window for international registrations closes at 23:00 BST on Monday, 5 October, with an agreement in place with the Premier League for an extended two-week domestic-only window, which will close at 17:00 on Friday, 16 October."
There has not yet been any announcement on a start date for the 2020-21 season.
Launching the new season on 12 September remains the most likely option, but that comes immediately after September's round of international games.
The Football Association and EFL are concerned the reduced number of match dates will have an impact on their respective cup competitions.