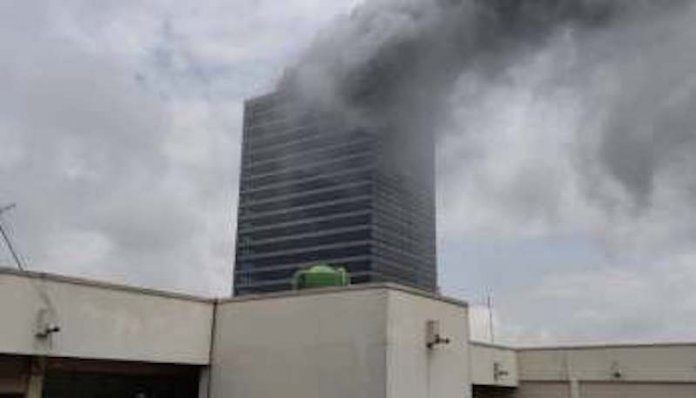 Bennett Oghifo
Fire yesterday gutted a section of the World Trade Centre building located in the Federal Capital Territory (FCT), Abuja.
The fire was said to have started from the top of the skyscraper which dots the skyline of Central Business District (CBS), Abuja.
However, First Continental Properties Limited, owners of the centre, has said the building is intact and safe after an unfortunate fire in a small section in the upper floor of the 24-floor building.
The General Manager, Operations, Ibukun Adeogun told THISDAY, "A small fire close to our top shaft, immediately the building's management system deployed the sprinklers that put out the fire within minutes. But because it is close to the top and the extractor was working, it took the smoke out of the building."
Adeogun said the building is intact and safe, stating that the smoke was seen easily because the building is the tallest in Abuja, and that no single window pane in the mostly glass building is broken.
According to him, "The fire was contained efficiently. The Automatic Water Sprinkler System was triggered and released water that doused the fire within minutes.
"The Sprinkler system also activated the fire pump room equipment which maintained the water pressure that successfully put it out. The building is safe and intact as the incident was isolated within a small area. There were no injuries."
The World Trade Centre is conceived as a mix-use complex of eight buildings in the Central Business District of Abuja, FCT.