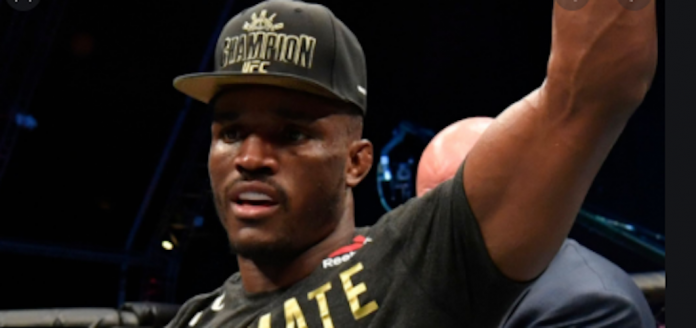 *President Buhari Congratulates Usman
By Duro Ikhazuagbe with agency report
Auchi Edo State-born welterweight champion, Kamaru Usman, defeated American Jorge Masvidal in a unanimous decision victory in Abu Dhabi early hours of Sunday to retain his UFC 251 title.
The clash against Masvidal in the 'Fight Island' in the Emirates lived up to billing as Usman sustained his grappling and wrestling tactics in the early rounds and avoided strikes from the American who was an 11th hour replacement for Brazilian Gilbert Burns. Burns tested positive for Covid-19 six days to the fight and had to be replaced by Masvidal.
The 33-year-old 'Nigerian Nightmare' who danced into the octagon with Burna Boy's song playing in the background with him waving the country's green white green flag, was scored 50-45, 50-45, 49-46 by the three judges after five gruelling rounds without spectators.
The 35-year-old American found a home for his strikes early on as he started the faster of the pair.
He had a clear speed and accuracy advantage in the striking department and he stung the champion with multiple shots during the opening exchanges, while nullifying Usman's early takedown attempts.
But Usman exerted constant pressure on the challenger as he denied Masvidal the time and space to throw his strikes. Usman looked to use his clinch work to wear on Masvidal, with much of the second round spent against the cage in a lengthy and gruelling exchange.
The legacy of the round was a nasty cut above Masvidal's right eye, courtesy of an accidental clash of heads.
A huge slam takedown from Usman was the biggest moment of the third round as the champion continued to smother Masvidal's striking.
That pattern repeated through the final two rounds as Usman shut down Masvidal, who had earned his shot at the title with a trio of stoppage victories over Darren Till, Ben Askren and Nate Diaz in 2019.
Usman's victory improved his record to 17-1 and extended his winning streak to 12 fights in the UFC.
Speaking after the fight, the Nigerian champion said: "Jorge (Masvidal) is a tough guy and I give him credit for that," said Usman.
"They call him 'Gamebred' for a reason – he's always game to fight. I'm just a level better. I have more tools in the toolbox," he boasted.
Later yesterday, Usman shrugged off criticism of his performance against Masvidal as UFC fans began branding the welterweight king 'the most boring champion' on social media.
"Well maybe they need to get in there (octagon) and fight Jorge Masvidal for 25 minutes and then say something," he replied.
"That's the thing, there was a time when people started hating Floyd Mayweather because he was so dominant.
Mayweather defence was that he was so good at what he was doing.
"Oh, that's boring, he's not fighting" because people want to see a bar fight? "We're risking our lives in there. And we've trained.
"What was the point of training each and every day and then go in there for a slug fest?
"You train to be able to make someone miss and control them in a certain way. "That's what training is for, so you're not in there taking punishment at will. I do that better than anybody," concludes Usman.
Meanwhile, President Muhammadu Buhari has congratulated Kamaru Usman on the successful defence of his Ultimate Fighting Championship (UFC) welterweight title with an emphatic win over Jorge Masvidal.
According to NAN, the president's congratulatory message was conveyed in a statement by his Special Adviser on Media and Publicity, Mr Femi Adesina, in Abuja on Sunday.
Buhari commended the courageous fighter for finishing strong inside the octagon, proudly flying the green and white colours in distant lands.
According to the president, as the first African-born and Nigerian UFC Champion, Usman has reminded the world that good things and great people still come out of Nigeria.
While the global COVID-19 pandemic may have brought gloom to many families and nations, the President expressed delight and appreciation that Usman has lifted the nation spirits with another professional performance.
He said this had also proven that things would surely get better at the fullness of time "when we remain committed to our vision''.
The president wished Usman the very best and more victories in his career and prayed that like fine wine, he improves with age.
In the night's co-main event, Alexander Volkanovski, 31, retained his featherweight title by edging a split-decision verdict after five tight, tense rounds with former champion Max Holloway.