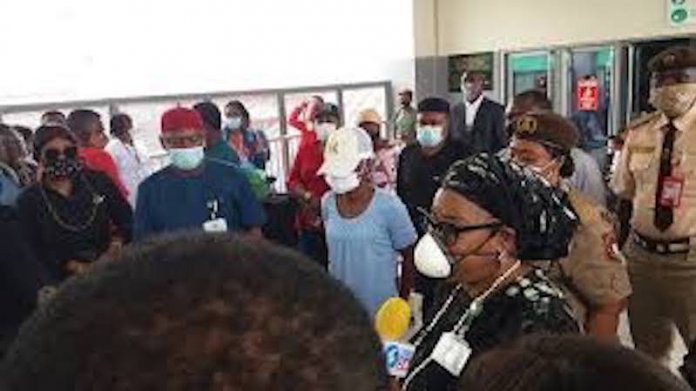 Udora Orizu in Abuja
Temitope Ariwolo, a 31-year-old female Nigerian who was abused by her employers in Lebanon and prevented from leaving the country, and other Nigerians held captive in similar circumstances have arrived in the country.
The House of Representatives Committee on Diaspora had on Thursday announced their impending return, after a closed-door meeting with the Lebanese ambassador at the National Assembly Complex in Abuja.
Ariwolo and the other returnees arrived at the Nnamdi Azikiwe International Airport, Abuja Saturday afternoon in a chartered flight, and were received by the Chairman, House of Representatives Committee on Diaspora, Hon. Tolulope Sadipe, lawmakers and government functionaries.
Speaking to journalists shortly after their arrival, Hon. Sadipe, while reiterating the 9th Assembly's commitment to ending human trafficking, said it was a day that Nigerians should celebrate as a nation.
She said, "The Speaker Hon. Femi Gbajabiamila, made a commitment to Nigerians that the life of every Nigerian is precious. It's a day that Nigerians should celebrate as a nation. On this human trafficking, we made a commitment at the House of Representatives that we will say no to human trafficking, the same way we are saying no to rape. Today Temitope is back home, we really want to understand what happened back in Lebanon."
She also advised that this should be a sign to other young ladies who want to go abroad for greener pastures to ensure that the circumstances that they were going into were the expectations they had when they signed up with these agents.
Also, the Director General of the National Agency for the Prohibition of Trafficking in Persons (NAPTIP), Julie Okah-Donli, assured that Temitope will be rehabilitated and empowered.
She said, "We just have one person of interest right now that came from Lebanon which is Temitope, we are going to rehabilitate her in shelter and empower her. She's also going to be quarantined for two weeks, after 14 days we will now take her to the shelter and give her some support and counsel her because she's traumatised. We have so many people ready to empower her."
When asked if any arrest had been made of those who facilitated her travel, she said, "We can only start the job of arresting after we've profiled her properly and counseled her, then we get all the necessary information that will lead to the arrest of the perpetrators."
On her part, Temitope Ariwolo expressed gratitude to be finally home.
The returnees were handed over to the National Agency for the Prohibition of Trafficking (NAPTIP) for rehabilitation and driven out of the airport for the mandatory 14-day quarantine protocols of COVID-19.