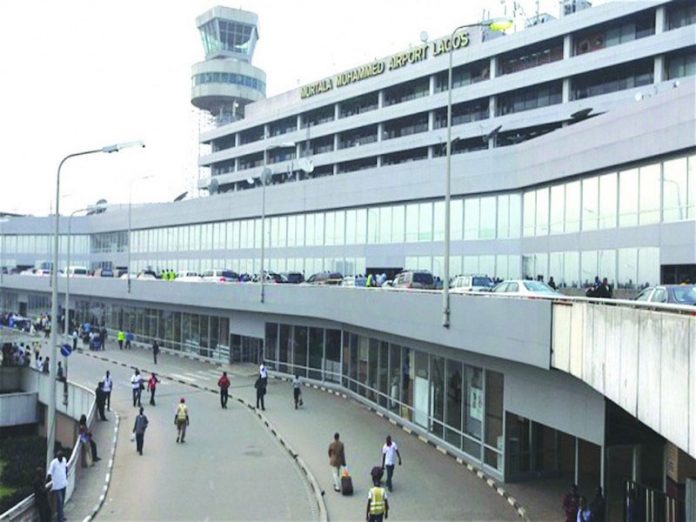 By Chinedu Eze
There was low turnout of passengers Wednesday as scheduled domestic flight operations resumed.
Flight restart was kicked off by Arik Air, which records the first flight from Lagos to Abuja, three months and 14 days after the nation's air space was closed for scheduled passenger service.
At the average fare of N29,000 for economy class, spokesman of Arik Air, Adebanji Ola, told THISDAY that the load factor was average "and the second flight was even better than the first in terms of passenger turnout."
The low turnout was felt at the two domestic terminals of the Murtala a Muhammed International Airport (MMIA), Lagos.
Flights resumed at Murtala Muhammed Airport, (MMA2) and General Aviation Terminal (GAT) domestic terminals amid strict safety protocols.
Airlines that operated include Air Peace, Arik Air, Max Air and Ibom Air on Lagos-Abuja routes with about 50 to 60 percent load factor.
For instance, Arik Air's 7:15am Lagos-Abuja flight had 78 passengers with a Boeing 737 aircraft which would have flown an average of 150 to 200 passengers despite the social distance requirement.
On its second Lagos-Abuja flight, the airline had about 80 passengers.
Aero Contractors said it would resume flight operations Thursday, July 9.
A visit to the Lagos airport showed passengers were required to wear face masks, observe social distancing, use hand sanitisers and thermometers to check their body temperature.
Passengers said they were impressed with the level of compliance in response to tacking COVID-19 and they hope this compliance is sustained.
Aisha Khalid, one of the passengers on Max Air at the Lagos Airport said that she was very happy with the flight resumption and with the protocols initiated by the airport authority to ensure passengers were protected from contracting COVID-19.
"My flight will take off by 11am but I left the house by 6am just to ensure I get to the airport in time and keep to the rules of being at the airport three hours before take-off.
"I am impressed with what I see at the airport. Everything is working perfectly fine. Social distancing is implemented and the screening is perfect," Khalid said.
Following the approval that flight operations would begin Wednesday, the Federal Airports Authority of Nigeria (FAAN) released new procedural guidelines for air travelers and other airport users. The new Standard Operating Procedure (SOP) is aimed at protecting all stakeholders and preventing further spread of the Covid-19 virus.
In a statement signed by Corporate Affairs Manager, FAAN, Mrs. Henrietta Yakubu, the agency had said, "In the "New Normal", departing passengers must comply with the following guidelines; All passengers must arrive the airport properly kitted with their face masks on.
"They must also ensure a minimum of one point five meters (1.5m) physical distancing, Aviation Medical/Port Health personnel would screen each passenger and ensure the use of face masks, those travelling with pets must get necessary clearance from Nigerian Agricultural Quarantine Services, All passengers' luggage would be disinfected before entry into the departure halls.
"Passengers are required to wash their hands as often as possible, hand sanitizer would be provided for passengers before entrance, at the waiting halls/lounges and pre boarding gates, All footwear would be disinfected or sanitized by foot mats placed at all entrances to the terminal building, amongst others."