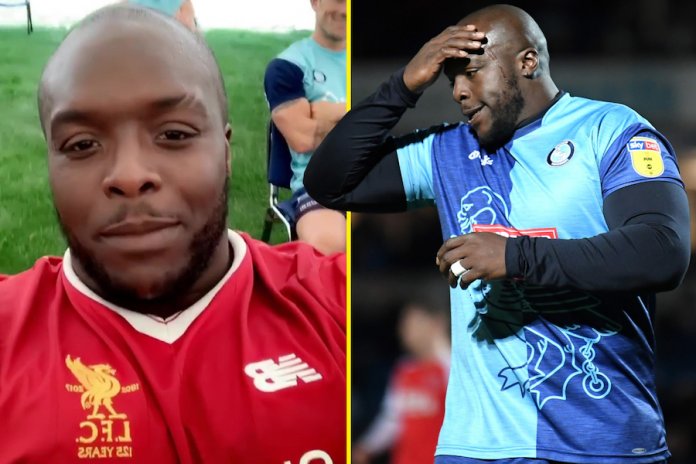 *Jurgen Klopp insists he doesn't want a statue in his honour at Anfield
Nigeria-born Adebayo Akinfenwa who wore a Liverpool shirt to his Wycombe club training ground on Friday after his beloved Reds were crowned Premier League champions has admitted to accept the fine in good faith.
Jurgen Klopp's side were confirmed as title winners for the first time in 30 years after Manchester City lost 1-2 to Chelsea on Thursday night at Stamford Bridge.
And Akinfenwa, nicknamed 'The Beast', admitted he would 'happily take the fine' as he wore the Liverpool shirt during a tactical session at his current club Wycombe.
The 38-year-old recorded a video on his Instagram of him wearing the shirt, with his team-mates laughing around him.
The Wycombe striker is famously a Liverpool supporter and he actually scored against the Reds for AFC Wimbledon in 2015.
That was in Steven Gerrard's last season at the club, and Gerrard scored twice to clinch the FA Cup third-round tie against Akinfenwa's side.
'The Beast' regularly posts on the social media platform donning a Liverpool shirt and also this week posted a photo alongside current Liverpool skipper Jordan Henderson.
Akinfenwa posted the photo alongside the caption: "Let me say this for the people in the back. Standing with the captain of the Premier League champions. Well done fully deserved."
Wycombe, managed by Gareth Ainsworth, are getting ready to play Fleetwood in the League One play-offs on Friday.
Meanwhile, Jurgen Klopp insists he does not want a statue in his honour as the Liverpool manager stayed humble in his first press conference as a Premier League champion.
Manchester City's loss at Chelsea on Thursday night means Liverpool have an unassailable lead at the top of the Premier League table, and so have clinched their first top-flight title in 30 years.
It is Klopp's fourth trophy at the club since arriving in 2015 and, after a night of celebrations, the manager spoke at Anfield on Friday about this latest triumph removing the burden of history from his players – and about a call he made to his family moments before the title win was confirmed.
"I called my family 10 seconds before the final whistle,' Klopp revealed in a press conference. 'I told them I loved them and they said they loved me. That was a really nice moment.
"I was never sure it would happen, but I never doubted it. It's incredible. We were good four years ago, really good three years ago, unbelievable last season, and this season is absolutely exceptional – second to none.
"I still want to live for 30 or 40 years, I'm not interested in a statue. You don't have to compare me with these iconic figures.
"The last 13 months were pretty special for us. It is an incredible time in my life, to be honest. I couldn't be more thankful to be part of it. And we will not stop."