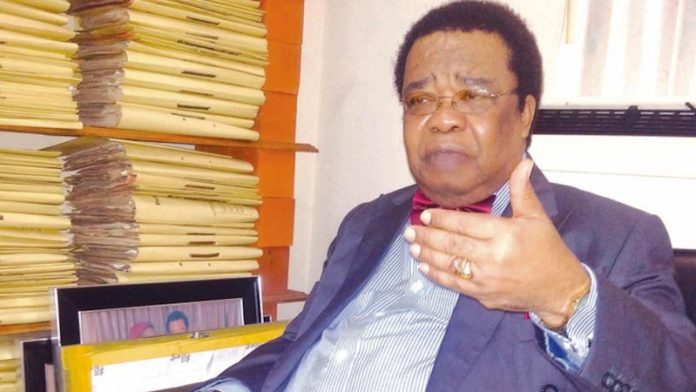 Knocks Trump, Bolsonaro over COVID-19
By Emma Okonji
Former Nigerian Foreign Affairs Minister, Prof. Bolaji Akinyemi, has objected to a recent call by former United Kingdom Prime Minister, David Cameron, to set up a separate body aside the World Health Organisation (WHO).
Cameron, who expressed his disappointment in the operations of the WHO, had called for the setting up of a separate body outside the WHO to deal with the challenges of COVID-19, while expressing his worries over the operations of the global health body.
Reacting to Cameron's comment on WHO, Akinyemi said the call by the former prime minister showed that he (Cameron) was only focusing on the wrong issue.
According to him, his comments could be likened to a situation of leaving leprosy to attack a less infectious disease like eczema.
"He is saying that he is not satisfied with the way WHO is handling COVID-19 in terms of giving early and sufficient notices to allow different governments to put the appropriate measures in place, but the truth is that even after WHO raised the alarm on COVID-19 pandemic, there were several governments that did not take WHO serious, and they did not put the appropriate measures in place, even though most countries did. For instance, the United States of America and the UK did not adhere to the WHO's warnings on COVID-19," Akinyem said.
Reacting further, the former foreign minister said: "We are aware that Cameron is advocating for a new organisation dominated by scientists and funded by the private sector, but if such body is even set up, will these same governments that are opposing WHO not also oppose the new body? The fact is that politicians who are in position of governance do not really show respect for scientists. The call by Cameron for another body outside WHO is just a diversion of resources from WHO to a new organisation when there is no guarantee that such thinking is practicable. I do not have regard for politicians who attempt to become statesmen after leaving office."
Addressing the issue of non-compliance of COVID-19 measures, Akinyemi faulted the situation where President Donald Trump of the United States and President Jair Bolsonaro of Brazil would flagrantly violate the precautionary measures put in place by WHO.
According to him, "What is happening in Brazil and the United States is actually due to recklessness and lack of leadership on the part of the Presidents of Brazil and United States, who continue to play games with the COVID-19 virus.
"Until recently, a court in Brazil insisted that it would fine the president if he ever appears in a crowd of people without wearing a face mask. He has been going around without mask and this has to stop.
"In the case of the United States, the judiciary is yet to force President Trump to always put on his face mask whenever he appears in a public gathering, despite the fact that a lot of the personnel attached to him in the White House have been knocked down by COVID-19. Some of them have gone into self-quarantine. Such act exhibited by President Trump, where he attends rallies without wearing a face mask, is a sign of recklessness, yet they ask people who attend such rallies to sign waivers that they will not sue the Trump campaign organisation if they become affected with COVID-19. This is wickedness in the highest order."
He said: "In Portugal, China, Germany, Nigeria and South Africa, we are seeing an upsurge in the numbers of COVID-19 infected people on a daily basis. Some of these countries have started re-imposing lockdown to curb the spread of the virus. The challenge of COVID-19 is huge and I do not blame any government that is applying the lockdown measure to curb the spread of COVID-19."