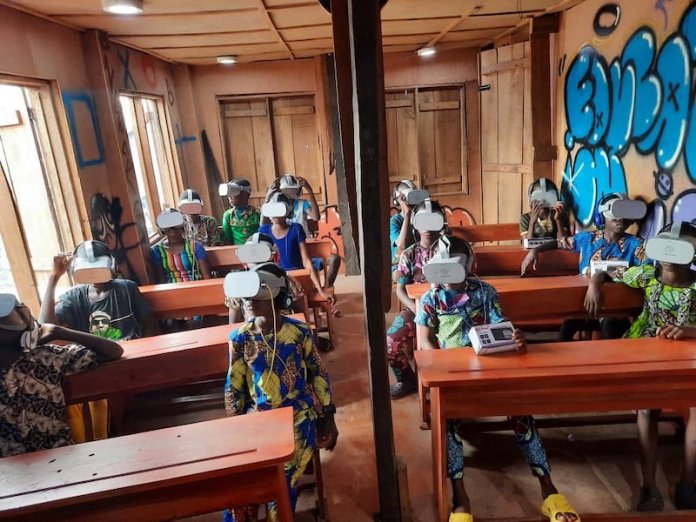 Vanessa Obioha gives a first-hand account of Makoko, a Lagos community where poverty is as prevalent as the lagoon waters that surrounds it
There is a hint of opulence as you drive into Makoko community in Yaba area of Lagos State. Storied buildings with clean lawns and trees line both sides of the tarred road. The headquarters of popular music channel, Trace Naija is nestled in one of the gated estates along the road.
The illusion of wealth, however, fades as you proceed further into the heart of Makoko community. The storied buildings give way to crowded tenement buildings. There are no clean lawns or shade trees; the road is narrower as humans and cars struggle for space on the crowded market street.
This part of Makoko comprising two villages: Sogunro and Apollo is regarded as the mainland area of the popular slum in Lagos state. A shortcut from the market street takes you down a maze of alleys that lead to the jetty, filled with shabby buildings so closely built that residents are often seen lounging in front of their houses. Children, barely clothed and bare-footed gleefully play cops and robbers in the alleyways littered with rubbish. They never hesitate to greet or smile at an unfamiliar face but quickly retreat when reproached by elders. To the children, this is their world and they are not ashamed of it.
At the jetty a row of boats line up the Makoko waterfront like an impoverished version of Venice, the popular lagoon city in Italy. In Makoko, there are no Grand Canal thoroughfares surrounded by piazzas or Gothic palaces. Instead, there are wooden houses, built on stilts surrounded by waste.
In this slum, that Noah Shemede, the owner of the only school in the waterfront, Noah Whanyinna Nursery and Primary School — the popular floating school that was the subject in one of renowned filmmaker Femi Odugbemi's documentaries — was born, raised and still lives. Not that he can't afford to move to greener pastures, but he feels at home in the slum which is home to an unknown number of persons.
On our way to the jetty, many stopped by to greet him, hailing him 'The Honourable', a title he acquired when he contested for the council leadership in the area. He didn't pursue the dream too far.
A boat was waiting to convey us to the School Area where his school is located. Shemede refers to the boats as cabs. One can choose to take a VIP ride or share with other passengers. The former will cost a rider N200 while the latter goes for N50. The boat drivers, mainly young men and boys use the boats as a source of livelihood. As the only means of transportation in the waterfront, many families own boats. Some are as small as canoes and the big ones are used to transport heavier goods. Those who can't afford a boat borrow one from neighbours or wait for passing boats to pick them up at designated spots.
Like the busy roads of Lagos, the waterways in Makoko are also busy. The good thing however is that there are no traffic or accidents despite the bumps and clashes. For a first-time visitor, the experience can be scary, particularly when two boats are facing each other, as if a head-on collision is imminent. Such happenstances are common in Makoko. Even when the boat rocks, neither the passengers nor the drivers exude fear, rather they use their paddles, hands or feet to steady the boat.
Noah Whanyinna School stands magnificently on the waterfront. It received a facelift last year through the help of She Builds Life Foundation. The floating structure is replaced with another wooden structure with a sandy assembly ground that is supported by planks to prevent it from sinking. Shemede revealed that the building is not complete yet.
However, the school got another uplift earlier this year. For the first time in the school, and perhaps, first time in Makoko, they had access to electricity through the intervention of award-winning filmmaker, Joel Benson.
Benson's relationship with Shemede dates back to 2010 when he was still working with the celebrity photographer Kelechi Amadi-Obi. They had come to do a shooting for a TV personality, Funmi Iyanda. Since then, the two developed a cordial relationship, with Benson rendering help to the school, the best way he could, every now and then.
Having done a similar project in Chibok, Borno state, last year, when he got a kind-hearted Nigerian to donate solar panels to families of the kidnapped girls, Benson narrated how his friends from Israel took interest in Makoko during their visit earlier in the year.
"They stumbled on Makoko while plying the Third Mainland Bridge on their way from the airport to my home. They were intrigued by the scenery and and were keen on visiting the place. When we came, it was a spur-of-the moment decision, we all decided that we'll make our project film for that training on the school, and I will use the content to raise funds to support the school," he said.
At the time of making that decision, Benson had no idea who would buy into his vision for the school. Providence however made his path cross with that of Adaobi Oniwinde, the Policy and Partnerships Manager of All On, an investment company seeded by Shell.
"I only showed her the rushes and she was blown away. She asked me what we could do for the school. I told her we could hear the kids screaming at the top of their voices, because the generator was on when we were filming. Since she worked in the power sector, she quickly understood what was most needed. At that moment, Oniwinde made the decision to provide solar energy to the school. She told me that it will not cost her anything to make a difference in the lives of these kids."
But before they could install the solar panels in the school, the COVID-19 pandemic set in and the state was locked down. As the days rolled into weeks, Oniwinde worried that time was passing by. She gave Benson a call asking him how the children were coping with the lockdown. That conversation led to a call to Shemede who informed them that he was worried about the children since schools were shut. He disclosed that there were plans to buy radio sets for the primary school students so they could take part in the Lagos state educational programme on radio. He told Benson that he feared that the students may be discouraged from continuing their education.
Shemede's fear stemmed from the troubles he went through to convince parents to send their wards to school when he started in 2009. He recalled inviting about 100 parents to educate them on the importance of education. Only 64 responded.
"The main vocation here is fishing so naturally, parents want their children to toe that path. They believe fishing is everything. I also had the same mindset. My parents used to flog me before I could go to school. I hated school then. My mindset changed however when I went to secondary school on land. I met people from different backgrounds and different ideals. They made me realise the importance of education. So I made up my mind to groom the next generation, to enlighten them on the importance of education. We have about 270 students in college today."
After much deliberation, Benson suggested to Oniwinde that they buy smart TVs for the nursery school students so they could watch educational programmes on TV. Oniwinde welcomed the idea.
On Children's Day, May 27, Whanyinna School bade goodbye to generator sets. New solar panels and smart TVs were installed. For the children, it was a delight to see their classes illuminated. They looked on excitedly as Benson and his crew went about the installation. However, the icing on the cake for the children was when Benson decided to take them to Ethiopia through a Virtual Reality film. The experience was surreal for the children who may never know another world apart from theirs.
Their excitement didn't miss the eyes of Oniwinde.
"Most of these kids may never get to leave Makoko, let alone Lagos. Yet in the same way I first visited Makoko via a Virtual Reality headset, these kids got to visit Ethiopia on Children's Day. The possibilities of learning using virtual reality are endless. This is especially true in a post COVID-19 world where, our ways of learning, working and doing business have changed. We may have entered an era in which online learning is the new normal and virtual reality becomes the game changer."
Even though she had been to Makoko virtually before her physical presence in that community, nothing prepared her for the gamut of emotions that ran through her when she finally arrived there in person.
"I'd seen a documentary about, read and heard loads about how people in Makoko live. But nothing could have prepared me physically or emotionally for what I witnessed. The idea that about a quarter of a million people live and thrive in a community built on stilts over a heavily polluted lagoon is mind boggling. I was first struck by their way of life. Everything happens on water. Kids are born, grow up and learn to do everything surrounded by pollution and poverty. There is no 'proper' infrastructure for sanitation, health care, commerce or education. Yet, remarkably the community is alive and thriving. I was emotional, sad and impressed all at once that people in our backyard here in Lagos live like this and yet there isn't any kind of government intervention to help this community."
Indeed, the plight of Makoko has been overlooked. The waterfront area which is made up of four villages Oko Agbon, Adogbo, Migbewhe, Yanshiwhe is like a forgotten nightmare of the state government. During the lockdown, the area was not listed among the households to receive palliatives from the state government. More disturbing was the absence of the Lagos State Universal Basic Education Board (SUBEB) — which responsibilities include co-ordinating and supervising teaching and learning in public primary schools and junior secondary schools in the state in Makoko. The Lagos State government agency is not even aware of the Noah Whanyinna School, according to Shemede.
But with the likes of Benson who is bent on making films that will transform society, more Oniwindes can be moved to bring a ray of hope to a forgotten community like Makoko.