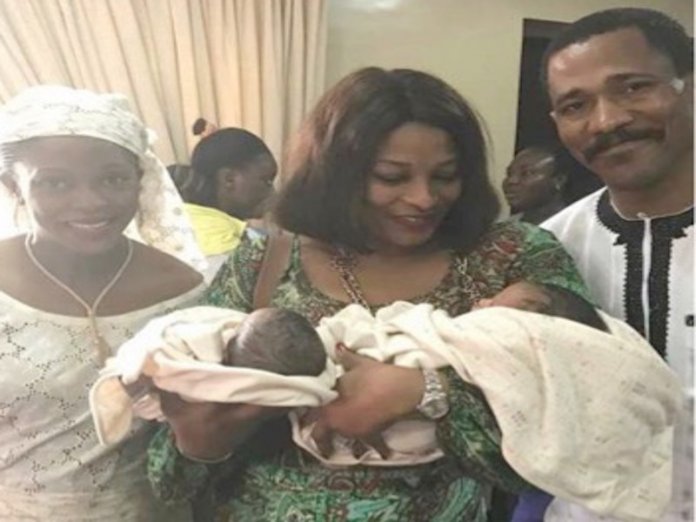 By Affia Grillo
Charm is deceitful
Beauty is vain
But a women who honours the Lord
Will be Praise…Prv 31: 30
To some she was a pretty face, an ex-beauty queen married to a celebrated Pastor. To others, she was a virtuous woman worthy of praises.
In the past weeks, stories of Ibidunni Ighodalo's virtues have outsold her pretty face. Many have come to know she was much more than a pretty face, or, a strapping on her husband's arm… She was a woman described as having a golden heart. To leverage on Barbara Taylor's Blockbuster novel title – A Woman of Substance, it is easy to sum her up as that- A woman of Substance! Family, friends and colleagues have described her in a consistent way-purpose driven, passionate and a perfectionist" She is greatly admired for turning her pains into another woman's gain.
On her Nights of Tributes a fortnight ago, she was recognized and honoured not only by the underdogs, but also by the highest office in the country- The Presidency!
The common themes that resonated all through that evening were; her uncanny knack for excellence, humility, her heart of gold, her Sainthood, generosity, kind, fearless, and her great attention to details.
Her humility! It was a key theme. The top on all the tributes that came pouring out. It is no wonder that the Bible cites riches and honour as a reward for humility (Prv 22; 4) these two attributes were not in doubt were Ibidun was concerned. Pastor Femi Atoyebi described her humility and respectful nature as second to none, with great admiration- "It didn't matter where she saw you, she will go down on her knees to greet you," he said this with a note of deep sadness- "Heaven has indeed gained a saint" he added.
Former Lagos State Governor -Babatunde Fashola used the illustration of a butterfly to describe her- with a note of nostalgia, he goes down memory lane to his childhood, " as children we try to catch a butterfly because of how beautiful they are…" but butterflies are not meant to be caught we soon learnt. "They come to beautify a place and move on" he remembered the role she played in the "beautification of Lagos" and how, many children basked in the beauty she created around the city of Lagos during the Christmas festive periods. He concluded by saying, "she was a woman with great attention to details."
Another attribute worthy of mentioning was her fearless nature. She was described as being fearless- unfazed by many things, with an undisputable believe in God's ability. Many said, "She loved and gave without expecting anything in return. Ensuring she did everything to the highest standard, adding more value than your money's worth." "Everything she does, she wants it to be perfect" Lawal, an employee of her company reported. " What a Soul!
Mrs Adenuga described her as someone who "gave the best hugs" The description reminds me of the kind of hug you get that lingers long after the embrace is over. A hug that assures you that, you are loved.
However, it was Tope Shonubi's confession that struck a chord in my heart. Amidst struggle with his tears and a voice deeply laden with pain, he confessed to not knowing many people who will use their own "Pain as a blessing to others." He went on to admit that "if those of us who had only been a "secondary" part of her life can feel such sense of loss," it leaves little imagination to the sense of loss being felt by those who were a "Primary part of her life."
It was indeed a very emotional evening.
My encounter with Ibidunni dates back to 2004. I was working with a foremost PR firm then, we had our choice of clients. On their list of clientele, was the second largest Mobile telecom company back then in Nigeria. We were responsible for their PR and events planning. On this particular day, our client notified us, howbeit last minute, not to bother with the Event planning. According to our Client contact – "we are giving the event to one small girl that just started her own Event Company; you guys are already big…" He said casually. After the trial with her company Elizabeth R, we never got the brief to manage their Events anymore. I still recall the moment we walked into the venue for the occasion- our first though (My boss and I) was that, there had been a change in the venue. The venue we had become familiar with had been transformed! Beyond any doubt, she did have a way of turning an ordinary room into a Spectacular one! We would later meet at the Commissioning of the Dangote Obajana Cement factory and later at Christ Church, RCCG Gbagada- all three encounters left very lasting impressions-Poise, Soft spoken and Serene.
Whilst most people's demise is mainly felt by their nuclear family, Ibidun's death has had a far-reaching effect beyond her immediate family. Her foundation- (The Ibidunni Ighodalo Foundation. IIF) remains her greatest Legacy. Through the medium, she put's smiles on many women's faces, providing solutions to many fertility issues and care to less privilege children.
The foundation raises awareness on fertility issues and helps provide financial support to couples that struggle with the high costs associated with fertility treatments.
The foundation is at the forefront of helping couples fulfil their desires to become parents regardless of their financial situation. Even in death, her golden heart still beats on. Ibidun died leaving her upcoming fortieth birthday wish behind – her wish is to put smiles on the faces of forty couples facing fertility issues but are unable to finance their fertility treatments. Ahead of this, family, friends and Well-wishers are going all out to ensure that this is one Wish "death would not hold captive. "