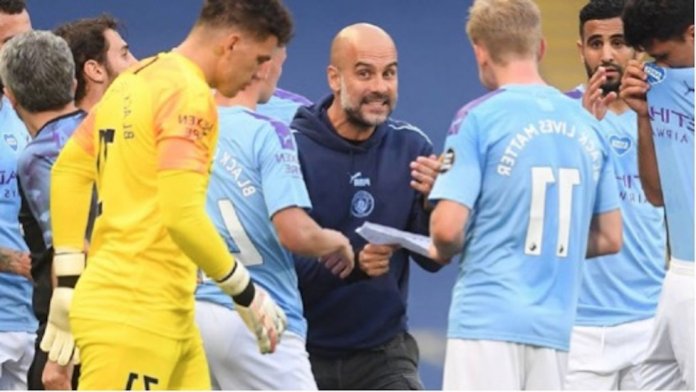 Liverpool having won the Premier League and Manchester City having earlier carted the Carabao Cup, Pep Guardiola will be focusing on the only remaining domestic trophy in England for grab -the FA Cup. The Citizens' tomorrow's trip to St James' Park for a quarter final match against Newcastle United would therefore be mouth watering
Newcastle United take on Man City at St James' Park for a place in the semi-finals tomorrow The Magpies have never reached the last four since 2005 but face a wounded City side who are desperate to make amends in some way for failing to hold on to their top flight title.
City drew 2-2 at St James' earlier in the season and the 2019 defeat on Tyneside is also still fresh in the minds of fans.
City played an energy and morale-sapping encounter at Stamford Bridge only on Thursday night and have a quick turnaround for this tie.
Fernandinho is suspended after his red card in the 2-1 defeat at Chelsea while Sergio Aguero is injured.
Those are the straws we have to clutch on going into the game.
The reality is Newstle need to improve their performance levels by about 80 per ent after the 1-1 draw with Aston Villa.
Had Villa been able to finish in the first half it could have been a disappointing home defeat.
If Newcastle present City with similar chances they will be punished. They need to find their A-game and City will have to be out of sorts for Geordie fans to be celebrating a place in the semi-finals.
However, Newcastle United were on Thursday night given every encouragement by Manchester City in advance of Sunday's match.
It was a huge game and eventual result for Chelsea, winning 2-1 and now five points clear of fifth.
Goals from Pulisic and Willian, either side of a brilliant Kevin de Bruyne free-kick, gave them the three points.
Newcastle already had the advantage of an extra day's recovery, Manchester City having less than 72 hours before the game at St James Park.
However, there were numerous other positives for Newcastle fans as they watched Man City ensure Liverpool won the title.
Ahead of the game, Pep Guardiola at his pre-Chelsea press conference had indicated his team selection for the league match would be weakened with Newcastle in mind: 'We cannot deny we have one eye on Newcastle. Chelsea is a prestigious game for us, but Newcastle is a final.'
In the event though, it was a full strength Manchester City team, with Ederson, Walker, Fernandinho, Laporte, Mendy, De Bruyne, Rodri, Gündogan, Mahrez, Bernardo Silva, Sterling the starting eleven.
With the result so important to Chelsea, it also ensured that this was a tough match, played at a high tempo and some tasty challenges flying in.
A big moment in the game and potentially for Sunday, saw Fernandinho give away a penalty for the match winning goal and it now means he is suspended for Sunday.
Newcastle United will have also been heartened by Manchester City having one of those games where they control much of the ball (65per cent possession) but struggle to turn that into clear chances, whilst at the same time their defensive frailties exposed on the break.
Manchester City particularly had trouble with any direct running as Chelsea hit them on the break, even though not particularly quick, Pulisic ran alone at the last two Chelsea defenders on a break and by simple determination took advantage, went past them and scored the opening goal.
Manchester City are still a brilliant team but on Thursday night pointed to Sunday being anything but a lost cause.
A disciplined defence and if creating decent situations on the break, Newcastle could be in business.
Add in Aguero now out for the rest of the season and room for NUFC hope, if not expectation.
Pep Guardiola said after Manchester City defeat to Chelsea:
"Congratulations to Liverpool, their fans, the manager, the players. Well deserved. They are good champions. Now. we have five or six weeks to play. The FA Cup on Sunday is important and we need to achieve qualification for UEFA Champions League and after that we need to prepare for Madrid.
"I've never thought as a manager that you can always win. Liverpool, after winning the Champions League and not winning the Premier League for 30 years, played with incredible focus as if it was the last chance they had.
"We cannot forget that we won two titles this season and we have two more to play for."
Earlier today, Norwich City welcome Manchester United to Carrow Road for the first FA Cup quarter finals game.
Both of these teams have plenty left to fight for over the remainder of the Premier League season, but they will need to put that on hold for this match as the last remaining chance of domestic silverware resumes.
United are looking to lift the FA Cup for a record-equalling 13th time this term, whereas Norwich have never even reached the final of the competition.
The disparity in FA Cup pedigree of the two clubs mirrors their form and fortunes heading into the match, then, with United now 13 games without defeat and Norwich having lost all three of their outings since booking their place in this quarter-final on March 4.
Champions League qualification will certainly still be United's priority for the rest of the campaign, and they will have one eye on how Wolverhampton Wanderers get on in their Premier League clash with Aston Villa earlier today, but the Red Devils have always been about winning silverware and so cup competitions still carry great importance.
Ole Gunnar Solskjaerould dearly love to pick up his first major trophy as a manager too, particularly after a season in which his future has once again come under intense scrutiny at times
Wednesday night's 3-0 win over fellow Champions League hopefuls Sheffield United means that the Norwegian is now enjoying his longest unbeaten streak since taking over as interim boss, and with their next five games including this one all coming against teams currently in the bottom seven of the Premier League they will be confident of extending that further still.
Not since January's visit to Anfield, eight matches ago, have Man United been beaten away from home, including FA Cup triumphs over Tranmere Rovers and Derby in that time.
Norwich have also been drawn away from home in all three of their FA Cup matches in this season's competition, but that has not hampered their progress with wins over Preston North End, Burnley and a
The Canaries' Premier League survival hopes look increasingly bleak following back-to-back home defeats at the hands of Southampton and Everton.
That was their 20th league loss of the season, and only once before in their history have they been beaten more often in the opening 31 games of a campaign, when they were a Third Division South team in 1946-47.
Today's match will at least give them the chance to focus on something other than a likely-forlorn survival bid, and having reached the FA Cup quarter-finals for the first time since 1992 they will be desperate to make the most of it.
That season was one of only three previous occasions in their entire history that Norwich have reached the last four of this competition, so victory on Saturday would be a significant achievement even if Premier League relegation may follow not long afterwards.