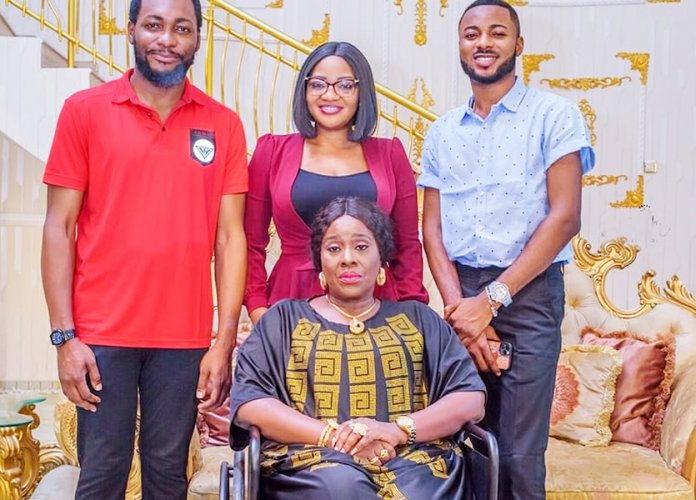 Veteran actress, Joke Silva, is the star attraction in the movie, Sin City, which follows a story based on the effects of narcotics abuse among young people. Ferdinand Ekechukwu reports
Iconic actress, Joke Silva, is as good and famous as the many movie roles she plays in Nollywood. Joke gives her best when it comes to character interpretation; and that overtime has won her huge followers. It is therefore not surprising that budding actress and filmmaker, Oyinlola Lazizi (Oyin Laz) plays the legendary actress in a lead role in the upcoming movie named Sin City. The movie tells the effect of substance abuse on young people.
However, in the first teaser recently released, Joke Silva takes up the role of a character in a wheelchair with shocking demands that one can only imagine. She wants a six foot male neurophysiologist, broad shouldered, six pack with comforting lower body structure! But that sounds ridiculous to her daughter (played by Oyin Laz) who had thought of getting her a female chiropractor.
"Mother that last guy is one of the best chiropractors in town. He is a certified neurophysiologist. Okay ma, I'm going to call the agency. I will tell them to send us a female chiropractor then."
Set in Lagos, Nigeria, Sin City follows the story of a drug supplier who is pushed by his mother to take over his father's drug business. The supplier is however married to a law enforcement agent who is saddled with the responsibility of keeping the state clean from narcotic users. She is therefore put in a tight spot to choose between protecting family and being professional. Directed by Muyiwa Ademola, the movie also features Segun Arinze, Tope Tedela, Toyin Abraham, Lateef Adedimeji, Sanni Danja, Lizzy Jay, Taiwo Adeyemi, among others.
In an interview, the producer, and writer Oyinlola Lazizi says she holds advocacy movies dear to her heart. "Each time I look around, all I see are troubled minds and it reflects on our day to day activities and interactions with one another."
The celebrity counselor, who played the role of Fareda, a detective in the movie, said everything about shooting the movie was quite challenging, and then the pandemic showed up. "I was frightened and disturbed; I was scared because I thought about everything we have put into it, but also what could happen if I didn't break the production.
"Eventually, I stopped the production after the 18th day when COVID-19 cases started increasing. I wouldn't risk people's lives for that. We resumed production after lockdown, but we still couldn't fly to Kano for the completion of it, we are presently working to improvise, and Sin City will be done with."
The producer noted that young people are dying of narcotics and psychotropic substances every day. Hence, the major thing is to trace the etymology of how the substances get across to the youths (usually through traffickers), the impact of it and what the government should do or can do to help.
Having played the role of a detective, who is after a strong opioid cartel leader, Oyinlola says although it is totally different from the roles she is used to, "the fact that I am trying to pass a message gives me the strength to better interpret my role."
The movie is expected to hit the cinemas in the last quarter of this year.