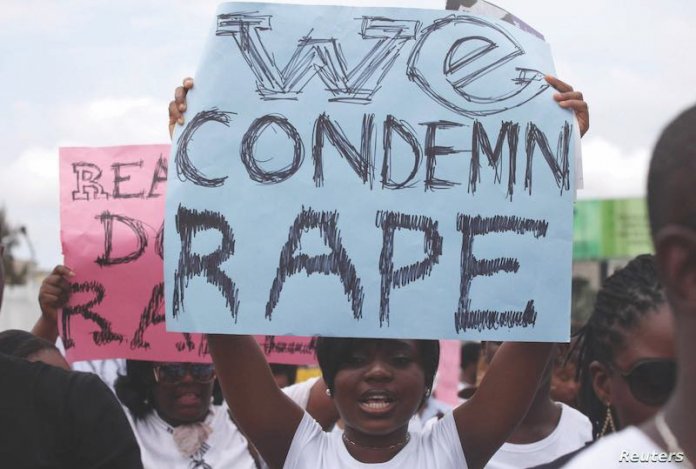 On Sunday, May 31st, the attention of Nigerians drifted away from the raging effects of the Coronavirus pandemic to the shocking news of how a 22-year-old Miss Vera Uwaila Omozuwa, died after she was gang-raped by a group of boys.
Uwaila, who till her untimely passing, was a first-year student of Microbiology at the University of Benin, UNIBEN, Edo State was reportedly hit with a fire extinguisher by her assailants after they raped her on May 13. Sadly she died on May 31, 18 days after, at the University of Benin Teaching Hospital.
The incident took place inside the Ikpoba Hill branch of Redeemed Christian Church of God, in Benin City, Edo State where the late Uwaila had gone to study.
The only crime she committed was seeking a quiet place to study her books. Now, her hopes of a bright future have been dashed. Now her parents are left to mourn her death.
Outraged by the death of Uwaila, Nigerians, since Sunday have taken to Twitter with the hashtag #JusticeForUwa. From movie stars to music stars, to students, to public servants, to NGOs, all have been calling on the Nigerian police not to allow the latest case to slip into the long list of unresolved rape cases in the country.
For instance, popular Nigerian musician, Folarin Falana, known as Falz, called for a nationwide protest against the wanton cases of rape in the country, saying that it is so exhausting to see injustice continue to thrive time and again.
The music star whose social commentary, This is Nigeria, cast a spotlight on how years of corruption, insecurity, insurgency, unemployment has affected the country said, "Every time we say NOT AGAIN, and then there is a new story. Enough is enough. It's too disheartening. "Justice must be served for the innocent souls we keep on losing. #JusticeForTina #JusticeForUwa".
Nigerian actress, Genevieve Nnaji, equally expressed her dissatisfaction with the rape cases. She said, "they either abuse their power, or have the power to abuse. In or out of uniform, we live in constant fear of men. Tina Ezekwe, Vera Omozuwa. Rest In Peace my darlings. We will get justice".
Weeks earlier, there were several reports of how an 18-year-old girl, identified as Jennifer was allegedly gang-raped by five boys who were said to be her friends in Kaduna State, after giving her a liquid content. The hashtag #JusticeforJennifer had also begun trending online.
On Monday, protesters, including students of the UNIBEN, activists and concerned individuals marched to the headquarters of the State police command in Edo State demanding justice for late Omozuwa. Bearing placards decrying rape with such inscriptions as "protect women," "don't rape them," "stop the stigma," the protesters wore black attires.
Sadly, just as the social media went agog with a series of demands for justice following the death of Uwaila, another news filtered in about how an 18-year-old girl, identified as Barakat Bello was reportedly raped and murdered at her father's home in Ibadan, Oyo State.
The latest incidences are just three out of thousands of cases of rape and sexual harassment that have occurred in the country. Many have been unheard of because the victims are often afraid to speak up.
At home, in market places, on public transports, in schools and now in churches, there appears to be no hiding place for the female folk.
The Country Director for Amnesty International in Nigeria, Osai Ojigho said the sad incident "resonates because even in the spaces that women and girls should be safest from gender-based violence, including the home, the schools and now places of worship, it is getting there".
She explained that authorities in Nigeria have not done enough to combat sexual violence. "The method the state has been using over the years clearly has not moved with the intensity required to deter rapists and potential rapists and to protect women and girls".
On one of the several videos seen online on Tuesday, sister to the late UNIBEN student alleged that the police were demanding mobility money to commence an investigation into her death. The Inspector-General of Police, M.A. Adamu had ordered the immediate transfer of the ongoing investigations from the Police Headquarters in Benin to the Force Headquarters in Abuja.
While that appears to be a right step in the right direction, there are two questions on the lips of Nigerians: First, will the latest cases be swept under the carpet like several cases of rape in the country? Second, Will justice be served to the perpetrators?
Gideon Arinze, Lagos