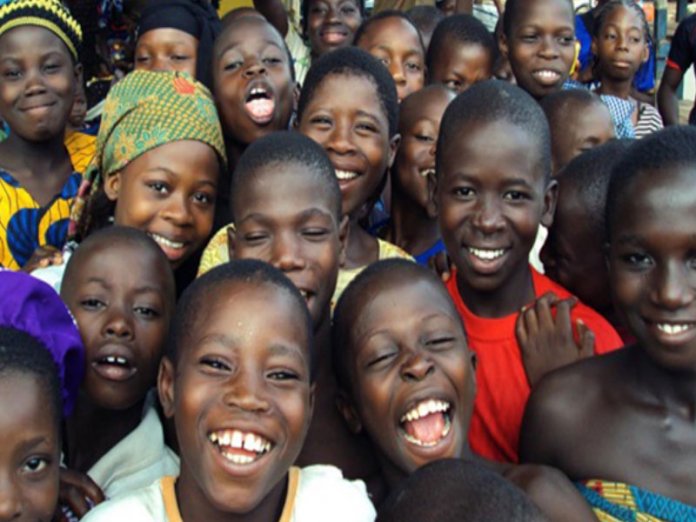 "The true measure of a society indeed lies in how well it treats its children". All over the world, conversations are constantly being held around improving child welfare outcomes. For Africa's most populous nation, Nigeria, this is no different as several institutions at all levels in the country continue to strategize o n ways for improvement. More than ever, this speaks volume about the importance being attached to child welfare. Despite the increase in Nigeria's economy by 2.55 percent, the poverty level is still said to be as pervasive as ever with children accounting for a large percentage of the deprived due to the lack of resources to meet their basic needs.
According to a 2013 UNICEF report, more than 10 million Nigerian children are classified as out-of-school, 60 percent of which are girls. Another report by the UNESCO Institute for Statistics (UIS 2014), places Nigeria's percentage of out-of-school children as noteworthy against the global number of 58 million children of primary school age who were not enrolled in school, despite efforts to achieve universal basic education. Whilst this may seem devastating, it shows that many young children are yet to be afforded the comfort and resources to understand their place in the world.
At the same time, far too many children continue to be victims of poor health & nutrition and substandard education which leaves them without the fundamental skills required to earn their way and advance in a complex society. As cited in a UNICEF Global Study on Child Poverty and Disparities, the national report for Nigeria indicates that, as much as 79 percent of children are deprived in at least one of the seven aspects of deprivation considered. Water deprivation is the most prevalent of child deprivations in Nigeria combined with sanitation, food, education and health.
Every now and then, we see a rising need to address the struggles faced by children for survival. Child welfare is receiving increasing attention as we become more aware of the shattering effects it has on global progress. It has become vital to seek out ways to empower children to enable them achieve their maximum potentials. Once a year, a day is set apart to honor and celebrate children across the globe. On this day, we are not only conditioned to examine how to improve the overall well-being of every child, but aim to deliver these interventions to ensure that all children are supported firmly, enough to grow and live out their dreams and aspirations.
A number of institutions understand this and have consistently embarked on several initiatives to improve child welfare. An example, is the efforts of leading consumer goods company, Procter & Gamble (P&G), who has continued to join forces to solve these problems by providing sustainable solutions to address children's welfare.
A 2015 survey titled an assessment of menstrual hygiene management in secondary school, conducted by UNICEF, showed that the challenges faced by Nigerian school girls on their period, affects their ability to manage themselves which causes them to skip school during their period because concentration becomes difficult. P&G's Always Keeping Girls in School (AKGIS) Programme launched in 2008 has succeeded in reaching vulnerable girls with essential menstrual health management training and distribution of millions of sanitary pads, which will allow the girls commit to their education and their future. With an increase in local manufacturing of pads through a normalization of the duty rates of raw materials, local manufacturers can expand production of sanitary pads to reach more girls in the country.
Another challenge as explored earlier, is poor water and sanitation hygiene in Nigeria which remains a main contributing factor to high mortality and morbidity rates in children under five years old. As of 2018, it was estimated that over 200,000 children under the age of five in Nigeria, die due to preventable water-borne diseases like diarrhea. UNICEF's WASH partnership with the Federal Government of Nigeria, includes several WASH interventions, including harmonization of procurement guidelines for WASH infrastructure; sanitation and hygiene promotion through schools; and empowering women and increasing birth registration through community-based WASH Committees – known as WASHCOMs.
In addition, P&G's Children Safe Drinking Water (CSDW) program which aims to provide clean water to children and their families in need, has provided over 175 million liters of safe drinking water in Nigeria and over 15 billion litres in need in Africa and other parts of the world.
Still on the tracks of providing clean water, The U.S. Agency for International Development (USAID) and the Coca-Cola Company have also impacted children by providing access to safe drinking water and good sanitation. This is under their Water and Development Alliance, also known as WADA project where they have continued to touch communities in Cross River, Enugu and Kano.
Furthermore, on impacting child welfare, P&G's recent launch of its Pampers Project Rigakafi, where a donation of over 2 million Pampers Diapers was made in partnership with Kebbi and Ogun State and the Federal Government's Integrated Medical Outreach Program (I-MOP) which targeted additional 409 local government areas in Nigeria, aimed to improve the health outcomes of over 30,000 infants and increase immunization rates in per-urban and rural areas of the states.
Every day presents an opportunity for us to improve and change lives of children around the world. With the wealth of interventions being initiated to improve child welfare in Nigeria, they point to the fact that indeed there is a vested interest in those who are our future to ultimately support them to reach their full potential.