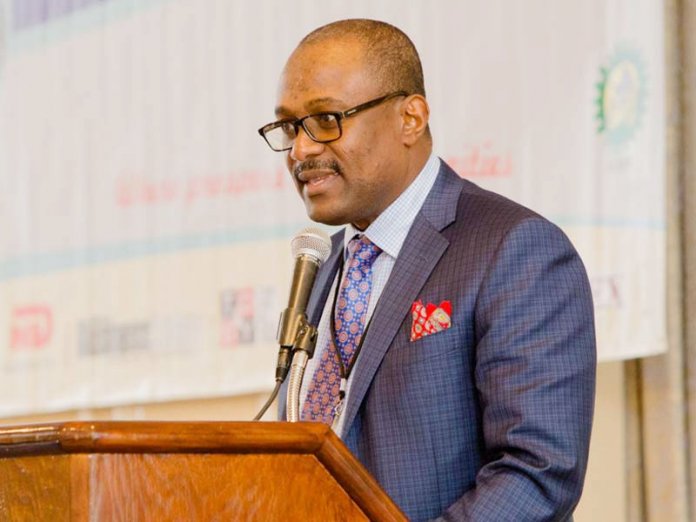 Emmanuel Addeh in Abuja
The Executive Secretary of the Nigerian Content Development and Monitoring Board (NCDMB), Mr. Simbi Wabote, wednesday hailed the 'outstanding roles' played by the Minister of State for Petroleum Resources, Mr. Timipre Sylva and the management of the Nigeria LNG in accomplishing the signing of the Engineering, Procurement and Construction (EPC) contract for the LNG Train 7 project.
Reacting to the formal contract signing ceremony, which held in a virtual form, the Executive Secretary underscored the dogged focus of the minister in getting the Train 7 project to the contract signing stage.
He pointed out that holding the ceremony in the midst of the COVID-19 pandemic was a fantastic testimony to the minister's declaration in January that Year 2020 would be the year of gas in Nigeria.
He also commended the management of NLNG led by Mr. Tony Attah for breaking the jinx of lack of true Final Investment Decisions (FIDs) in the oil and gas industry in the last seven years.
He said the contract signing ceremony signalled the take-off of the long-awaited project that will create jobs, generate revenue, provide local business opportunities, and ensure stable outlets for the utilisation of the country's gas reserves reputed to be one of the highest in the world.
Wabote hinted that the board was always excited whenever in-country capacities and capabilities are being utilised and developed.
He said: "Empty fabrication yards, fields without rigs, vessels without contracts, and other low-level industry activities can be very depressing. We are really excited that the Train 7 project has brightened up our outlook of the industry."
The NCDMB boss canvassed for more major projects, stressing that NCDMB would always implement its mandate in a pragmatic way by catalysing and accelerating projects' regulatory approvals.
He maintained that NCDMB was not set up to stop or complicate project implementation but to ensure win-win outcome for investors and the country.
He revealed that the Train 7 project would attract huge direct foreign investment and stimulate the local economy.
"During construction, 55 per cent of the engineering activities will be carried out in Nigeria, 55 percent of all procurements will be done by competent Nigerian vendors and 100 percent of the installations and construction of Train 7 will be executed in Nigeria" he added.
Speaking further, he expressed confidence in the capacity of Saipem, the lead contractor of the project, indicating that the company had made significant investments in Nigeria and had made long-time commitment to Local Content growth.