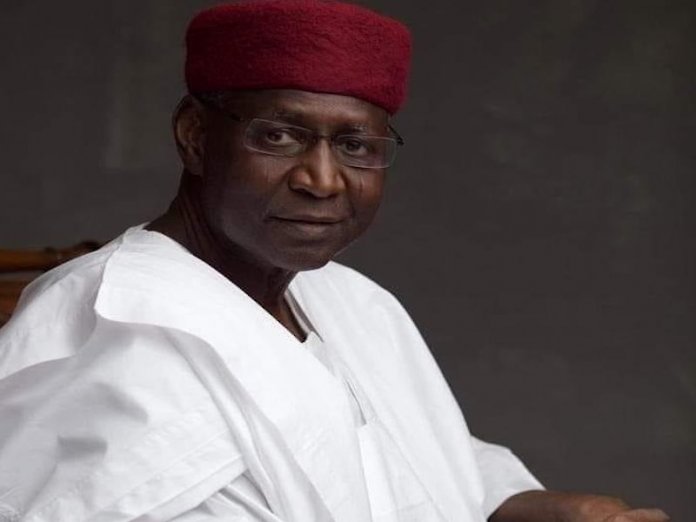 By Joseph Ushigiale
In the history of this country, since the return to democratic rule in 199, there has never been a presidential subordinate or aide whose passing, recently, attracted so much attention, stirred controversies, provoked countless commentaries and eulogies like the death of Mallam Abba Kyari, the former Chief of Staff to President Muhammadu Buhari.
To Buhari and some of his close associates including Minister of Foreign Affairs, Geoffrey Onyema, Fani Kayode, Simon Kolawole, Reuben Abati and a host of others, the late Abba was a saint. He was without a doubt an intellectual, intense, introvert, loyal and a true professional, charismatic and a transformational chief of staff in whom the President reposed his all to.
Yet, others like erstwhile foreign affairs minister, Bolaji Akinyemi, Steve Osuji, Buba Galadima, the late Abba was a villain. To them, behind the deceptive demeanor of the former presidential aide were hidden his scheming and cunning character with which he deployed to run the presidency like a personal estate.
They mirrored him as ruthless, a power monger who was insensitive to the feelings of mostly southern Nigerians; a usurper of unimaginable hue who saw power not as a platform to serve but to even scores with those who disagreed with his principal or the administration.
Abba to them was nepotistic, divisive, vile and carried on as if Nigeria and Nigerians belonged to him and indeed were in his pocket. He was a demigod presiding over Nigeria while the President abdicated his responsibilities.
Now let us be clear. This treatise is not a referendum on the late Kyari; on the contrary, it is to capture succinctly the chain of events that followed immediately his passed on and also to document, for the records, the standard expectations of the people on future occupiers of that office.
Graduating from Warwick, Cambridge where he bagged degrees in Sociology and Law, Abba paraded enviable track record. He was coming in with the wealth of experience garnered from the private sector especially his sojourn in the media where he rose to the peak as an Editor, a stint in banking and in the public service. With these credentials, there could not have been a better choice for that role.
Onyema described Abba as a "pan-Nigerian and global citizen, who recognized no boundaries between peoples, be they racial, ethnic, religious, class or political. He made friends with everyone."
In reality, what Onyema referred to as the pan-nigerianism in Abba was indeed a disparate collection of pals whom he had known way back in school or whose paths have crossed either in the public service or private sector as attested to by Fani Kayode with whom Abba worked with in his father's chambers.
Aside the closely guarded number of associates, Abba was a recluse, impenetrable, anti-social, inaccessible. His cult like mein which essentially built a Berlin Wall between him and other major stakeholders, severely battered his public image.
On a personal basis, he did not help himself either. It was clearly evident that with the enormous power entrusted on him by the president, he suddenly saw himself as an Island and failed to reach out to build bridges across the country by reaching out to other critical stakeholders across the country. Where he tried to reach out, he carried on as if he was doing them a favour and not rendering public service.
Reading Mamman Daura's tribute yesterday where he disclosed that Abba was side stepped by former President Olusegun Obasanjo to pick Atiku Abubakar for Vice President in 1999, it was now clear why Abba already conducted himself as a de facto president. Worse of all and to underscore his impudence, he dismissed all the controversies that swirled around him.
As explained by Simon Kolawole of TheCable, he never bothered to provide answers publicly to the allegations of corruption leveled against him. To him, so long as he could successfully explain to the president that he was taking bullets from his traducers on behalf of the President, nobody else mattered or anything else could go to blazes.
He did not care and was quoted at some point of saying that if only Nigerians knew the sacrifice he was making on their behalf they would thank him. Yet, Abba failed to give Nigerians a hint of these sacrifices, if he did, perhaps the negative public perception about his personage would have been different.
A lot of things went wrong for Abba. Some were self inflicted while others were not.
Overall, he was a victim of circumstances. His principal was weak, clueless and distrustful of those he did not know directly. Therefore, he entrusted a portfolio far above Abba's official capacity. That made him what people now refer to as de facto president. It was Buhari's style of abdicating responsible that put Abba on the spot.
Regrettably, Abba despite his exposure and intellectual sagacity, was not a good student of politics. He allowed himself to be carried away by the allure of power and failed to insulate himself against the boomerang effect of what had gradually evolved into an authoritarian rule.
Many have described the late Chief of Staff as a loyalist to the President. My question is, did he have a choice? But what is loyalty? Loyalty in a loose definition is a strong feeling of support or allegiance. What does it mean to be loyal in a democracy? To whom are you supposed to be loyal to ultimately, the President or the country?
As a lawyer, Abba needed to deploy his knowledge of the law to intervene, assuming he was innocent of what was going on, in some major thorny legal issues which outcome eventually turned out to haunt the administration, casting it in bad light as a despotic regime.
Under a Constitutional democracy such as is being practiced here and guided by separation of powers, the several cases like those of former National Security Adviser, Sambo Dasuki, Omoyele Sowore, El Zaky and others would have been long dispensed with and the accused set free as ordered by the courts.
Yet, even in death, controversies have not allowed his gentle soul to rest in peace. First is the issue of his age. There are about three different ages ascribed to the late chief of staff. Depending on how close you were to him, some would write 65, others 75 and 81.
In the entire span of five years that Abba held sway, he never bothered correcting this anomaly. However, a recent picture released by the foreign affairs minister capturing the two of them posing for the camera had the minister hinting that the picture was taken after the civil war.
It is been 50 years since the civil war ended and it is unlikely that Abba as he posed alongside Onyema in dark shades in that picture was 15 years old at the time. A rough guess would place him between 21-25 years which means he was either 71 or 75 years old at the time of his passing.
Second, the federal government's handling of information surrounding his treatment right from the moment it became apparent that he was infected is to say the least shoddy and suspicious.
For a ranking member of cabinet, the presidency shrouded his whereabouts in absolute secrecy. It choose to sell dummies to the media and public at different stages of his treatment. The presidency initially announced that the Chief of Staff was being flown to Lagos for follow up treatment.
This was followed by a personal message from the deceased stating that he had moved to Lagos to a private hospice to receive medicare at his expense and would be treated by, in his own words, "some young dedicated professional." He also assured that he would be back to his desk soon.
Fresh facts have so far emerged from the Lagos hospital (name withheld) where he was purported to be receiving treatment and the Lagos state health commissioner with both authorities denying that the deceased was anywhere near Lagos and that as the presidency was spreading its falsehood about his being in Lagos, he was indeed in London.
In the end, it further revealed that he was stealthily air lifted with an air ambulance to a certain Wellington Hospital in London where he finally died.
The handling of news of his death was a complete disaster and unworthy of a man of Abba's stature. While reliable sources announced that he had passed April 2, it took the presidency two weeks to announce his demise.
Not only that, given international best practices that require that all COVID-19 related corpses should be cremated where they occur, because of their highly infectious nature, what happened in Abba's case? If the deceased was also cremated in London, why then was this information kept secret and the recourse to a public show of the burial on live television oblivious of the social distancing policy currently being observed global, instead of allowing the man to rest in peace?
Mamman Daura wrote glowing about Abba describing him as a man "blessed with mountainous gifts and uncommon attributes of intelligence, diligence, hardworking, loyalty to friends and worthy causes," his views on the giant strides covered by Abba's policy in the rice revolution across the country to me is sitting truth on its head.
Whether he disagreed with his colleagues on policy issues or not, consulted Nobel laureates Arthur Lewis and Amartya Sen or whoever else, I do not agree that there has been an appreciable impact in rice production in the country.
My reason is very simple and straight forward. Before this administration took office, we only need to ask how much a bag of rice sold in the open market. Today, even with the much vaunted rice revolution, the staple is almost out of the reach of the critical mass of people. It has been out priced. To understand my interrogation better, why for instance is foreign rice still far cheaper and attractive to importers and consumers above our local rice?
How has the closure of borders and ban on rice importation helped the rice farmers? To me, a policy can only be good so long as it passes empirical test. Most policies sound perfect in theory and are as worthless as the piece of paper they are written when put to the test. Nigeria's rice production is still by far less than its demand. In the simple law of demand and supply, more money is chasing few bags of rice produced locally thereby pushing prices out of the roof.
If Abba's legacy was more in his contributions to the economy, I beg to say that it was a monumental disaster. If our economy is better than it was in 2015, what is capacity utilization in Nigeria today in comparison to 2015; what is the exchange rate today, how many persons have lost their jobs in the last five years? We can go on and on an endless list of disastrous economic policies that forced Nigeria into her first recession in 25 years.
Nonetheless, it must be documented that Abba's contributions to public service were well intentioned and altruistic but in the end he became a victim of circumstances provoked by Buhari and Abba himself. Let me explain: Buhari swept into office on a popular mandate flashing the change mantra.
This came with very huge expectations from Nigerians who believed that, given the messianic toga with which the President had touted all along, the President was coming into office with ready answers to solve Nigeria's problems presently.
Saddled with such huge expectations, the President suddenly realized that he was ill equipped for the task ahead. Apart from him voicing it openly, he demonstrated that in his inability to pick a simple cabinet within six months of taking office.
Therefore, to fill the gap of his cluelessness and handicap, he needed someone with the intellectual capacity, wealth of experience, gumption and a loyalist to take the rigors of public office off him. That person whom the cap fitted was Abba, a man whom the President acknowledged he met quite early in life and could trust.
Having found himself with such enormous powers, Abba not only consummated it, but failed to delegate to subordinates so he could concentrate on policy making. For instance, many argue that his trip to Germany was unnecessary, even if the president insisted he must travel to represent him, he would have delegated the Minister of Power or Minister of State for Power to carry out the assignment.
Because he wanted to be everywhere at the same time, not even factoring in his frail health condition, he ended up acquiring the reputation of an octopus. In the end, in his eagerness to please his Boss, he bit far more than he could chew and eventually saddled himself with so much responsibilities that he became overwhelmed with work and ended up in self destruct.
While it is instructive that any future CoS would learn a great deal from Ababa's hands on legacy, such a person should also take into strong consideration the diverse and complex nature of the country and learn how to navigate Nigeria's fault lines.
In addition, any incoming President should also learn from such previous leaders like Olusegun Obasanjo, the late Umaru Yar'Adua and recently Goodluck Jonathan the criterions that were used to select a CoS. Under no circumstance should ethnicity or religion be the overriding reasons for picking a CoS.
Finally, let us all sheathe our swords and pray for the repose of Abba's soul with his creator. He was human after all, and no human being is perfect. I am sure whatever he may have done that some people are holding against him was not done on purpose. Perhaps, such mistake may have been wrought out of the enthusiasm to serve, and to borrow from Buhari's tribute: "Mallam Abba Kyari was the very best of us. May his soul rest in perfect peace. Amen.