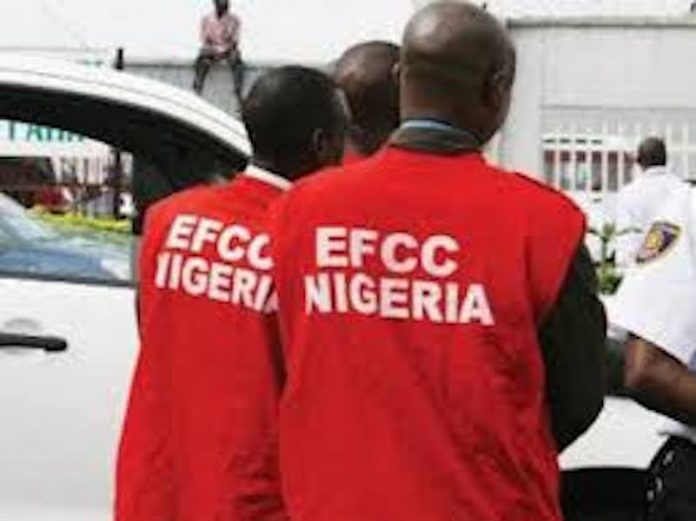 George Okoh in Makurdi
A Benue State High Court in Makurdi presided over by Justice Sampson Itodo yesterday ordered the interim forfeiture of some properties-three bedroom bungalow and a Honda C50 motorcycle with registration No. GBK 283 US-allegedly belonging to Emmanuel Agana James, which are said to be proceeds of some unlawful activities derived from funds fraudulently diverted from the sales of products of Rikadawa Foods Nigeria Limited into his personal account.
The order followed an ex-parte application by the Makurdi Zonal Office of the Economic and Financial Crimes Commission (EFCC).
The Commission counsel, G. G. Chia-Yakua, in an application dated March 31, 2020, had prayed the court for an Interim Order forfeiting to the federal government the three bedroom uncompleted bungalow situated on a plot of land with an area measuring 470.421m2 and a scale of 1:500 at plot 3090 Genabe Mega Layout Phase (II), Apir in Makurdi.
Also included in the forfeiture order is a Honda (motorcycle)(blue colour) C50 with registration No. GBK 283 US, Engine No. C50E-0075597 and Chasis No. C500075192. Both properties were acquired in the name of Emmanuel Agana James.
There was also "an order directing the publication of a notice in the national newspaper and inviting all person(s) or corporate entities who may have interest in the said properties to show cause within 14 days from the date of publication why it should not be forfeited to the Federal Government of Nigeria."
Moving the application yesterday, Chia-Yakua told the court that the properties are reasonably suspected to be proceeds of unlawful activities.
He further told the court that James, in whose possession the properties were found, was under investigation for criminal breach of trust.
Chia-Yakua added that there was need to preserve the properties as any disposal, conveyance, mortgage, lease, sale or alienation of the said property may render any subsequent final forfeiture order by the court nugatory.