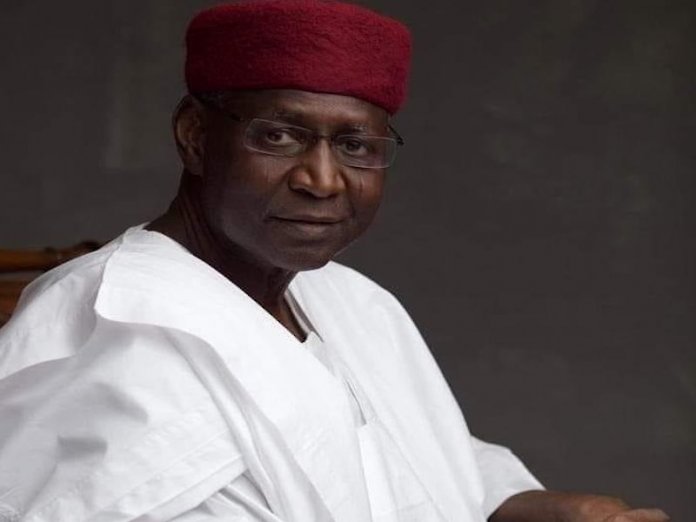 Canticles By Eddie Odivwri
OMG! Nigerians are so overwhelmed with grief over the death of the Chief of Staff to President Muhammadu Buhari, MallamAbba Kyari.
Ehn? Grief? Which Nigerians?
Yes, grief! Have you not been reading thepapers and watching television? Have younot noticed the outpouring of grief and condolences from withn and even outside Nigeria? Such a great loss that saddened humanity.
Hmmmmm, that is not where to look if you want to guage the true feeling of Nigerians. Those channels and platforms are the official agencies of diplomatese. They do not tell the whole story. In fact, such platforms are too formal to share the unblemished truth.
So what are you implying? The tributes and accolades pouring in for Abba Kyari are formal lies, not telling the truth?
You said so. All I know is that if you want to hear and feel the pulse of the real Nigerians on the death and the ordinary, quick burial of Abba, then go to Facebook, Twitter, Whatsapp, Instagram and …
(a long hiss) Rubbish! You are going to trade in the domain of mischief makers, fake news mavens and all such social miscreants. What do you expect to find from there?
Look, these are not fake news mavens or any such thing. They gave behind-the-scene details and facts of how terrible and wicked Abba Kyari was. How he literally led President Buhari by the nose and dealt heavy and crushing blow on Nigerians.
In fact, because of Abba Kyari's death, many Nigerians have declared that for once, they will not respect that old code that "we do notspeak ill of the dead", and they have chosen to speak ill of this dead.
All his hidden atrocities are being unearthed. Many of them even say his death is God's own way of liberating Nigeria from the steely clench of bad and punitive governance. They have threatened to re-open the N500million MTN bribe saga. They compare this death to the liberation God brought to Nigerians at the death of Gen Sani Abacha. In plain language,they say Abba Kyari was super wicked and played hurtful politics that nearly plundered Nigeria into war. But for the social distancing protocol in force, you would have seen mass jubilation on the street, just as it happened when Abacha expired. He is….
(cuts in)…. Enough of those gibberish talks! You are damned if you believe those unbaked bigots. What do they know about governance? Do they know the stabilizing effect Abba Kyari brought to governance in the last five years? Have you ever seen such a loyal and dedicated appointee and patriot in this country? Go back and read the tribute written by the president on his dear CoS, and you will realize how prized and selfless he was in the pursuit of nationhood and development.
What did you expect President Buhari to say of his friend? Don't you know he is still under the influence of the metaphysical manipulation? Don't worry, gradually and speedily, the scales will fall off the president's eyes and we shall all know it.
You are talking Bunkum with a capital B. Do you know that Abba Kyari was so concerned about how Nigeria will grow and develop? That he ploughed his whole self into the drive to make Nigeria better? Was that not what inadvertently brought his untimely death? If he didn't go to Germany for our electricity issue, he would not have….
(cuts in, raising the right hand) Hey, stop selling short our collective intelligence! Who sent him to Germany to negotiate our energy issues? Was he the Minister of Power and Energy? Is going to Germany or any such place part of the duties and Job Description of a Chief of Staff? Is it not because he wanted to completely corner every aspect of government that he threw himself into that trip? Was he an engineer?
Do you know that he is the brain behind all the nepotism we accuse President Buhari of? Doyou know that he is the mastermind of the northernisation of all appointments in Nigeria?Do you know he was behind all the travails and humiliation of the Vice President, Prof Yemi Osinbajo, leading to the sack of dozens of his aides in one day, stripping him of all relevant duties? What a Chief of Staff he was!
No CoS had ever been that powerful and influential in the annals of our history. Do you know that he died exactly on the eve of the first anniversary of the removal of the former CJN, Walter Onnoghen, whom he (Kyari)plotted his removal? You think the concept of Karma is a ruse? Do you think it was for nothing that the First Lady had been shouting herself hoax over how a cabal has seized her husband? Are you not in this country? Look, you will hear many more things in the days ahead.
Have you asked yourself why no minister gotinfected by COVID-19? That it is governors who usually kowtow to Abba and worship him that got it? I pity Gov El-Rufai of Kaduna State who is still struggling with the infection, more than three weeks after. Do you know Kyari treated the ministers with scorn and even tried to intimidate them? Can't you see he was never on the same page with them and that spared them the infection? Look, I have never heard such strong and alchemic words being used to describe a dead person as Abba Kyari has received. Not even MauammarGhadaffi got as much. Just wait, more beans will be spilled.
I am not waiting for anything. Life will move on. His family will take solace in the fact that their father died in active service to his fatherland. Thank God they are grown.
That reminds me. Did you hear that President Buhari said Abba Kyari is 67 years old? Haba!!!!! Are those children the products of a 67-year old? Is it not said that Kyari was over 80 years? Did he not celebrate his 80thbirthday in London with his family a year or two ago? Dint we see the pictures? Why are they cutting short his age at death?. If Femi Fani Kayode said he had known Abba for over 40 years and that Abba practised Law in his father's chamber over 40 years ago, how old was Kyari then? Is that frame and facial squeeze/shrink (despite all the affluence) that of a 67 year old? Don't they fear God?
If you have his birth certificate to prove that he is over 80 years, please bring it forward.
Ok, I don't have it. But please tell me why his corpse was released for burial to his family? Was the law varied for him? Or didn't the Minister of Information, Alhaji Lai Mohammed say that the remains of COVID-19 victims will not be released for burial to the victim's family? And finally, why was Abba Kyari treated in a private hospital and not in accredited isolation centres? Is there a different law for "big men"?
That private hospital was accredited to treat COVID 19 patients. Look, I am tired of your vexatious tantrums. We, the right thinking Nigerians, are mourning. I don't have time for such mischievous exchanges.
Hmmmmm. I hope the living would learn enough lessons from all these. But let me add that May the soul of the faithful departed rest in perfect peace.