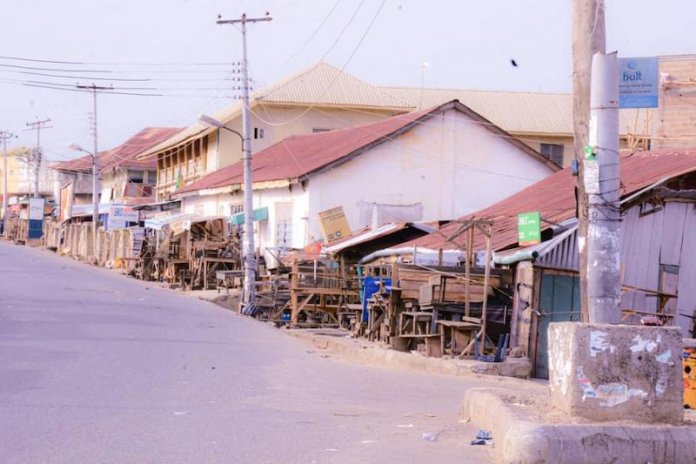 By Adetayo Aderinwale
The emergence of Covid-19 as the most threatening public health challenge over the past few weeks has brought to prominence the absence of systemic framework to address pandemic situations without subjecting a significant percentage of the population to undue hardships in Nigeria. This is particularly so when examined against the underlying principle of healthcare which implies that the management of a medical challenge should not pose a greater threat to life, than the issue being addressed.
However, the present approach and manner in which policies directed at stopping the spread of Covid-19 are being implemented in the world's largest assembly of black population leaves a lot to be desired. The approach as reviewed in this paper is capable of precipitating massive onset of hunger and starvation among the economically deprived populace if not re-examined. It is therefore pertinent to evaluate and weigh the impacts of any public health intervention against the ongoing task of combating hunger and starvation.
The Nigeria's index case of Covid-19 was announced on 27th February 2020. Additional cases were subsequently diagnosed and over 200 cases have been managed within the country as at the time of writing this. Following gradual rise in number of cases, the government has rolled out several measures aimed at combating its spread. Among them, the most striking and apparently having dire nutritional consequences on the populace is restriction of movement beyond individuals' residences. This method as potent as it seems, especially in stemming the tide of community transmission of the virus, appears not to be appropriate for the economic peculiarities in Nigerian context.
Most of the country's population operate within the informal economic activities and struggle to eke out a living from proceeds of daily income made from unskilled labour activities, sales and petty trade along streets, major roads, high density markets and other commercial neighborhoods. The unfortunate reality is that the ongoing lockdown which disallows people from going about their daily economic activities, has inadvertently taken away the sources of income and livelihood of a vast majority of the nation's poor inhabitants many of whom lack any form of savings or food stores.
In addition, subsistent farmers are unable to go out and engage in cultivation while those involved in animal husbandry are similarly prevented from doing so. Likewise, workers of medium and large commercial farming industries are unable to access their work stations. In the same vein, restriction on movement has effectively inhibited transportation of food products as well as necessary raw materials needed in the production process. In summary, the entire value chain of food production, storage and distribution is gradually grinding to a standstill. Therefore, it is not alarming to warn of a looming threat of malnutrition, hunger and starvation if the present situation persists.
The Nigerian government's distribution of food items to low-income families to serve as palliatives during the lockdown is ineffective and haphazardly implemented, falling short of making any meaningful impact. The implementation as characteristic of most endeavors targeted at poor Nigerians, is largely cosmetic. The typical corruption that manifests in similar laudable initiatives of the past continue to raise its ugly head with diversion to unknown destinations, staple food items meant for distribution to low-income households in cushioning the impacts of the lockdown.
Additionally, Nigeria lacks a reliable database of its population which makes identification of people at the lower end of economic pyramid a herculean, if not an impossible task. Besides, absence of Nigeria-context specific institutions to provide guides in palliative implementation exercises are all hampering measures at alleviating the sufferings brought by the lockdown. Thus, a large number of the nation's inhabitants are on "shutdown" at home, lacking foods to consume and are still unable to go out to fetch a living for themselves.
In view of these impediments, it becomes imperative to weigh the nutritional impact of the current Covid-19 mitigating measure of lockdown against the need to prevent malnutrition hunger and starvation of over 50% of the population who were already living below the poverty line. The country may need to look beyond the popular lockdown and begin to explore other possible measures that hold potential of achieving the same goal of halting the spread of the virus without sacrificing freedom of movement.
It is in the light of the above, public education on social distancing, hand-wash with other hygienic practices and wearing of face masks should rather attract emphasis in Nigeria. Massive production and distribution of face masks and associated public education should be undertaken as an emergency measure which could be achieved within a relatively short period of time without putting an embargo on income generating activities of people whose sources of livelihood is fragile. Following this, the Nigerian government needs to pass executive orders and enforce mandatory use of masks in public spaces. This approach when explored and combined with other methods that allow freedom of movement would eliminate the risk of impending hunger and starvation that many are currently being subjected to through the ongoing pattern of Covid-19 mitigating measure.
*Adetayo Aderinwale is a student of University of the Western Cape, Cape Town, South Africa