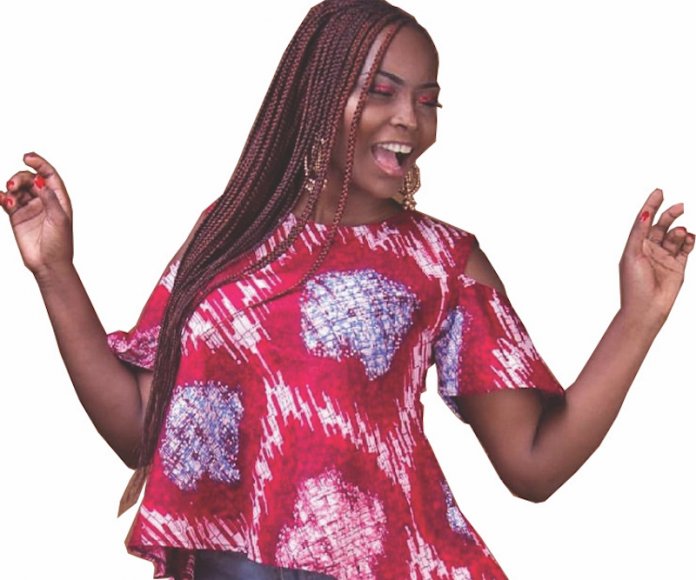 SUPERSATURDAY
By Kemi Ikuseedu
Many will always remember Kemi Ikuseedun for her role as Joyce in Africa Magic's Tinsel. Also known as "Kemz Mama" or "Mrs Macaroni", Kemi has been acting for a couple of years now. She went further for professional training at Emem Isong's Royal Arts Academy in Lagos. Kemi has acted in movies like "Conundrum", "Time and Chance". Aside from Tinsel, she has appeared on "Hustle" another television series. This lovely actress talks to Tosin Clegg about her journey into acting, breaking fully into her passion , future plans and a lot more
I'm the last born of my parents
I 'm from a family of three siblings and I grew up in Orile Igamu in Lagos, where I completed my primary school education and went on to Queens College Yaba, Lagos for my senior secondary school. I'm also a graduate of Accounting from Bells University Ota, and a student member of the Institute of Chartered Accountant of Nigeria (ICAN) with M.Sc. in Management from the University of Lagos. I grew up in a neighborhood where I was exposed to a lot of social vices but with my upbringing that hardly had a negative influence on me, rather it shaped me to becoming a focused and dedicated adult. I would always remain thankful to my parents who steadfastly ensured we all remained upright and well behaved.
How I started acting
I had always loved acting and I knew that one day that part of me would be fully explored because whenever I watched movies I imagine myself in the role of the main character, I will look into the mirror and try to mimic and act out different characters. I started acting from Queens College Yaba Lagos where I was in the drama club and it was what I hoped for and ever since I never looked back. I also joined the drama club in the university and after my NYSC I decided to go for different auditions. My parents never wanted me to act but since I have passion for it, I just motivated myself to pursue my childhood dreams no matter what.
I enrolled into the Royal Arts Academy School because of the need to improve myself. It was also to develop my innate skills and to further learn about acting and producing. I have also attended a lot of training programmes, which never stops for me. I have been mentored by the likes of Director Sukanmi Adebayo, Director Opeyemi Dada to mention just a few. I feel I still have a lot to learn and I'm striving at every opportunity to improve on my art. I started acting professionally in 2018 and I have acted in online skits as Kemz Mama and Mrs Macaroni. I have acted in movies like Conundrum, Time and Chance and on TV series like Tinsel and Hustle on African Magic.
I'm a self-motived, innovative, result and people-oriented person. I'm always eager to learn new ways and ideas in solving problems and I'm passionate in providing a level playing ground for people no matter their gender. I love to see people succeed. My kind of acting is to basically bring life to scripts. For me, basically, acting is to make believe and that's what I always try to do to with the character I'm scripted to play.
I'm strong willed and always full of energy
My exceptional character will be that I'm strong willed and always full of energy and a goal getter. My major break will be taking the role of Joyce on Tinsel. Joyce is a good girl from a poor background that started working as a cleaner and found herself sleeping with men for money because of peer influence and pressure.
Working with Mr. Macaroni
Mr. Macaroni is someone I have always admired and enjoyed his type of comedy plus he is a very good actor. One of my close friends sent my profile to him and that he should include me in his skits. I initially started as a normal girl character but after he saw me with my costume, which is the Kemz Mama costume, he decided to change my role and I became Mrs. Macaroni.
Talking about role models
When it comes to productions, I would say Tyler Perry and Niyi Akinmolayan are my role models. I really like their works and I respect them a lot. They are exceptional people; I love their acting and respect how they go about interpreting it, but I don't have any actor as a role model. And that's because I feel like acting for me is taken from different experiences and you would learn from different actors. And there is only one person that I would regard as a mentor and that's Sukanmi Adebayo. He guides me and shows me a lot of things I'm supposed to do and he is one person that talks to me and relates to me very well.
New projects
I'm excited about two upcoming projects that I'm a part of and I'm really excited about them. I went for the audition of 'Jack of All Trades' by Salami Rotimi and because it's a comic series I just went all out for it. But I was nervous and happy telling them about my comic life, the skits I do on Instagram and that's how I got that. And for 'Listen,' which is a short film by Trino Studios, I went for the auditions as well, but I don't think there was ever any audition; I wasn't nervous. They also told me to take another character which I tried and it worked out as well. So these two projects are things that I'm really excited about it.
I see myself producing movies
Few years from now, I see myself producing fully and I'm going to start this year with short films, but largely, I see myself producing movies. I would also be looking out for collaboration with people generally, with same interests as I have in production. I want to tell stories, entertain people and basically show the world what I can do.