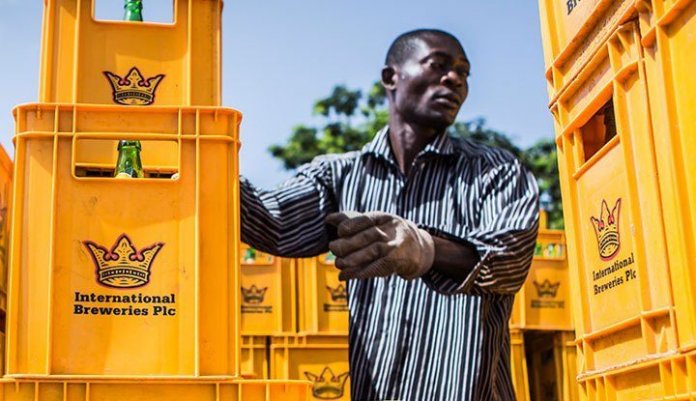 Goddy Egene
International Breweries Plc has recorded a loss of N27.791 billion for the year ended December 31, 2019, higher than the N3.933 billion recorded in 2018. As a result, the shareholders will not receive any dividend for the year. Details of the results showed revenue increased by 9.7 per cent to N132.351 billion in 2019, compared with N120.611 billion.
Cost of sale rose by 27 per cent to N107.144 billion from N84.493 billion, while administrative expenses jumped by 64 per cent from N15.942 billion to N26.17 billion. Also, marketing and promotions expenses rose by 63 per cent from N9.743 billion to N15.967 billion. The company incurred impairment charges on financial assets of N1.667 billion in 2019, up from N807 million in 2018.
Consequently, International Breweries Plc ended the year with a loss before tax of N36.166 billion, as against a loss of N8.116 billion in 2018. Tax credit of N8.376 billion reduced the loss to N27.791 billion in 2019, compared with N3.933 billion in 2018.
The Finance Director of International Breweries Plc, Mr. Bruno Zambrano last month assured shareholders of the company of better value going forward.
The director, who gave the assurance during a visit by the company's management to the Nigerian Stock Exchange (NSE), said the N165 billion raised from rights issue recently, would have positive impact on its operations and financial performance.
According to him, the rights issue had helped to recapitalise the company, improve its operational and financial flexibility, as well as significantly reduce its financing cost.
He therefore assured shareholders of the company's commitment to generate value for the long term, adding that the company will continue to explore every option to bring smiles to consumers and shareholders alike.