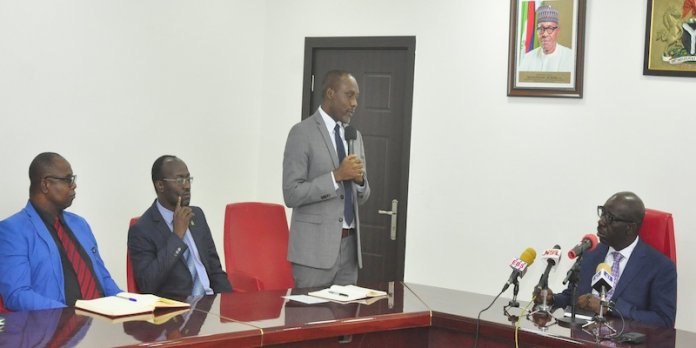 Adibe Emenyonu in Benin City
The University of Benin Teaching Hospital (UBTH) has cried out for help from well-meaning Nigerians in the fight against the deadly COVID-19 in the hospital.
The Chairman, Medical Advisory Committee of UBTH, Professor Casimir Omuemu, sent the Save Our Soul (SOS) message when he addressed journalists after a tour of the facilities at the hospital for COVID-19 patients.
Omuemu said: "We appeal to well meaning Nigerians to join us in this battle to support the hospital. You see there is more to be done right now but there is a lot we expect because as the number of victims of this pandemic increases, we expect that what is required to deal with them will increase. So we appeal to those who can support in meaningful way to join us.
"At the moment, we have 12 beds that have been activated but we have an extra space that we can expand to accept a total of 40 patients."
He said the call became necessary in the face of envisaged increase in number of COVID-19 patients in the hospital.
He also disclosed that the hospital has three ventilators but quickly added that the Edo State Government has promised to assist in supporting them with more ventilators and the repairs of those damaged by power surge.
Also, an infectious disease physician managing the isolation room, Dr. Benson Okwara, told journalists that "currently we have two patients who are COVID-19 positive that we are managing and they are showing significant signs of improvement and we are hoping that in the next couple of days we will have their test done again to know whether they converted from positive to negative. Of course the process is that a patient must have two negative tests within 24 to 72 hours before being discharge from this facility," he said.
He further noted that the only significant challenge the hospital has at the moment is the limited number of kits required to do test.
"For instance, we are planning that in the next couple of days we should get them tested. If we don't have that, it may be a little bit delayed. We have made calls to the NCDC, we have talked to the state team and there are plans to get these kits," he said.