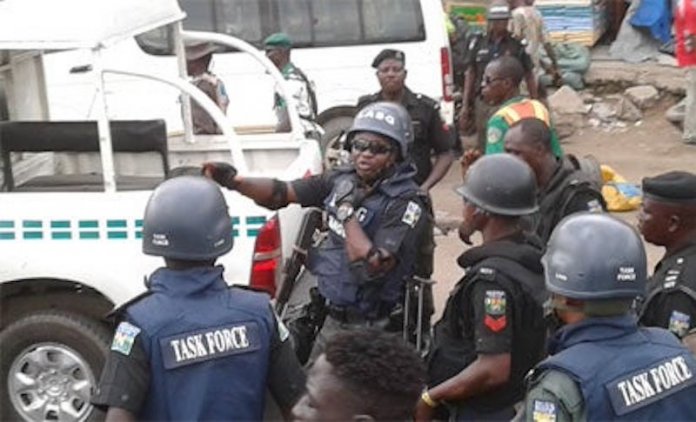 Emmanuel Ugwu in Umuahia
The task force set up by the Abia State Government to enforce compliance on the lockdown directive was yesterday attacked by hoodlums in Aba as the stay-at-home order seemed to have been difficult to deal with.
Eye witnesses said the incident occurred at the Tonimas junction market in Osisioma Ngwa Local Government Area leaving the members of the task force visibly scared for their lives as they watched their vehicles being smashed by the irate mob.
Traders at the market at the Aba axis of the Enugu-Port Harcourt expressway were said to have defied the state government directives on the COVID-19-inspired lockdown, and could not bear the presence of the task force team, which they suspected was there to disrupt the market.
Confirming the incident, the transition Chairman of Osisioma Ngwa LGA, Ikechukwu Nwabeke, told journalists that the state task force team led by its Chairman, Dr. Solomon Ogunji, had actually gone to the market to sensitise the traders, but their mission was misconstrued.
He said instead of listening to their message on the need to comply with the directives and guidelines issued by the government concerning the containment of the coronavirus, hoodlums attacked the task force.
"When we got to the area, the chairman started his address, but some hoodlums started chanting 'give us money', while others started smashing windscreens and headlights of the vehicles we came in," Nwabeke said.
The LGA chairman, who was part of the task force team, insisted that "we were not even on enforcement, but on sensitisation," adding that the team had already visited Afo Ule, Ahia Nkwo, Eke Akpara and other markets before coming to the market where they were attacked.
He denied allegations that the task force had destroyed traders' wares in the market for not complying with the stay at home order, saying: "There is no truth in any trader telling you that the task force destroyed their wares."
The former state lawmaker argued that the task force couldn't have resorted to destruction of goods since it was not on enforcement, and had visited other markets without incidents.
He further explained that what happened was that the hoodlums did not want the task force to address the traders, adding that some of the hoodlums joined the traders to launch the attack on the task force team.
On their reaction to the attacks, Nwabeke said the members of the task force immediately left the market before security men arrived at the scene.
The Chairman of the state task force on Covid-19, Ogunji, also confirmed the attack on his team, saying some if the hoodlums apprehended by the police have been arraigned in court.
He warned that the task force would not hesitate to visit defaulters of government directives with the full wrath of the law.