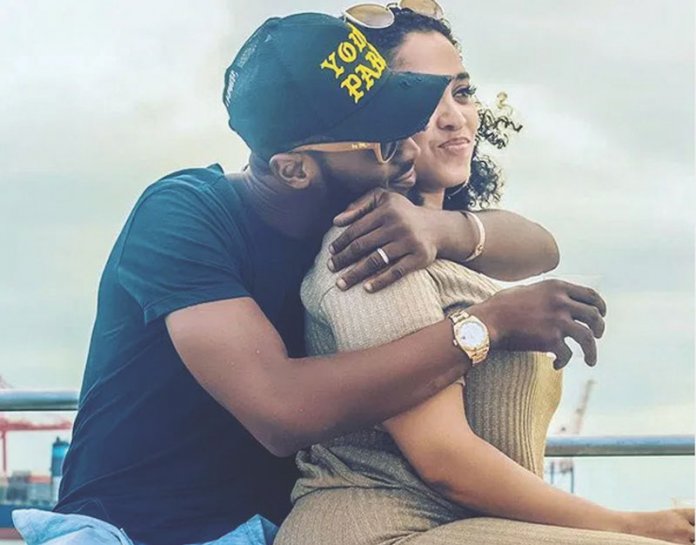 supersaturday
Koko Master, D'banj, is still struggling with the reality that his first son, Daniel Oyebanjo III, who died on June 2018, is no more, writes Ferdinand Ekechukwu
For musician, Oladapo Oyebanjo, better known as D'banj, sleeping in his room, in his house in Lagos for the first time in 21 months wasn't as easy for him as he had expected after losing his first child, Daniel Oyebanjo III, in the house. He disclosed this in a recent post on his social media page in what appeared to be a reflection about life and family generally. The singer, songwriter revealed that he slept in his room for the first time in twenty-one months. Recall that the singer had lost his son sometime in June 2018.
The late Oyebanjo III, who turned one in May of that same year, drowned in a swimming pool at the singer's Lagos home. D'banj, 39, was not in the country when the incident occurred. He was attending the BET awards in Los Angeles. The Koko Master in his post said he thought it would be easier for him to sleep in his room after many months but the "memories are so fresh." He used the post to encourage people going through any personal issues or any hardship.
He added that even though he and his family had been through so much, he woke up with a grateful heart. Dbanj said he believed that he could be a source of visible hope to anyone going through hard times due to the Covid-19 pandemic. He urged people to know that tomorrow would be better and people can turn their pain into motivation.
D'banj and Lineo tied the knot in 2016 and had their son soon after. Daniel's death came just after his one-year-old birthday party which was well celebrated by his parents' family and friends.
The news of the child's death left many of his fans in shock and saw many reach out to the star and his wife. The news went viral fast with condolences flooding in from politicians, celebrities and fans. It got a report on CNN, quoting local reports and social media feeds.
On Instagram, D'banj just placed a black background with the words: "Trying times but my God is Always and Forever Faithful." DBanj fans and showbiz stars all over the world wrote messages with condolences to the singer and his family. But along with the good came the bad. "Who was minding the child?" they asked. "Where was the fencing?" they questioned. "D'banj, we'd warned you!" they commented.
A 13-month-old was gone and a bunch of insensitive humans already demanding answers and placing the blame unfair and square on the heaving shoulders of a grieving mother and father. According to multiple reports then, D'banj's wife, Lineo was placed on suicide watch. It was quite a tragic moment for the young couple who were barely just two years in marriage then. However, it was good news a year after the sad incident as the couple welcomed a son in the United States of America barely a month after revealing he was expecting a child.
Two months after the incident, the singer dedicated a song to his wife. Dbanj would reveal in an interview that he never thought he would ever lose a child and that sad incident really broke him. During the interview, the Nigerian artiste thanked everyone that supported him and his wife throughout the trying time. "First, I want to thank everyone out there who has supported us, but the truth is in everything we do we need to give thanks to God and more importantly, I believe there is God that granted me the grace and mercy over my family and my wife to be here today.
"It's not something you wish for your worst enemy. To lose a child is not something you think about, and I have never thought about it before." He also revealed that he only attended therapy once with his wife but stopped going. "If I told you I thought about it, unlike other things you asked me and I told you I am focused and I go in, this was one that broke me. It was just that it just took the grace of God and a bit of therapy. I think I went for therapy once and I said this no be my style because it was bringing out so many things."
The DB Records boss in a related post last Monday took to his Instagram to appreciate his wife as she celebrated her birthday on March 30. Dbanj in the heartfelt message to his wife, Lineo Didi Kilgrow, disclosed that he had been through a lot with his wife in a short time and stated that they've always ended up at the better and brighter side of life. The entertainer also shared cute photos of his wife on his page and gushed about their life together.
He talked about how they have been through a lot and survived despite everything. In his post, he noted that words could not express his appreciation to God for the day they met. D'banj further stated that being with Didi gives him "visible hope" which is all he stands for. He added that being with his wife gives him hope. Dbanj also said being with his wife makes what he stands for a reality. He wished her a happy birthday from him and their son.
His post reads: "Words can't express my appreciation to God for the day we met and what you mean to me. We've been thru so much in such a little time but by His Grace still Always end up at the Better, Brighter side of life and in such a time like this when the world needs Not just hope but visible hope and a light at the end of the tunnel. Being with you totally does that for me and make what I stand for a reality visible hope. I celebrate you today and Say Happy Bday darling @lineo_dd from your boys. We Love you."