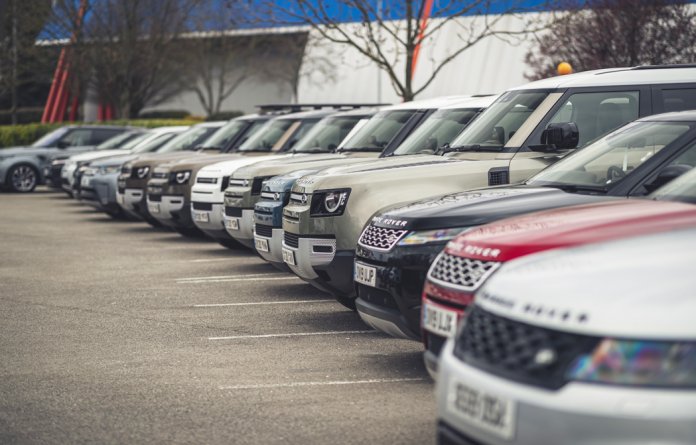 Jaguar and Land Rover said they have deployed more than 160 vehicles globally to support emergency response organisations during the coronavirus crisis.
A total of 57 vehicles including 27 New Defenders have been issued to the British Red Cross to deliver medicine and food to vulnerable people across the UK who now need additional support due to social distancing rules. Jaguar and Land Rover are represented in Nigeria by Coscharis Motors.
A statement by Jaguar and Land Rover said teams in Spain, France, South Africa and Australia have loaned vehicles to their Red Cross societies and more markets are offering help to their local teams. This service is being provided with fleets of vehicles now available due to the postponement of launch events.
Jaguar Land Rover Experience Johannesburg has made 11 vehicles available to the South African Red Cross Society (SARCS) for its efforts to control and minimise the spread of the coronavirus (COVID-19) in vulnerable areas around South Africa. The main focus areas for SARCS will be on hygiene promotion which entails, hand washing and sanitising techniques, information dissemination and awareness creation, demystifying myths on COVID-19, and the distribution of masks and gloves.
Jaguar Land Rover is working closely with the UK government and has offered its research and engineering expertise. Protective equipment is being donated to the NHS including wraparound safety glasses to the Royal Bolton Hospital, St James's Hospital in Leeds and Birmingham Children's Hospital.
Finbar McFall, Jaguar Land Rover Customer Experience Director, said: "The health and safety of our employees, customers and their families remains our priority. Jaguar and Land Rover will do everything we can to support people in need around the world. Our partnership with the Red Cross goes back 65 years and we will work hand in hand with them to do all we can during this global health emergency. We will also provide help to those closer to home in our local communities. We can all play a part in helping the vulnerable during this global pandemic."
Simon Lewis, Head of Crisis Response, British Red Cross said: "This unprecedented global health emergency requires us all to pull together. As part of the British Red Cross response to coronavirus, we're delving deep into the heart of communities across the UK to help strengthen support for the most vulnerable people through delivering essential food parcels and medicines to those unable to get out.
We have been overwhelmed by the kindness shown across the country, not only by our increasing number of volunteers, but also our longstanding partners. Thanks to Land Rover's generous support, our Emergency Response teams in the UK will be to reach even more people living in isolated communities than we could alone."
Land Rover and the International Federation of Red Cross and Red Crescent Societies (IFRC) have worked together for over 65 years, helping communities prepare and respond to emergencies with disaster-preparedness projects around the world – vital at times like this.
Through its partnership with the British Red Cross, Land Rover has also helped fund emergency relief efforts through the Disaster Relief Alliance, which supports community resilience programmes in the UK and around the world, providing financial assistance immediately when disaster hits – including coronavirus. British Red Cross has already given £200,000 to support Asian countries severely affected by the pandemic.
Temporarily Suspends Manufacturing at UK Facilities
In light of the ongoing coronavirus situation, Jaguar Land Rover has temporarily suspended production at its UK manufacturing facilities.
The company's intention is to resume in the week of 20 April, subject to review of the rapidly-changing circumstances, according to a statement.
As a responsible business, Jaguar Land Rover is operating in line with advice from the NHS and Public Health England to minimise the spread of the coronavirus, whilst implementing plans to safeguard its business continuity. The company will work towards an orderly return to production once conditions permit.
Currently, Jaguar Land Rover's manufacturing plants in Brazil and India continue operating. The company's joint venture plant in China reopened in the week of 24 February, as life begins to get back to normal in the country.
Although the company's focus must be on its business and responsibilities to employees, Jaguar Land Rover is doing whatever it can to support its communities through the current situation. The company's thoughts are with those directly affected by COVID-19 and with the healthcare professionals, whose role in combating this virus is appreciated by all.
New Defender Inspires Land Rover Above and Beyond Musto Range
Inspired by the durability and capability of New Defender, the Above and Beyond collection of men's and women's performance clothing and technical equipment is now available in sub-Sahara Africa.
Incorporating 50 years of Musto heritage in world-leading performance clothing, the collection includes the Welded Thermo jacket with RECCO integrated reflective antenna to help rescue teams locate you in difficult terrain. The jacket also features PrimaLoft Aerogel-lined pockets that help keep mobile phones charged for longer.
The Rodinia hybrid jacket has YKK Quickburst zip technology to transform it into a gilet in seconds. It also features PrimaLoft Black Eco insulation – a lightweight alternative to down layers that doesn't compromise warmth, comfort or flexibility.
Paul Stoneham, Musto Executive Chairman, said: "Designing technical performance clothing is at the very core of our expertise at Musto and this partnership with Land Rover brings together two innovative British brands, both with a strong heritage. The Above and Beyond collection will provide adventurers of all types with the protection on the outside that will allow them to perform at their very best from the inside thanks to the state-of-the-art material technology, durability and comfort of the range."
The collection also includes tough flasks and water bottles, a foldable multi tool to go to extremes and a seam sealed backpack with a 25 litre main compartment heat-welded Hypalon lashing points. Technical keyrings packed with pocket sized tools, a water resistant travel wallet and men's and women's reversible T-shirts complete the Above and Beyond range. The Above and Beyond collection is available in sub-Sahara Africa.