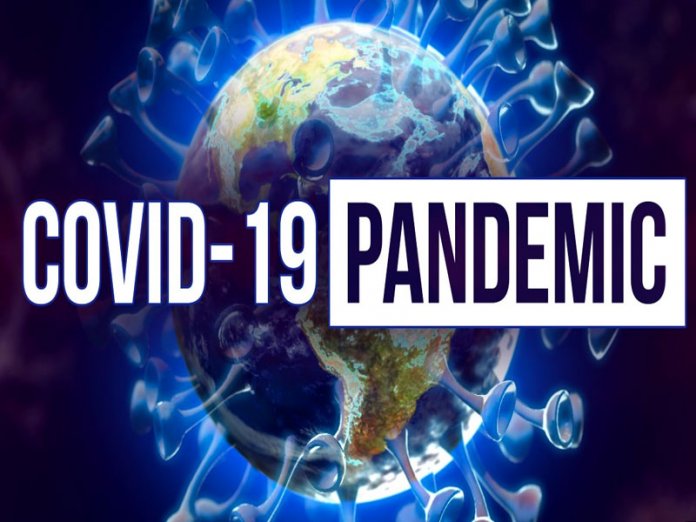 Yinka Olatunbosun reports on how a Nigerian visual artist and a trailblazer in Arts in Medicine who currently resides in the United States of America for a fellowship, Kunle Adewale, is working with a positive attitude in the face of the mandatory lockdown, away from his family in Nigeria
Before Nigeria's confirmed cases of persons infected with COVID-19 soared from units to hundreds, many developed countries of the world had been battling with the deadly outbreak while adopting partial and full lockdown in major cities or across the entire country. Within the past week, over 20 art events and exhibitions were cancelled or postponed indefinitely in Lagos alone.
The United States of America has become the epicentre of the COVID-19 outbreak, recording complete shutdown of museums and galleries, cinemas and theatres and that had been replicated in many countries of the world in compliance with the global advisory issued by the World Health Organisation regarding social distancing. Even the dynamics of art reporting had changed from event-based to human interests.
To inspire other artists and Nigerians in general, Kunle Adewale shared his personal account of how the lockdown has impacted his work and life as an Atlantic Fellow of Equity in Brain Health at Global Brain Health Institute, University of California, San Francisco. Adewale is a development practitioner, an artist by profession and a graduate of Obafemi Awolowo University, Ile-Ife Nigeria with specialization in Painting and Art History. He studied Civic Leadership from Tulane University New Orleans (USA), Arts in Health for Helping Professionals, Charlotte (USA) and Arts in Medicine at the Arts in Health Research Intensive from University of Florida (USA). Kunle is a certified artist in Understanding Arts and Dementia (University College London, UK) and in Medicine and The Arts (University of Cape Town, South Africa).
He told THISDAY Art Weekend how COVID-19 became morereal to him as a state of emergency was declared in San Francisco.
"People were rushing to buy foodstuff, toiletries, grocery stores were being emptied within a short time. Local and international flights were cancelled. A total shutdown of religious and social gathering, schools were closed, restaurants and other bars were not spared either. It seems everything was cancelled and social distancing became the order of the day," he said.
He said that having a positive disposition is the best way to cope with the lockdown. He believed that this is one of the most interesting times to be alive and that in spite of the scary news, there is hope for humanity.
"In the midst of it all I choose praise over panic, faith over fear because I believe this is not a permanent challenge, it shall be over soonest. The government of United States of America is doing their best to bring everything under control. Kudos the healthcare workers who puts their lives out there to save affected persons. They are the real heroes. Everything seems like a sci-fi movie," he said.
At the Global Brain Health Institute's program, All Atlantic Fellows for Equity in Brain Health are provided with innovative training in brain health, leadership, and dementia prevention to a broad array of promising leaders from various professions, including medicine, science, business, law, journalism, social science, and the arts. Through their works, the fellows are expected to emphasise local and global health inequities that need to be addressed by practitioners and policymakers, with the goal of transforming local communities around the world.
Apart from hand washing, Adewale emphasised the need for social distancing as one of the most effective ways of preventing the spread of the virus.
"While observing social distancing, we are connected occasionally via zoom for classes and meetings. It's been interesting but challenging because we are missing the physical human experience in the program but this is best decision for now. I'm also working on my solo art exhibition here in the United States, opening reception date is April 30. I'm not seeing the possibility of that event, so we will shift the date till everything is fine. In the meantime, I have been putting finish touches to my work, working on the catalogue, facilitating online art sessions for Americans.
"I'm currently working on a partnership with Alzheimer's Association of Northern California and Northern Nevada to design and facilitate a virtual therapeutic art for seniors living with dementia and those living with cognitive impairments. More so, I'm working with my team in Nigeria to organise a global art in health challenge #ArtResponds to COVID19". It is our collective responsibility as creatives to use the arts as a leverage to connect, educate, inspire hope and social change in our communities, especially in unprecedented time like this," he revealed.
With over a decade of experience as an artist and educationist, Adewale founded 'Tender Arts Nigeria' in 2013, a social enterprise and non-profit organisation which aims to positively impact children, youth and adults, with a focus on therapeutic arts, art education, talent development, community development and civic engagement.
Despite being separated from his family in these challenging times, he has been encouraged by their cheerful attitudewhenever he called.
However, he pointed out that it is important for the world to unite across racial differences to fight another great threat to life which is hate. Hate is the reason why people stigmatize others.
"This time is for more empathy and compassion, spreading message of hope, inspiring courage and resilience. This is the time to stand together and not be divided or play blame game. If you can't offer succour or support in times like this, just stay silent and don't spread hate," he said.
Adewale said artists should take advantage of this period to use their works to pass messages of hope and encouragement. Recently, the popular American singer-songwriter, John Legend shared a video of his e-concert for fans to cheer them up. Adewale said such artistic gestures could go a long way to help people develop the right mental disposition.
"Arts can be a powerful force for mental health, emotional and social wellbeing of people, artist can create works that helps people to experience inner peace in the midst of COVID19 storm. They can also offer emotional support by facilitating virtual therapeutic art sessions for people Just like the healthcare workers who are busy day and night to save more lives out there, I think as creative people our role is to complement the works of these healthcare practitioners. Hope for humanity lies in our collective efforts," he said.
He has impacted over 15,000 beneficiaries through his art programs in Nigeria, Ghana, Kenya, South Africa and USA. He currently leads the largest Arts in Health Network on the continent of Africa through the 'Arts in Medicine Fellowship for Students and Professionals in Arts and Health', located in Nigeria.
His community-based projects have been supported by U.S Department of State, Center for Arts in Medicine, University of Florida, U.S Consulate Lagos, and endorsed by International Child Arts Foundation, Washington D.C, United Nation Information Center, Society of Nigerian Artists, Nigerian Medical Association, Lagos State Council for Arts and Culture, Lagos State Ministry of Sports Youth and Social Development.
In 2014, Kunle was nominated for Global Teacher Prize by the Varkeys Foundation (UK). In August 2015, Kunle had the honor of meeting United States President, Barack Obama through the Mandela Washington Fellowship Award for Young African Leaders. He has also been specially recognised by National Museum of African Arts, Smithsonian Institution Washington DC and The Arts Council of New Orleans. This year, as a result of Kunle's impacts in the field of arts in health globally, August 2 was proclaimed by the Mayor of Cincinnati (USA) as the official 'Kunle Adewale Day'.