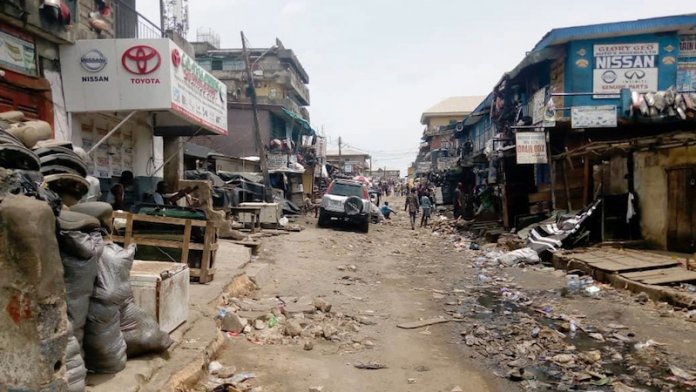 Oluchi Chibuzor
In view of the lockdown in Lagos State which was intended to help stop the spread of the COVID-19, the authorities of the Mile 12 international market have commenced offering mobile food delivery market.
The move, according to them, was to bring the market nearer to the communities in all the local government areas in Lagos state.
President Muhammadu Buhari, as part of the nation's efforts to stop the spread of COVID – 19 , had on Sunday, ordered lockdown in the Federal Capital Territory , Lagos , and Ogun states.
Buhari, during the nationwide broadcast, had said the 14 -day lockdown would enable the government to trace and treat those who must have contracted the virus.
Speaking with THISDAY, the Executive Chairman of the Market, Shehu Usman, disclosed the modalities of the mobile food service adopted to ensure food items are accessible to people.
He said, "We are going to be at a particular station like tomorrow we are going to be in Kosofe Local Government Area. The service would commence from 8 am to 5 pm for any LGA visited.
"We are also going to be doing it a way that it will cover every local government. The produce will be sold in our van to ensure compliance with government order.
"The price will be okay for anybody to afford. This is to help people as they are not coming out and because of government instruction, we are trying to bring it down to their home to make things easier at this period," he explained.
It would be recalled that the market was fumigated by the Lagos State Government officials from the ministry of Agriculture last week, aside the body temperature checks and hand sanitisers given to customers.
The Lagos State government had revealed that it has initiated biosecurity measures across its abattoirs and slaughter houses.
The move was part of measures to mitigate the spread of the coronavirus and other infectious diseases through the facilities.
The State Commissioner for Agriculture, Gbolahan Lawal, had explained that the government has stopped all non-essential activities such as food vendors and other non-related abattoir activities.
Lawal, however, warned that the state government would not condone any illegal conveyance of meat and meat products from any of the abattoir and slaughter houses to the markets, adding that the use of Eko refrigerated meat van was the only recognised means for transportation.
He urged butchers to discourage their customers from touching meat or meat products, saying customers should only point at whatever they want and butchers with gloved hands should sell the meat.