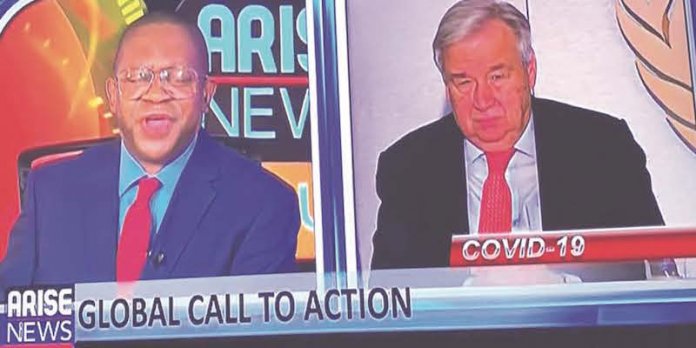 •Proposes $3tn buffer for poor countries
Martins Ifijeh
The United Nations Secretary-General, Mr. Antonio Guterres, has said that the fight to defeat the COVID-19 pandemic requires a global action, emphasising the need for the international community to support poor countries.
He, therefore, proposed a $3 trillion buffer for poor nations whose economies would be affected by the impact of the global pandemic.
Speaking on Arise TV Channel, the broadcast arm of THISDAY Newspapers yesterday, he said the pandemic was a humanitarian crisis with the capacity to destabilize the lives of people and the economies of most affected countries, especially developing and underdeveloped nations.
He said: "Developed nations are already injecting funds into their various economies to buffer the impact of COVID-19 pandemic on their people. The United States a few days ago injected $2 trillion into its economy. Italy, Germany and other first world countries are doing it. This should be extended to poor nations. Developed countries can do it. This is not a financial crisis, it is a humanitarian crisis.
"COVID-19 is messing with humanity, so the whole of humanity must fight the virus. The international community should understand the support needed for poor nations is only a drop in the ocean in terms of the resources it can offer.
"The United Nations agencies, non-governmental organisations, and rich countries should help population in distress in this difficult situation. Globally, we must offer a massive package of support to these nations to respond to the different impacts of COVID-19."
He said the requested funding does not need to come from monies already kept for other humanitarian responses, adding that what is needed was for different monies to be allotted to the COVID-19 response as it relates to economies of smaller nations.
"The response shouldn't come from programmes already in place. We need additional support to fight this outbreak. There should be double digit percent of gross domestic product globally in order to be able to address this challenge," he added.
Guterres said in addition to the financial aid, he was also suggesting debt cancellation for the affected smaller nations.
"Also, we are also calling for global ceasefire and sanctions should be suspended for vulnerable countries. These sanctions should be the ones undermining the capacity to respond to the COVID-19 pandemic. These are bilateral sanctions that can be waved. We are talking to countries to consider these suggestions," he said.
Guterres said the entire package of support would allow developing countries to be able to support their citizens in their businesses and other life endeavours.
"If we don't do this, their economies will collapse and that will bring devastating consequences to their vulnerable population," he warned.