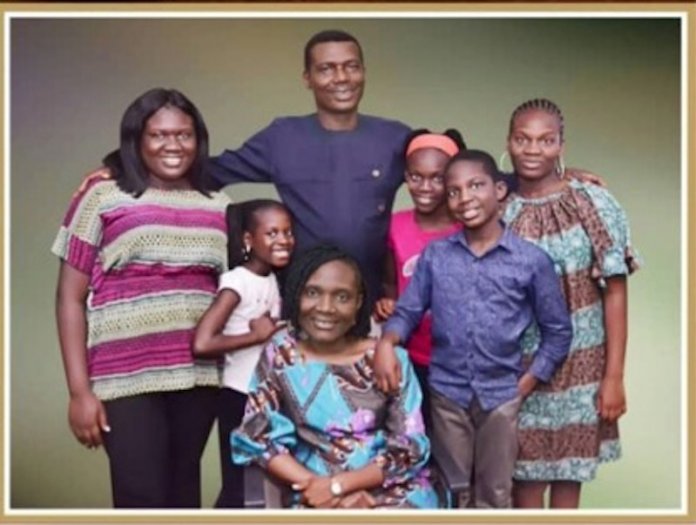 Don't Wait Until You Have All the Money in the World Before Starting a Family
Ebun-Olu Adegboruwa, Senior Advocate of Nigeria (SAN), is a courageous, eloquent, sagacious and meticulous legal luminary. This human rights activist says he hates injustice and will sacrifice anything to ensure there is justice in the society. His sense of organisation was visible in the orderly manner he arranged his law books and seats within his moderately furnished Lagos office. Dressed in a blue suit and fiddling with his laptop when we announced our presence, he quickly stood up to welcome us in an elbow-like salutation and offered us sanitiser to disinfect our hands. With a friendly smile on his face, he tells Charles Ajunwa and Ugo Aliogo about his childhood, family, career and many more
What are your recollections of your childhood and teenage years?
I was born in a rural riverine setup in Ondo State, Ilaje Local Government Area, and my recollection is that of the normal village boy with no access to infrastructure or modern facilities like vehicles, motor transport and motorbikes. We were only using canoes as our means of transportation because the whole area was waterlogged. So it was just like a normal boy growing up. I followed my father to the farm, trekking long distances and coming back carrying farm produce. My father was also a founder of a local church (Cherubim and Seraphim). I also followed him for outreaches and retreats outside our domain while I was in primary school. Then I also go to the river for fishing because in my place, our major occupation was fishing. I learnt in my early years to fish. But I recollect clearly that my parents were interested in education and the reason was because my mother used to host the education inspectors whenever they visited my community.
Due to the position of my father as the founder of a local church, he was more like a local champion. Whenever these education inspectors come, they lodge in our house. My mother will ask me to go and sit by the table, so I could look at them; they are always looking radiant, well dressed. So, I admired them and she also admired them. She wanted me to get education at all cost.
At that point, my father also became interested in ensuring that I acquired some form of education. But unfortunately, my mother died when I was in primary school. I was very young, clearly under 10 or so. She died in the course of child birth. It was very painful because I had to leave my domain to go and stay with my grandmother and that disrupted the kind of peace I was enjoying because it was a polygamous house. My step mother took war against me and never wanted to see me because I was excelling within the family. She would accuse me wrongly, and nothing I could do would ever please her. So it became a hot place for me. I guess because of the love my father had for my mum, he decided to send me outside our community for my secondary education.
Then it was the Adekunle Ajasin Government that was in power and they had free education, so I was sent to Ilaje Grammar School far away at Atijere, so I could be living in the boarding house and run away from the persecution and hostility at home. But as a young man, just barely about 12 years old, my stepmother discouraged my father from visiting me or sending provisions.
I was abandoned, nobody cared. I had to go into some form of survival for myself. Most times, I would not be in school because I had to be looking for something to do to make a living. In my second year, I was asked to leave the boarding house. I actually was expelled from secondary school. Then I joined a local gin company, where we were transporting gin from community to the other with manual truck made with woods and tyres. I became very well versed in that business and doing the truck pushing.
That went on for about a whole year. In the course of pulling the truck, you had to taste some gin. I was involved in other juvenile activities and I forgot about schooling totally. It was about that somebody from my town, Mr. Ayetoro Awojinrin, who knew that my mum wanted me to have education, went back home and told my dad that his son was not in school, but was transporting gin. So my father came and took me back home to complete my education right under his watch. Now, I was grown up and I was in a position to wrestle with my step-mother. I completed my secondary education at home, but it was still war. At that point, I guess my dad didn't want that war because a man would always side with his wife, so he sent me to Lagos to stay with his younger brother for my tertiary education.
When I got to Lagos, my uncle called me and said if I wanted to stay with him, I must join his business and along the line we can now be talking about education. So, I joined his timber business for five years. In the course of doing the business, because I love education, I was always going with books like S.M.E Aka. In the evening, after coming back from the timber forest, I will take out the lantern and read to update myself on subjects like Economics, Government and English. I had my books each time we were travelling because I didn't want to die a timber man.
It got to a time, I was agitated and I told my uncle I wanted to go back to school. So I approached a friend, who gave me a loan of N22 to apply for GCE. Then I applied for JAMB while still involved in the timber business. When the JAMB result was out, I had a score of 264 and my uncle was very happy. When I told him, I wanted to study Law, he was very happy and he took me to Obafemi Awolowo University, Ile-Ife. Unfortunately, the cut-off mark was very high. I needed four points to make the cut-off, we pleaded, but Prof. Fabunmi the Dean of Faculty of Law refused. I had to enroll for another JAMB the following year which I passed and I was offered admission to study Law in Ife on merit.
Who influenced you the most between your dad and your mum? What were the lessons you learnt from them?
Both parents influenced me, but my mum influenced me the most. My dad influenced me in the sense that he was a very hardworking person, very spartan. He was combining his pastoral work with farming. He had large expanse of farm land and was also involved in timber work. My father was well respected in our community and really admired for that. He was a man who would say something and stand by it and never tolerated injustice. So a lot of people come to him for reprieve and for assistance, because he was a pastor and founder of a church. In that regard, I saw him like a hero and role model because he was always talking about truth, justice even as an illiterate. I wanted to be like him. My mum was someone who loved education and I guessed that she influenced me in that regard. She would aways sit me down to say that she was not literate and wanted her children to become literate. But her major area of influence on me was that she didn't like her children taking other people's things. She was a moralist to the core. I remember very vividly that there was a time she just finished cooking and the portion she dished out for me was rather small and I took extra meat from her pot and she descended on me. She used a razor blade and cut my hands. I was bleeding and that was the first time I saw my dad fought her seriously. Those marks have remained and every time it's always a reminder that you don't take other people's things or something you have not been authorised to take.
The other area of influence was the bonding, because I was her firstborn and a boy, she always took me everywhere she went. Another area where my father stood out for me, was when my mother was sick before she died, she was in labour for about two days. In our community, there was no hospital or health centre, you deliver by faith through the local midwives. She had a breach during labour, and all she needed was just a caesarian operation to bring out the baby. So my father was praying and he assembled some prophets. I remember that my father was a very strong man of faith. So he also influenced me in that area. It was on the third day that people suggested to him that my mother should be taken to the local government headquarters for medical care. She died inside the canoe before they got to the local government headquarters. That almost ruined my life but my father stood by me and my siblings. So in that regard, I was also influenced by my father to be a man of faith and to be strong in difficult times. I'm not surprised now that I'm pastoring a church. It runs in the family right from my grandfather.
Will you say that you were pliable or stubborn as a child?
I was both but I can say that I was more of the stubborn type. I was pliable because of my mother. When she was alive, I couldn't go beyond her, or dare go out without her notice or approval. She monitored everything I did. I was a gentle boy then. After her death, especially when I got into secondary school, I ran into a lot of truancy and stubbornness. I remember vividly that in my year one in secondary school, I led a protest against our principal because we were not being fed well in the boarding house. He was coming from our local government headquarters through a motorised boat, so we all went and waited for him, dived into the water and seized the boat. I remember that I led that operation, which was part of the reasons I was expelled in year one. It was stubbornness at that stage, but I now understand it to mean something in me that resists injustice and to pilot the course of the common good, such that by the time I got to the university, I fully harnessed that potential which led me to becoming a member of the Students Union Government.
For instance in year one, I was chosen as the representative of my colleagues in the Law Students Society and in my year two, I was elected the public relations officer of the Students Union of Obafemi Awolowo University, and in my year three, I became the SUG President. Thereafter, I became a member of the Senate of National Association of Nigeria Students (NANS) and this platform enabled me to interact with Dr. Beko Ransome Kuti, Chief Gani Fawehinmi, and Femi Falana and other activists.
What motivated your pro-bono cases and investigations?
When I look at my past from what I have explained to you, it could only have been by the grace of God that I eventually got to school and graduated. I would have continued as a timber man. In the university, I was expelled, when we had a student protest against the IMF loan in 1992. The university authorities were not happy and they expelled 62 of us. It was a career truncated. But Chief Gani Fawehinmi called us into his office in Lagos and assured us that we were going to go back. With all the experiences I have had in my childhood, I could not go back home to tell my parents that I had been expelled, because it took so much to get there. So Fawehinmi filed that case pro-bono without asking for our parents, without asking for money and he was attending the court himself until he got judgment. After he got judgment, he followed us into the university to submit it and sat in the office of the Vice-Chancellor, insisting that we should be reinstated because examination was pending. So they reinstated us and we wrote the exams and passed and didn't miss that academic session.
Eventually, when I finished from university and came to the Law School, I was denied admission because the university wrote that I was not a fit and proper person because I participated in students protest. So Fawehinmi came to the Law School and insisted that since we got a judgment, which had nullified our expulsion from the university, they cannot use that same expulsion to deny me admission. Therefore, I was admitted. So I look back into my life that I have benefited from the services of great lawyers which I could not pay for, so I felt I needed to give back to people to help others too with my calling.
That is actually my motivation because of what I benefitted from others. I cannot go to the road and be protesting as I used to do as a student. As a senior lawyer especially as a Senior Advocate of Nigeria (SAN), I should now use my position to model other younger people and tell them that law is not all about money alone. Rather, we must see how we can use the instrument of law to challenge impunity, to challenge recklessness, to challenge lawlessness and direct the path of society for common good.
From your background, can we say you were born with a silver spoon?
I was never born with a silver spoon, even though my father was a founder of a church, and a big time farmer, he was not so rich. Otherwise, there would have been no need for him sending us to other people for training. I was totally from a humble background, but with parents who were well enlightened to know what to do for their children. So I grew up like a normal average child. When my mother died, I was always being told that it is those who don't have mothers that should get wiser. It was a difficult background for me, but I thank God for being there for me always.
Have you had any near life experience?
Yes, when the hostilities of my step-mother became unbearable because I was very young, I didn't know how else to survive in that environment. I just thought it was better to end my life. Twice, I attempted suicide. The first was in my father's fish ponds at the back of our house. My step mother was always starving me and making false reports to my father. So one day, I went to the pond and drank the mud water till I became unconscious. The entire village was searching for me and finally found me inside the pond. They removed the water from my stomach and took me to hospital far from our village and I was unconscious for seven days. In those seven days, it was my father that took care of me. So I guess that was a lesson for him because he had to be there. On the seventh day I came back to life and he vowed that it would not happen again. When I came back, I had a brief reprieve, but the woman started again.
For the second attempt, I decided to run away. Around noon, one particular day, I just walked very far into forest and never looked back. By evening time, my father raised an alarm that I was not at home, so hunters gathered to search for me in the forest, but to no avail as I had walked several kilometres away from our town. So someone reminded them that there was a long bell for the Anglican Church which was what they used in waking up people for early morning service. It had a charming sound that attracts people and it goes very far. So they started ringing the bell continuously and I heard it as it was unusual to ring it at that time of the day, unless something has happened or a prominent person has died. So I started following the sound of the bell because by this time it was getting dark and I was afraid. About some miles to the town, I saw hunters who were searching for me. But looking back now, it could only have been God because I could have been confronted by wild animals whilst walking around the forest aimlessly and alone.
How did you meet your wife?
Because of this background that I have so far explained to you, I could not marry early. Given all the struggles that I had I passed through for education, I felt that it was going to be some form of ingratitude to get married into my uncle's house, because I was living with my uncle after I graduated and I was working in Fawehinmi's Chambers then. Even though I was now a lawyer and I was earning some little token, and I was old enough, I didn't have the conviction in my spirit to marry and bring my wife into the small room that my uncle gave me to add to his burdens. So I wanted to struggle to be able to have a descent place before I could marry but that didn't come to pass; it took me a long time.
I left Gani's Chambers after about five years of tutelage and there was so much pressure on me from family to marry. They insisted that I must marry from my local government and I didn't know any lady from my local government in Lagos, so they said I should go to Ondo State University, where I could find people from my community. I got there and interviewed some ladies, it didn't work. One particular day, Mrs. Sola Adegbomire, who is also a senior lawyer, called me; she wanted do a research on oil pollution. That time I was handling a case for some fishermen against Mobil because there was a Mobil oil spillage at Eket in 1998. I was involved in prosecuting that case on behalf of some fishermen and she had read it in the newspaper. She called me and sent a lawyer from her office to me to pick the papers. The lawyer was a young lady who was serving her NYSC in their chambers. I saw her, a very young girl and very beautiful and well mannered. You know how boys think, this will be a fish to catch and I was trying to use style to gain her attention. After solving the issue she came for and I gave her the papers; I invited her for lunch and she declined that she was sent to collect papers that she has collected it and was ready to go. I phoned her boss that I had done the job she asked me to do but I now have another job for her. I told her that I liked the lady she sent to me and requested that she should give me a background on her parenthood. It turned out that they were family friends and she knew her background very well. So she told me everything she knew about her and I was impressed.
I begged her to try to bring us closer, so she ended up sending the young lady many times to my office even when there was nothing substantial to collect. Then we became close and I made a proposal to her. She was serving in Bayelsa State in Kaima where Issac Boro hails from. I met her parents and we finally agreed to marry. I have never had any regrets since concerning that decision.
What attracted you to her?
She is very forthright. At that time of my life, I had met so many ladies; besides I was an upcoming lawyer and had so many briefs that I was handling for clients and just coming from Gani's Chambers and I had some little money. So my thinking that time was that there is no girl that will not fall for me. Every trick in this world that I tried on her didn't work. So I was impressed by her uprightness. She was conscious and inflexible in that regard, I couldn't bend her. The stories I had from my senior lady lawyer friend encouraged me and she was very beautiful, very natural, plain and simple. There was no make-up, she just came as she was. She was very youthful, and a Christian to the core. When I visited her in Baysela State, she insisted I go and rent a guest house; that I couldn't stay in her copers' lodge. Anytime she visited me, she brought her friends along.
What have been your happiest moments in life?
July, 3 2019, will probably rank as one of the happiest moments of my life. I was before Hon. Justice (Prof.) Obiozor at the Federal High Court in Lagos, arguing a case for some IPMAN members, who were having disputes among themselves. I was there arguing from 10a.m. till about 3p.m. so I lost consciousness of things happening in the country. That day, the Legal Practitioners' Privileges Committee was meeting in Abuja to ratify the names of those to be conferred with SANs that year, because I was consumed in that case I lost sense of that event. After my submission, I sat down to listen to the arguments of the opposing counsel and to take notes for my response. Then I checked my phone only to see large volumes of text messages congratulating me. I read the messages and I jumped up instantly. Then my Lord asked, me what happened? And I told him. Everyone in the courtroom erupted in joy. Another day was on September 23, 2019, when I appeared before the Supreme Court, led by Honourable Justice Tanko Muhammad, who handed me the instrument of appointment and said I could now go and practice as a Senior Advocate of Nigeria. That was the happiest moment of my life apart from my wedding day and also another one on February 6, 2003, when I dropped my wife at the Redeemed Maternity in Ebute Metta. We were expecting our first baby. Then I went to court and when I came back, she had not delivered and the nurses wouldn't allow me to see her. It was around 11p.m. while praying on the altar inside the church, someone tapped me on the shoulders and said congratulations that my wife had given birth to a baby. I was so relieved as it was my first experience and we had both agreed not to tell anyone about her stay in the maternity.
What do you consider the biggest mistakes you ever made in life?
There are two things, first is that I didn't get to know Jesus Christ early, the way I now know him. The other mistake is that I should not have allowed my background to prevent me from getting married early in life. While I was still a bachelor in Gani's Chambers, there were people who married and had many children, they were clerks and drivers and we were supporting them, while they were raising their children. So looking back, I would have survived, but I wanted to have enough money, and have everything, pile up so much power and influence before getting married. This is a mistake that I think probably young people should not make. So long as you have a means of livelihood, don't wait until you have all the money in the world before you start raising your family. You will survive along the line, with God on your side.
What is your biggest fear in life?
I don't have any fear at all. The reason is that I have seen enough now in my little lifetime to know that there is nothing to be afraid of and I now understand that I can always conquer any situation with God. Fear could be that you may die, or be persecuted, or harmed. I have gone through these, I have been persecuted, I have been detained for nine months, I have been in the hospital theatre for six hours, so I know that life itself is in the hands of God. If He has not determined that a man should die, any other person wishing that person death is wasting time. I am more emboldened in faith knowing that life is not about how long you live it, but the impact that you make.
What is the lesson life has taught you?
Well, number one is that I believe that if God has destined that you will be somewhere, you will most certainly get there, it might just be a matter of time because the Bible says God makes everything beautiful in His own time. Secondly, one should not put his hands into what you cannot handle. It is not compulsory as a lawyer for instance that you accept every case that comes your way.
There are clients who come here and after listening to their cases, I need to be convinced in my heart to represent them in the law court or that the case can bring glory to my practice and to God. But if I am not convinced or they don't agree with my own views, I either charge them too high to discourage them or I turn it down outrightly. I have learnt that contentment is very important. Life doesn't consist in the physical possessions that a human being can boast of, but in the quality of the content of your heart and how you use your life to influence people for good.
The third lesson is that there is a need for us to reconcile our lives back to God because after death, we might not have the opportunity to do that in the grave. The fourth lesson is that we must value integrity, to be able to live uprightly and say things as they are.