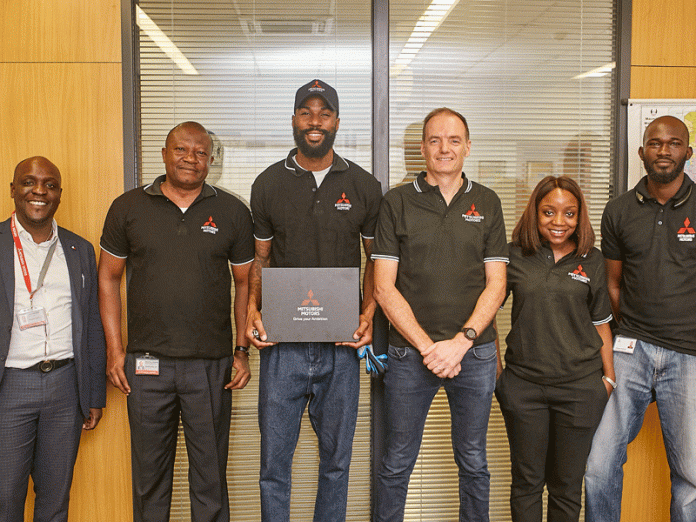 Mary Nnah
Mitsubishi Motors, one of the world's automotive heritage brands and ardent pioneers of technologies, officially welcomed ex-BBNaija housemate, Mike Edwards as its new brand ambassador with an Eclipse Cross at the just concluded 'Role Swap Day' which took place at Mitsubishi Motors showroom in Ijora, Lagos.
The Role Swap Day is an initiative which involves members of the Mitsubishi Motors management team taking up roles of subordinates to enable them further understand other departments within the organisation.
As part of his warm welcome, Edwards was assigned to the workshop where he was tasked with servicing cars and changing tyres alongside other mechanics at the workshop.
Speaking on his role as brand ambassador, Edwards expressed excitement to be part of the Mitsubishi Motors family as he looks forward to inspiring other young Nigerians to drive their ambition.
Managing Director/Country Delegate CFAO Nigeria, Thomas Pelletier, while handing Edwards the key to his brand new car said, "We will like to officially welcome you to the Mitsubishi family and we're counting on you to inspire ambitious Nigerian youths.
"We are very excited to share this year's edition of the 'Role Swap Day' with you and we look forward to a great partnership with you on the team".
Massilia Motors, a joint venture of CFAO and Chanrai Group, sole distributor of Mitsubishi Motors in Nigeria, is focused on delivering a range of exquisite cars – Mitsubishi ASX, Eclipse Cross, Outlander, Pajero, Pajero Sport and the award winning L200 pick-up – to the Nigerian market.