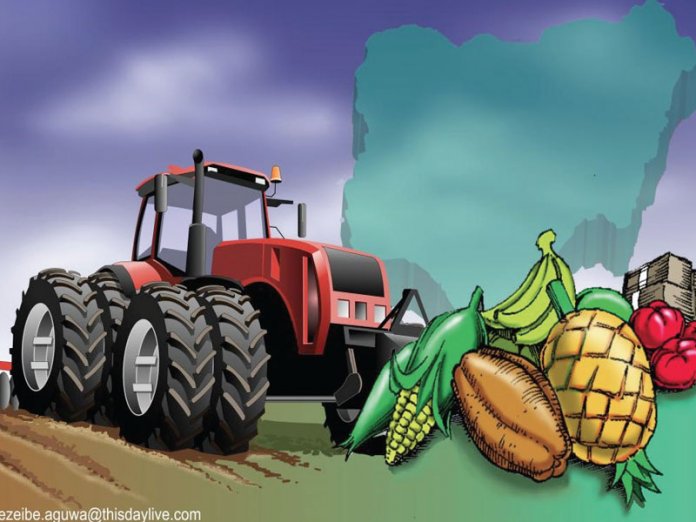 Oluchi Chibuzor examines factors that makes agriculture critical
The Nigerian economy remains the biggest in Africa. Analysts say the economy clearly has size and is on the path to meet its food production needs due to its comparative advantage in agriculture.
According to the African Development Bank (AfDB), Nigeria has many opportunities to transform its economy particularly in agro-processing and special agro-processing zones could promote agro-industrial development and employment.
The agriculture sector grew by 14.88 percent year-on-year in nominal terms in Q3 2019 recording a decline of—2.89 percent points and 7.7 percent points for the preceding Q2 and Q1 which recorded 17.76 percent and 22.58 percent points growth respectively.
Also, the sector grew by 2.28 percent year-on-year in the third quarter of 2019, an increase by 0.37 percent points from the corresponding period of 2018, and 0.49 percent points from the preceding quarter which recorded a growth rate of 1.79 percent, it however, fell 0.82percent points against 3.17percent recorded for Q1 2019.
In terms of contribution, the sector contributed 29.25 per cent to overall real GDP during the quarter, same as a contribution in the third quarter of 2018 but higher than the second and first quarters of 2019 which stood at 22.78 percent and 21.91percent respectively.
Crop production grew by 2.41 per cent in Q3 2019 from 1.94 per cent in Q2 2019 while Q1 recorded 3.27 percent, livestock sector grew by 0.02percent in Q3 2019 after it contracted by -0.01 percent in Q2 2019 from 0.88 percent in Q1 2019. Forestry grew by 2.1percent in Q1 2019; 3.23 percent in Q2 and 3.78 percent in Q3, while fishing grew by 7.09 percent in Q1; 1.09 percent in Q2 and 1.68 percent in Q3.
Diversification
Speaking on the issue, the Vice President, Nigeria Agribusiness Group, Dr. Emmanuel Ijewere, stressed the importance of diversifying the economy.
He said the process has already started with the farmers at the fore front, adding that if agriculture was taken seriously it is the biggest provided of job, opportunities for people to remain in the villages and develop the villages than everybody coming to the cities.
With the efforts by the Central Bank of Nigeria (CBN) to farmers, stakeholders acknowledged the apex bank was determined to support more farm activities with competitive and comparative local advantages and protect them by restricting food importation.
Ijewere, stated that several factors combine to position the nation as the largest economy in the continent, while expressing satisfaction on the CBN's commitment to aggregates farmers and investors to a single platform where it becomes necessary to off-takes agricultural produce in different parts of the country.
He added: "It is a statement of fact that the Nigerian economy is the largest in Africa, the next to it is South Africa, followed by Egypt and then Algeria. I think the economy itself one did not know was the largest until it was re-calibrated by Okonjo Iweala," he said.
He maintained that the reason for this was that over 55 percent of Nigeria economy was in the informal area-those who trade by the streets, and no records of them was kept.
He noted that this was not just because of what government has done or its various developmental programmes in the agricultural sector, it has been building up over time.
"The situation is huge; the population has to be fed, clothe, provide accommodation and transportation for them; all this makes it the biggest economy because of the huge population we have.
"On top of that we have been able to make much progress, because while it is not enough, but at least the economy has been fueled by the oil and gas resources the nation has. Yes, we have not progress as much we should progress but the economy and the economic activities in Nigeria are very dynamic.
On the progress made within the agricultural sector and with respect to food production, the renowned farmer congratulates the apex bank on its Anchor Borrower's Programme, stressing that it has not gotten to where it ought to be, "it has started working.
"It will take a long time to break a habit of people but now things will take shape and is based on one fundamental issue that one does not produce what people do not want. In other word it must be based on demand.
"Our economy in the past, when government was in whole control of the economy and agriculture in particular, they just kept on producing without asking what do the people want, but with ABP, the anchor is that person whom is going to say I want your goods and will give specification of its goods and then CBN will help those who want to produce it.
"So the ABP programmes link who is buying with the person who is producing or the farmer with a person providing the fund, so this is bringing all the parties together, which makes it a fantastic initiative of the CBN.
"However the growth will not happen overnight but it is a beginning to take root and is making progress towards encouraging food production in the country."
On his part, the Chairman Agricultural Trade Group of Nigerian Associations of Chambers of Commerce, Industry, Mines and Agriculture (NACCIMA), Ade Adefeko, said, the ABP has been largely successful though there a few defaults which was to be expected but largely positive.
"What people are doing now is to change their palettes and eat local and backward integration efforts are being intensified by local companies but the impact will be felt only much later," he maintained."
Increased Agro-commodity Value Chain
Ijewere stated that diversifying the economy was. He said agriculture should be taken seriously as it is the biggest provider of jobs and opportunities for people.
"We have improved the value chain from farming to table and so that is the situation that is beginning to happen now," he said.
Adefeko however appreciated the CBN's effort in the agro-value chain, adding that, "banks are doing their bit but can do more. They are being encouraged to lend to the informal sector."
The CBN on their own have come with numerous intervention funds for Rice, Maize, Tomato, Oil Palm and now DAIRY," Adefeko added.
The central bank recently hosted a meeting on how to transform the cocoa industry with stakeholders drawn from across the country.
On how to ensure that the backward integration achieved it purposes, Ijewere revealed that the weakest part so far has been the value chain from the farm.
"Nigeria loses a lot of its produce because of mishandling so you have a lot of post-harvest loss. We are trying to encourage people to come in to help reduce these losses by off-taking what the farmers have produce by preserving and processing the produce," he demanded.
Chiemeka Azubuieke, a Poultry consultant on Noiler Birds to Nigeria Market Development for the Niger Delta Programme (MADE), a DFID supported project, said farmers have benefited in the backward integration of the government. "With the introduction of Entrepreneurship Development Institute, over 40,000 farmers in Imo state have not received any fund despite the herculean task of proposal development and we keep asking when will there be a proactive procedure for farmers to access funds as obtains in other parts in the continents.
"The economy is the largest in Africa, but we should begin to have mechanism in place to improved road access, Good Agricultural Practices(GAP) for every value chain, establish farming estates and see the sector as a developmental project that encourages Agricultural students to work mainly in farms right from the colleges and universities.
"The economy managers should begin to see how they can use the national demand gap for some food items to formulate policy that recognises the geographical locations.
"For example in Baruten Local government in Kwara State, we have good supply of goats, that we can improve the meat value chain, in South-east, oil palm is doing well, and we should have small cottage oil millers that can produce standard products for export to benefits from the huge market potential of the economy."