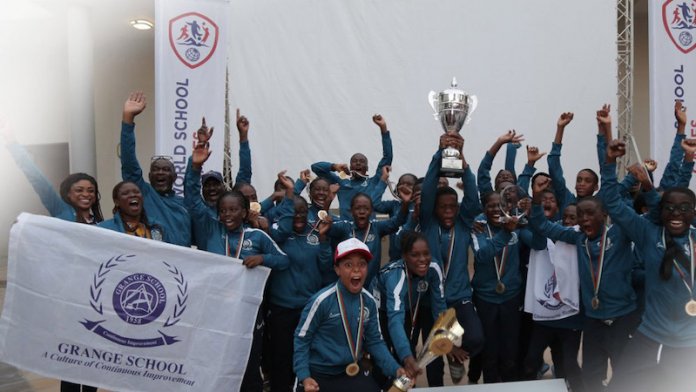 A contingent of under-13 (U-13) students from Grange School, Lagos, has emerged champions at the school's maiden appearance at the World School Games which held in Dubai from February 27-29, 2020.
The World School Games, comprising three sports categories, is an international competition for schools to showcase the talent, diversity and sportsmanship of students around the world. The participating schools compete across athletics, swimming and football to accrue the highest number of points to win the coveted World School Games trophy.
The U-13 team from Grange School, captained by Jordan Demuren and Toni Ogunlade, put forward an outstanding performance across all categories that saw them win a cumulative total of 28 medals across the individual and team activities, and all 24 team members receiving overall gold medals for winning the competition.
According to the Director of Activities, Mr. Okechukwu Obi, who prepared and also accompanied the students to Dubai, "this victory is a result of hard work and dedication shown by the students. They put in a lot of work ahead of the games and to say that I am proud of what they achieved will be putting it mildly. They deserve this win and I am elated to see their commitment pay off."
The team recorded remarkable victories at the games, including breaking an existing record in the triple jump category and coming first in the athletics and swimming categories, and second in the football category. The students accrued a total of 53.5 points, the highest from any of the participating schools, securing their victory as champions.
Upon their return, the victorious students were given a hero's welcome as they made both school and country proud. "These impressive young people are role models to everyone. They have shown us all how to set an ambitious goal and work hard to achieve it. Theirs is an extraordinary achievement, one which will remain with them for the rest of their lives," said Ms. Abra Stoakley, the Head of School.
She added that it took several days and evenings of intense practice to make the school's dream come true at the World School Games. "Does it involve giving up the things you'd rather do? Yes it does. Does it involve having supportive families who are determined to help their children do their best? Does it involve thinking like a team, moving away from being selfish, supporting and encouraging others and always striving to give your best performance? Of course it does," she said.
The school now looks ahead to other future outings with an increased sense of possibility of surpassing this first outing. There is increased motivation for other students to join the sports team and consider representing the school in various competitions locally and internationally, which in turn holds much benefits for the students and to the school.