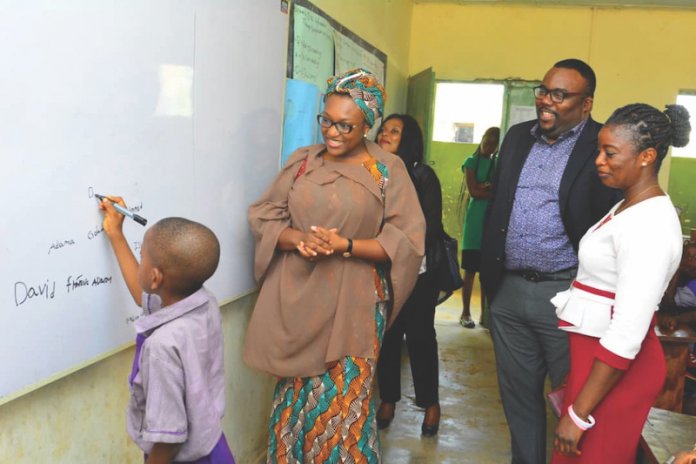 Without access to education, the future of hundreds of thousands of Nigerian children displaced by the protracted insurgency in the North East and taking refuge in IDP camps around the country has been a serious concern to Nigerians and the international community. Olaoluwakitan Babatunde x-rays the new initiatives by the National Commission for Refugees, Migrants, and Internally Displaced Persons to close the gaps
A gloomy picture
Salma had a big dream of becoming a nurse. However, according to a story shared by Plan International- Nigeria, Salma, who is originally from the Gwoza area of Borno State, fled her home with her family to Madagali after Boko Haram attacked the local market in 2012, killing many and razing homes. But Boko Haram struck again two weeks after they arrived Madagali. Although Salma had fled on foot through the night to escape the insurgents, her elder brother was not so lucky as he was killed for refusing to join the insurgents.
Julius and his younger brother, Joseph, were abducted from their uncle's house to Sambisa forest in 2014, while their uncle was executed in their presence. They had a lucky escape into Cameron from Sambisa while the insurgents were away on a killing campaign. Their mother later traced them and are receiving educational support from Plan International.
However, not every displaced child is as lucky. For every Julius or Joseph, there are hundreds of thousands of children pilling away without an iota of education in the IDP camps across the country, including Abuja. Insurgency by Boko Haram and other splinter groups affects over 17 million people in the Lake Chad Region, according to the United Nations Office for Coordination of Humanitarian Affairs. More than 2.2 million have been displaced, half of them children, while over 10.8 million people are in need of humanitarian assistance.
Worst hit is Nigeria, the origin and epicenter of the insurgency in the region. Since Boko Haram, translated, means "Education is forbidden", it is not surprising that schools and Western education have been the targets of the Islamic State's West Africa Province (ISWAP) and other splinter insurgent groups. And it comes with devastating consequences.
As the Country Director, Plan International Nigeria, Dr. Hussaini Abdu, rightly reasoned, without education, children are at risk of being seen as an ideal recruitment pool for extremist organisations or criminal gangs.
"Today's 15-year-olds were only seven when this conflict began," Abdu said a few years back, noting that, "Growing up amid brutal conflict will have affected them profoundly and not having a chance to go to school makes things even worse." "Without education, children are at risk of being seen as an ideal recruitment pool for extremist organisations or criminal gangs. In some cases, this is because their chances of employment are severely limited, which understandably makes them feel frustrated and resentful.
"In other cases, both boys' and girls' absence from a protective environment such as school makes them vulnerable to being forcibly recruited by armed groups. In the long term, the loss of education is going to make it much harder to put an end to the cycle of violence gripping the region", Abdu stated.
According to the International Displacement Monitoring Centre, IDMC, out-of-school children are denied not only their educational development, but also other important benefits like lack of stable nurturing and enriching environments.
Plan International has, therefore, called on government to provide accelerated learning programmes for children who have been denied education due to the conflict. This call is apt because, although there are efforts by some Non-Governmental Organisations (NGOs), their reach has been limited, while there has not been any known government interventions to address the educational needs of children in the IDP camps.
A bright future beckons
It is, however, heartwarming that the National Commission for Refugees, Migrants, and IDPs is increasingly taking steps to address this critical need of internally displaced children since Fatima Mamman Daura joined the agency as the Deputy Director in charge of IDPs about seven months ago. She has been quietly putting things in place and also identifying with public-spirited organisations to give hope of a bright future to displaced children.
Preparatory to government's full involvement in the education of internally displaced persons, Fatima Mamman Daura visited the Local Education Authority Primary School, Gwarimpa, Abuja, where some internally displaced children were enrolled by the Early Years for IDP Initiative, an intervention of Maple Leaf Early Years Foundation, Abuja. The Deputy Director, who expressed satisfaction with the educational progress of the children, commended the school and the Early Years Initiative for IDPs for the intervention, adding that the Commission would enroll more IDP children in school wherever there were significant IDP populations in the country.
An elated Daura said: "This initiative means a lot to me because this is a private individual, who is supporting the Commission, supporting children displaced from Gwoza, Southern Borno in the North East.
"Our mandate at the National Commission for Refugees, Migrants, and Internally Displaced persons is to ensure that IDPs are protected and assisted. Education is one component of our mandate. We must ensure that they not only get education, but also get education that is at per with what other children get in other parts of the country.
"As we keep telling people, everyone can help. Even if it is just the sponsorship of one child, it will go a long way in giving them a future beyond the IDP camps. This war on terror will not last forever. We should care what becomes of these children when normalcy returns if we fail to give them education to be responsible and productive members of the society. It will affect them economically, socially, and psychologically.
"We are open to the public, local and international organisations. They can come to our Head or Zonal Offices. We will link them up with NGOs working to carter to the educational needs of these children and even adults. They are all our children and we do have a responsibility to ensure that they receive proper education.
"But on our part, I am satisfied with what they are doing here at the LEA Primary School and we are going to ensure that they enroll more IDP children in school, not only in Abuja, but also across the country where we have significant IDP populations".
Meanwhile, the co-founder of Early Years for IDPs Initiative, Mr. Ndubuisi Nwigwe, confirmed that the organisation was now working with the Commission to set up early years centres in the IDP camps in order to carter to the educational needs of more children. He equally commended the Federal Commissioner, NCFRMI, Senator Basheer Garba Mohammed for his commitment to educating displaced children.
Providing background to their intervention, Ndubuisi said: "Two years ago, we enrolled 50 IDP children from the Durumi IDP Camp. We brought them to our Centre, where we provide them with early child education. We feed them three times a day- breakfast, lunch, and afternoon snacks. Many of them had never been to a formal school before we took them.
Although they are supposed to spend one year at our Centre, we prepared the older ones to get enrolled in primary school at the shortest time possible. We approached the Early Years Primary School in Gwarimpa where the Head Teacher was quite kind to admit 36 of them. The Minister of Finance, Hajia Zaiban Ahmed, is graciously sponsoring these 36.
"After school, we pick them up with our school bus and take back to our Centre where we give them lunch and help them with their homework before we take them back to the camps along with younger ones in our early year's facility. This is what we have done for two years now.
"These kids were living their normal lives before they were displaced by insurgency. However, their displacement does not deprive them of their rights to basic education. So, we are filling that gap caused by insurgency.
"We are trying to ensure that by the time they leave the camps, they would not have missed much. I am happy that the Commission is interested in what we are doing. The Deputy Director is just a round peg in a round hole. She is so dogged, down to earth, and her passion for the welfare of the IDPs is exemplary.
"She has come in person to see the children and observe their progress and I am happy she is satisfied with our modest effort. Now, we plan to move into the camps to set up early childhood education centres in our second phase. That way, the children would not need to be coming to our Centre anymore. We will now provide more space in the camps so that we can reach out to more children, and in this respect, we are working with the Commission".
A great change
Meanwhile, the Head Teacher of LEA Primary School, Gwarimpa, Mrs. Hafsat Umar-Isa, has expressed joy at the progress of the internally displaced children, noting that there was a great change.
"It was not easy when they came. But now, I said how could I say no to this young man. So, even though we are already overpopulated, I decided to accept them. And am just happy that there is a great change. Even during the examinations, most of the teachers were confessing that there has been great difference.
"Sometimes, I just look at them and weep because I normally wonder what could have become their fate if somebody did not take it upon himself to ensure that they access education.
"I trust that the government would ensure that every displaced child gets education as she promised. I thank the Commission, especially Fatima and the Federal Commissioner for their positive steps. Watching Fatima teach and interact with these children, you would think she is a teacher or even their mother. I thank her for taking these children as her own" she stated. If morning foretells the day, it could be said that the Commission is set to walk the talk to ensure that no child is left behind, education wise, by the reason of his or her displacement.