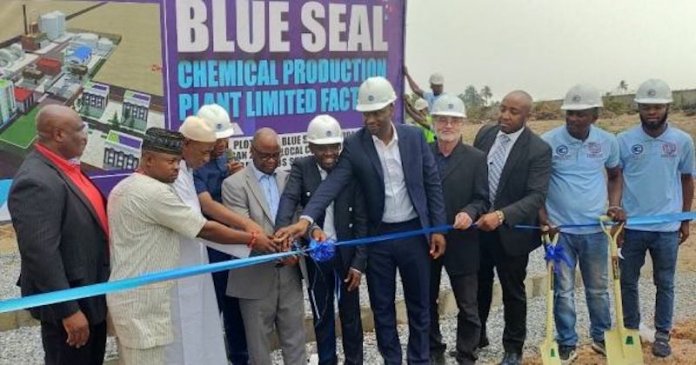 Peter Uzoho
Blue Seal Energy Group, an indigenous engineering solutions company, is constructing a-35,000 metric tons per annum capacity chemical production plant, at an estimated cost of $12.5 million.
The plant which is being sited at the Ibeju-Lekki area of Lagos State is projected to be completed within 36 months.
Briefing journalists in Lagos, at a media briefing/groundbreaking ceremony of the project, the Chief Executive Officer of Blue Seal Energy, Mr. Doyle Edeni, said the facility was being constructed to further strengthen the manufacturing and supply of quality chemical products to the group's customers.
He also explained that the plant was being built in fulfilment of the company's promise to gift Nigeria its first ever chemical blending plant to help bridge the gap between demand and supply of industrial chemicals, water treatment chemicals and oilfield chemicals.
Edeni, listed the socio-economic benefits of the chemical plant to Nigeria as improved access to industrial chemicals to boost local production; support to the federal government's campaign for indigenous production of goods and services; and creation of secondary industry and indirect jobs for suppliers of raw materials.
Others, according to him, include employment generation for artisans and community stakeholders; reduced dependence on imports; as well as economic stimulation.
He further explained that the essence of the plant was to invest in Nigeria and support its economic growth.
"We want to help change the narrative of our country from being an import- dependent to a manufacturing and export based country," he added.
He explained that 30 per cent of the funding would be sourced locally, while 70 per cent would be sourced outside the country.
Edeni, added that citing the plant in the same area with Dangote refinery and fertiliser plant was strategic, saying, Dangote Refinery will be our major client considering his proximity to our plant."
He noted that the company plan to employ about 500 people in the first phase of the project, adding that the number would be raised to 1,000 in due course.
He added: "We have good working relationship with the host communities and they are our major partner. We are turning the page this time because about four years ago, precisely in September 2016, when we held our first National Water Process Treatment Conference, we announced to Nigeria that we were going to start a new company, that we were going into the manufacturing of specialty chemical products in Nigeria.
"The difference this project will bring into our operation is that we don't have to suffer losses due to expired chemicals because they are very costly for you to detoxify.
"You know you cannot dump those chemicals in the river, sea or even in the air, you have to pay to take it to the detoxification facility for them to be able to remediate it and make it safe enough for discharge to the environment," Edeni said.