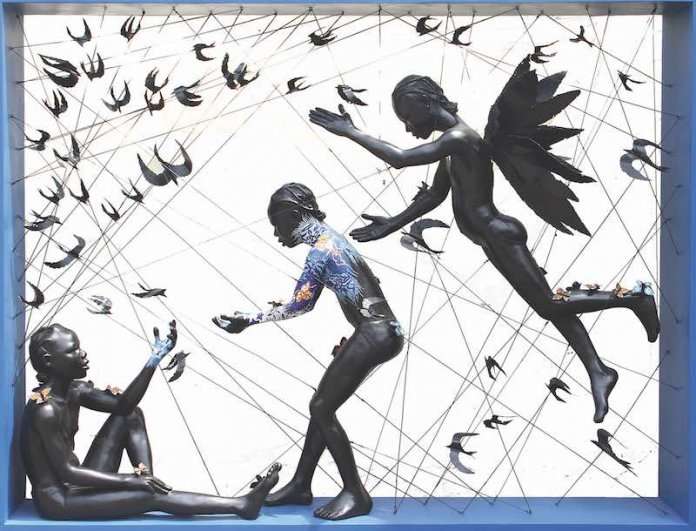 Leading contemporary Nigerian female artist Peju Alatise will once again be featuring at the Venice Biennale, this time for its architecture exhibition in the world. Ayodeji Rotinwa reports
VISUAL ART
When visual artist Peju Alatise received an email from La Biennale De Venezia, organizers of the 17th International Architecture Exhibition asking her if she would be interested in participating in the upcoming edition, now billed to open in August, she thought it was a spam message. She did not respond.
Yet, Alatise is no stranger to this global cultural institution that holds biannual showcases across art, architecture, cinema, dance, theatre and music, with artists from all over the world participating. Nor is she a stranger to other important, career-defining global showcases and opportunities.
In 2017, Alatise was part of a three-artist team that represented Nigeria in her debut pavilion at Venice Arte Biennale. Then, she presented to critical acclaim, "Flying Girls", a commentary on children's rights and an installation made from fibre glass, metal, plaster of Paris, resins and black cellulose paint – of eight life-sized girls. That work would go on to be exhibited at the 2018 EVA Biennial in Ireland. Before this distinct achievement, Alatise was made a fellow at the National Museum of African Art, a Smithsonian institution in 2016 and in the same year as her Venice Arte Biennale showcase, she won the 2017 FNB Joburg Art Fair Prize. At auctions, Alatise records high-flying performances and her earnings are tallied in the same or close columns as modern artists that have been practising decades before her.
The directors of the Biennale emailed again. They informed Alatise that they had seen her work and believed she could respond to the architectural premise and theme of this year's edition, "How Will We Live Together?" The premise calls on architects to "imagine spaces in which we can generously live together" in their material, cultural and spatial specificity.
"I thought it was a joke because it was architecture and not the arts. I thought there was some other Peju Alatise and we lived in parallel worlds and somehow we had crossed paths," Alatise recalled, in a phone interview, laughing.
"I was surprised because I don't practice architecture in the traditional sense so I was filled with some doubt and angst but at the same time I was also excited."
Alatise is a trained architect. Her first job straight out of university was to design furniture — which turned out to be more artistic than functional — and buildings.
Before this time, as a child, she painted, drew, worked with clay and textiles. It is this path she has predominantly followed, practising as an artist for most of her career. Alatise weaves both disciplines together in her creative output. It is the training in the former that gives an edge to the latter which she believes, is innate.
What further welds these two related practices in Alatise's work is her ability to tell stories, often leaning into ancient Yoruba folklore and mythology and given these a contemporary spin. These three key ingredients have contributed to creating an artistic signature for Alatise. Known for her sculptures, her works stand out for their architectonic elements, design, scale, and narrative.
In a 2018 career retrospective exhibition, "Paradox, Paradigms, and Parasites," Alatise brought together a medley of material: water, blown glass, stonecasts, textiles, metal, wooden corks, and acrylic paints – that might be very much at home on a construction site – to make "Silence".
In the piece, the stone casts of men and women's bodies were encased in glass, drowned in water, covered by corks, lifeless and silent. The piece was a response to the ongoing migration crisis across the world and specifically on the African continent with many citizens in the desperate lunge for a better life in Europe, perishing at sea. And their governments maintaining studied silence. This is hardly Alatise's most accomplished work. There have been other sculptures: some two stories high, others using copious amounts of manipulated metal, frozen textiles; responding to mob justice, or the story of rapture, taking months or years to realize.
The site-specific installation for the Architecture Exhibition in Venice will, however, be her most ambitious yet.
"I'm trying to create a piece that cannot be faulted, so there is a lot of pressure. I am my own worst critic, I have to keep the work secret and it's difficult to get any feedback. I'm giving it 1,000 percent. I'm throwing every ounce of energy I have at it," Alatise explained.
Asides from the creative demands of this particular piece, there have been other preliminary concerns.
In a published statement, Hashim Sarkis, curator of the exhibition said, "The architects invited to participate in the Biennale Architettura 2020 are encouraged to include other professions and constituencies—artists, builders, and craftspeople, but also politicians, journalists, social scientists, and everyday citizens. In effect, the Biennale Architettura 2020 asserts the vital role of the architect as both cordial convener and custodian of the spatial contract."
Alatise has had to do just this. Not that she could have had it any other way, even if the Biennale didn't encourage collaboration. It is part of her work philosophy. She has assembled an all-star team to help bring her biggest career work to the finish line. It includes Adenrele Sonariwo, curator of the Nigerian Pavillion, Venice Arte Biennale 2017 and founder, Rele Gallery, Ade Shokunbi, an architect and co-designer of Alatise's artist development space and foundation, Alter Native Artists Initiative, Aderemi Adegbite, multimedia artist and Alatise's collaborator and co-installer during the Venice Arte Biennale, Nana Shonoiki, project manager who has handled logistics of Alatise's past exhibitions, Yinka Akingbade, who is documenting and photographing progress of the work.
Aside from bringing together the right team, Alatise's installation also has incredible financial implications. Her team has had to devise ways to invite support, investment, and raise funds for the realization of this Venice project. Interested parties will own a piece of the installation, at the end of the project. Alatise has also had to undertake smaller commissions to fund this big one.
There are also public health concerns. The Corona Virus outbreak has hit Italy especially hard and there have been reports that Venice is quickly emptying out of tourists and visitors – who would otherwise visit the architecture exhibition when it opens. With new cases confirmed every day, several huge art events all over the world have had to postpone or cancel.
Alatise is, however, tireless, raring to go at this opportunity to create with the world watching.
"For me, this is an important call… you are called on a global platform and out of your comfort zone. The Biennale is the Olympics of the arts. My works are tending towards bigger, structural, brutal approaches. Architecture can give me guidance to that so it's great validation I'm heading in the right direction."