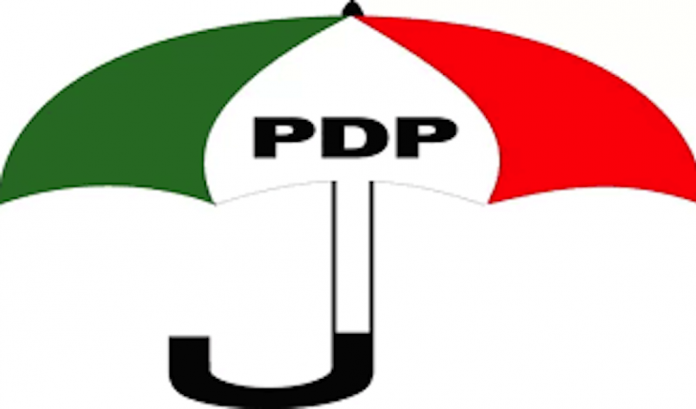 Victor Ogunje in Ado Ekiti
A lawmaker representing Ekiti South Senatorial District, Mrs Biodun Olujimi yesterday accused a committee set up by the National Working Committee (NWC) of the Peoples Democratic Party to conduct the ward congress of the party in the state of compromise, saying it had taken steps that could lead to rigging and perversion of people's will.
Olujimi said attempt by the committee, which is led by Taraba State Deputy Governor, Mr. Haruna Manu, to cancel the election already conducted across the 177 wards, was akin to a breach of trust and tantamount to gross manipulation of the process.
She made the allegation at a session with journalists in Ado Ekiti, the Ekiti State capital yesterday, rejecting the plan of the committee to cancel the result of the ward congresses.
The senator said the party members would not tolerate imposition in the PDP, alleging that the desperation exhibited by former Governor Ayodele Fayose and Manu, who is also the chairman of the congress, was suspicious and unacceptable .
Fayose and Olujimi had been battling for the control of the party, which prompted Fayose to support Hon Bisi Kolawole for the state chairmanship position while Olujimi is backing Hon Kehinde Odebunmi.
Addressing journalists yesterday, Olujimi said they had announced 8:00 a.m for the congresses.
She said: "At 8:00 a.m, we found out that INEC, police, Department of State Services , Nigerian Security and Civil Defence Corps and the electoral officers were already at the various wards.
"We allowed them to do what they wanted to do. Of course, they conducted the congresses AND everybody signed. At about 12.30 pm, everybody had dispersed. The chairman of the electoral committee came about 3.15pm. He had to do protocols in the government house to show his presence.
"He came into the party office at about 4:00 p.m. At 4:00 p.m., he said well, since he had just come, the congress had to be reorganised. We were wondering why the congresses would be reorganised because it had been done and everybody had signed.
"We suspected that some people had compromised. When he said people should go, we said there should be two options: that the result be upheld because everybody was present, and; if it is not upheld, we postpone it to a proper date when everybody can be there again. But he rejected our suggestions. He will go on with it this night.
"There must be ulterior motive behind the plan to reorganise the congresses in the night. Now that it has been ordered, soldiers had been mobilised to go in buses to go and hijack and threaten everybody that has been asked to go back so that they can write.
"What we are asking is simple, if you are cancelling, let us do it at a proper date and time appointed by the party. When people are struggling like this, it smacks of failure.
"When you have failed, that is when you start struggling for little things because this is an election into wards that is supposed to be normal everyday thing. But you find a set of people struggling to write results, we will not accept it. It will not happen."
Fayose, who disproved the allegation through his media aide, Lere Olayinka explained that this was the kind of complaint that the unpopular candidate always voiced out.
He said: "People, who are losing will always complain. They will always find something to blame. It is simple. Conduct of congresses in the PDP is a function of the national body of the party.
"The national secretariat went a step further to set up committees for each of the 16 council areas of Ekiti state, three persons per local government, they came from other states, when the chairman came, he addressed them and gave them materials for their local government. The allegation was not correct. The congress was done in compliance with the constitution of the party."
Youths Celebrate Osinbajo, Ndoma-Egba on Birthday
Today, Vice President Yemi Osinbajo (GCON), (SAN) and a former Senate Leader, Victor Ndoma-Egba (OFR), (CON) will be 63 and 64 years old respectively.
In a tribute to them, youths across the federation issued a congratulatory message in which they brought out the similarities they both shared.
Titled, "A Tale of Two Birthday", the tribute stated that between Osinbajo and Ndoma-Egba, their birth on the 8th day of March was more than mere cosmic coincidence.
According to the youths, while the vice president was born in 1957, the latter was given birth to in 1956.
The tribute read in part: "But apart from that difference in their years of birth, every pattern in the trajectories of both men bear striking similarities.
"The two chose a career in law profession. Both read law from the same law faculty at the University of Lagos. While Osinbajo graduated in 1978 and was called to the Bar in 1979, Ndoma-Egba graduated in 1977 and called to the Bar in 1978.
"Respectively, they must have graduated at age 21 and called to the Bar at the age of 22. For that generation of university graduates, it is a well known fact that graduating at such early age is an unusual happenstance. It must mean that both Yemi Osinbajo and Victor Ndoma-Egba as youngsters are academic whiz kids.
"After graduation, Osinbajo went into academics and Ndoma-Egba went into private legal practice. Both made remarkable successes at their career paths as lawyers.
"Vice President Osinbajo became a law professor and both earned the ultimate jewel of the legal profession as Senior Advocates of Nigeria – one in 2002 and the other in 2004.
"Ndoma-Egba's debut in public service was serving as Commissioner for Works and Housing in old Cross River State (now Cross River and Akwa Ibom state). That was in 1985 when Major-General Muhammadu Buhari was military Head of State and Commander in Chief.
"As providence would have it, Osinbajo is currently Vice-President to President Muhammadu Buhari as Nigeria's sixth democratically elected leader. Like Ndoma-Egba, Osinbajo too had served as Attorney-General and Commissioner for Justice in Lagos in 1999, while Ndoma-Egba had similarly served in the same capacity on a brief note in old Cross River State during the days on military rule in the country.
"But if all these similarities in the pathways of the duo was due to the predictable outcome of their devotion to the law profession and public service, what about their corporeality?
"Both are of the lithe athletic physique, with sartorial and genteel disposition of men of character, imbued with religion and devotion to God. Professor Osinbajo is a renowned Pentecostal preacher and Ndoma-Egba has a flare of passion to his Roman Catholic faith, narrowly missing his way into the priesthood.
"Osinbajo was raised as a child by a father who was a preacher – himself growing to become one, ditto for Ndoma-Egba, raised by a father who was a trustee of the Presbyterian Church of Nigeria, a celebrated lawyer and Appeal Court judge, himself also towing the line to become a colourful lawyer.
"In other words, both were raised by clergymen and took after their fathers' profession and became famously successful at it. Again, both men are known for their oratory, sense of humor, simplicity and humility in their interactions with other people.
"If, indeed, Stars are born on the 8 day of March, both Osinbajo and Ndoma-Egba are true expression of the luck in that date of birth. Or, even if it is true that the Light of God gives birth to all stars, it must be that such divine Light has shone distinctively on both Vice President Osinbajo and Senator Ndoma-Egba."