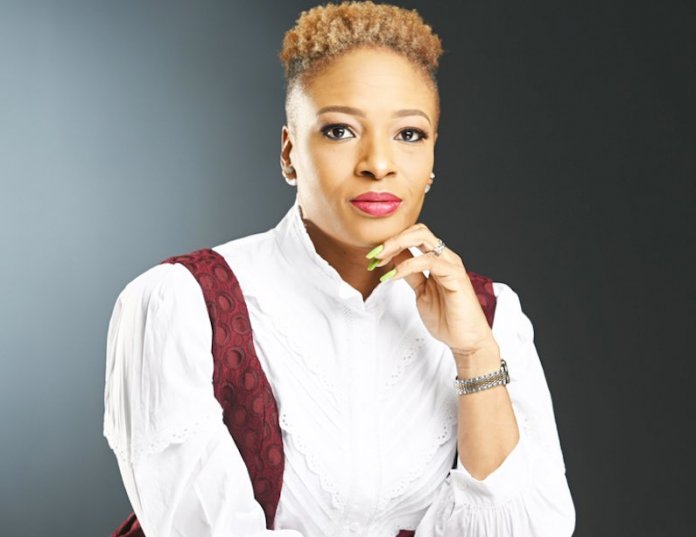 Business/BRANDS & MARKETING
CHIOMA AFE
With her exploits as a thoroughbred marketing communication professional, whose efforts have transformed the fortune of many businesses in Nigeria, Chioma Afe, the Group Head, Retail Marketing & Analytics at Access Bank, is redefining the place of marketing and communication in branding, management and sustainability. Afe has, at various times, worked with Coca Cola, British American Tobacco Nigeria, Cadbury, Multichoice, Airtel, Diamond Bank and others. In this encounter with Raheem Akingbolu, she opens up on the emerging trend in the marketing communication industry, pointing out the beauty and the ugly side of social media and the need for brand managers to always apply caution why pushing their brands
Today, she thinks mainly of how to deepen the huge retail business of Access Bank. But beyond that narrow space, Chioma Afe, a multidimensional marketing communications expert, sleeps and wakes up reviewing how marketing communication and Nigerian brands are evolving.
"I'm always passionate in whatever I believe in and that has been my mantra in all the places I work. I have joined hands in the past to build top brands in the Nigerian market and those who worked with me on those projects can confirm how passionate I could be when I believe in anything. Here at Access Bank, I'm keen about bringing the best out of our retail business and the experience has been exciting, despite the size and spread of the bank. But if I think of any other thing, it's marketing communication and its application in the Nigerian market. In fairness to practitioners, the stake has been raised within and outside agencies but there are still room for improvement,"
Like many experts, Afe believes that digital has impacted positively on the industry as substantial chunk of marketing budget now goes to digital marketing at the expense of traditional method, however, she maintains that traditional is still relevant to brand building.
"Digital marketing has changed the media landscape and a lot is being achieved through the social media but brand managers must always apply caution when working on their brands through social media so they don't overshoot things," she added.
Beyond the appealing aesthetics of the Access Bank brand, Afe described it as a brand that is not only rich in appearance but also deep in content. To this end, he spoke on how innovation and unique products have helped the bank to maintain affinity with the banking public.
"Access Bank maintains a standard that is unrivalled in the market and this reflects in all its operations. Our customers bank with ease and we have schemes like Diamond Extra and Devise Finance that touch on the needs of customers and how to solve them. In the last one year, we are happy that these schemes have not only touched lives, they have been handy to customers at critical periods and help them surmount challenges. For instance, through our revolutionary credit schemes such as Device Finance, we have seen more Nigerians get connected to do more in business online and enjoy social lifestyle of their choice. Another thing that has helped the brand growth is perhaps the priority given to digital. With this, except when it is extremely necessary and important, our customers don't go inside the banking hall -they do their transaction at the comfort of their homes,"
Touching on the specifics of her current job, she spoke glowingly of how she is championing and driving the development and deployment of marketing communication initiatives for the Access Bank retail business spanning product activations and promotions, content marketing, creative content production, online PR and sponsorships.
"With my team, we undertake strategy development and execution of retail product campaigns across all relevant media channels as well as establishing market intelligence and analytics model used to design and track high performance marketing campaigns that are focused on measurable returns on marketing investment. Besides, the team also manages retail marketing communications across subsidiaries in key African markets – Ghana, Gambia, Zambia, Rwanda, Sierra Leone and DRC Congo."
Engagement
Ask Chioma Afe 10 times what has kept Access and Diamond Banks' customers together even after last year's fusion of the two brands, and she won't hesitate to mention engagement. According to her, long before the formal announcement of the merger, the promoters of the two banks had involved in engagement deeply, moving from one city to another, listening to stakeholders and taking suggestions.
"I have heard many people say they haven't seen the kind of seamless merger as witnessed in the case of Access and Diamond Banks.
To those of us who were part of the process, we were not surprised because the management of the two organisations didn't joke with engagement and communication. For three months or thereabout, members of top management team of the two organizations were moving from one city to the other, explaining issues and taking advice where necessary. During such forum, customers opened up and asked questions bothering them while the management responded accordingly. In short, all the stakeholders were carried along and that is the beauty of it all."
Access Brand Going Global
After moving up the ladder and becomes one of the biggest banks in Africa, what next for Access Bank? As soon as this question was thrown at this marketing communication amazon, her face lighted, beaming with a smile.
"We are going global…in fact we are already there. I can tell you for free that Access Bank is no longer bench marking with African brands but global financial institutions. On the African continent, we have become a leader and our impact is being felt globally. Efforts are being made by the promoters of the brand to make it becomes a force to reckon with globally in the next few years.
Working for Competing Brands
Despite her passion to work and build brands, Chioma Afe has a standing rule, which forbids her to leave a particular brand and pitch tent with a competing brand. Her response when this reporter asked her if she could dump Access for another bank was in the negative.
"From the early days of my career, I have vowed never to leave a brand for a rival brand. I was in Coca Cola and I didn't envisage a day I would move to Pepsi. When I was in Airtel, I knew my next place of work would not be in the telecom sector. The truth is that I'm always too emotionally attached to any brand I work on that it would be difficult for me to start positioning a rival brand few months after. As the Head of Corporate Communication Division of Diamond Bank, I remember I told my then Managing Director, Uzoma Dozie that I would leave because of my loyalty to the brand until this new realignment took place.
Strength
Though Afe consistently emphasized the fact that all her accomplishments were made possible because of the good people she has been blessed to work with, it's easy to conclude that the fact that she has traversed every facet of marketing communications industry has helped her career. After observing her one-year National Youth Service Corps at the Quadrant Company, a leading PR agency, she had moved to Tequila Nigeria Limited, an experiential marketing company. And from there, she joined Andersen as an Analyst. At British American Tobacco (BATN), she started as a Direct Marketing Executive, driving the execution of one-to-one communication with consumers via events, activations and database mining, thereby applying what she took away from Tequila.
She left BATN as Brand Manager for Value-for-Money Brands, before heading to Coca-Cola Nigeria in 2006 as Brand Manager, Sprite. She was in Coca-Cola Nigeria for 5 years in various roles, including a stint at the South African office before moving to Airtel from where she moved to Cadbury as Marketing Manager, Beverages, where she was able to lead the team to win back market share for the flagship brand, Bournvita, in the East. She joined MultiChoice Nigeria in 2013 and after three years she quit and joined Diamond Bank.
Marriage & Family
One wonders how this career woman has been able to attend to her family while keeping her job going. But to her, it has been an easy task because her husband of 18 years has been more than a supporting pillar.
"I think God prepared me well for my career by giving me a supporting and understanding husband. I met my husband, a true son of Edo State at a get-together party organized for a common friend and became friends. We didn't get to see again until after sometimes -this time we took ourselves seriously and the rest is history. In the last few years, he has sacrificed his comfort and time for me to make sure I succeed in my career. He's indeed a God-sent,"
Representatives in the 8th National Assembly revealed that some lottery operators were owing the government as much as $16 billion in unpaid remittances. Over 60 million Nigerians between 18 and 40 are involved in active sports betting whilst over 2 billion naira ($5.9 million) is spent on sports betting daily in Nigeria, translating to over $2.2 billion per annum.–