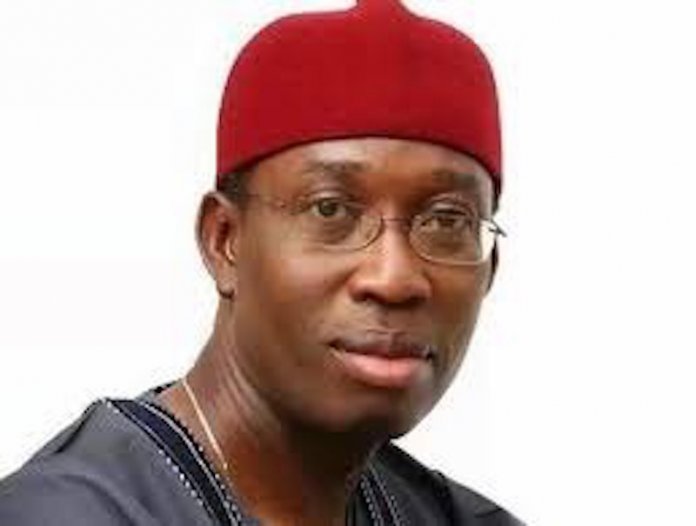 Chiamaka Ozulumba writes that in a bid to secure the future for youths in Delta State, Governor Ifeanyi Okowa kicked off the S.M.A.R.T agenda as one of the components of wealth and job creation through a structured omnibus enterprise development plan
Watching Bridget Apodor, a cosmetologist and beauty therapist, display her products elicits hope for the Nigerian youth most of whom are caught in the web of rising youth unemployment in the country. Apodor is among the growing community of young Deltans who are now business owners and employers of labour, courtesy of Governor Ifeanyi Okowa's eentrepreneurship development programmes.
From the crowded hall of the jobless, she is now the proud Chief Executive Officer (CEO) of Chevonne Cosmetics. She's not alone.
Governor Okowa came into office in 2015 flaunting a development kit encapsulated in a S.M.A.R.T agenda, now Stronger Delta. One of the components of that kit was wealth creation/job creation through a structured omnibus enterprise development plan for Deltans especially the youth.
S.M.A.R.T is an acronym for Strategic wealth creation projects and provision of jobs for all Deltans; Meaningful peace building platforms aimed at political/social stability; Agricultural reforms and accelerated industrialisation; Relevant health and education policies; and Transformed environment through massive urban renewal. The essence of the wealth and job creation aspect of the S.M.A.R.T agenda was to lift as many Deltans out of poverty. To actuate the vision, the Governor created the Office of the Chief Job Creation Officer (the first of its kind in the State) as a Special Purpose Vehicle to drive the job and wealth creation component of the agenda.
The office initiated three main programmes namely: Youth Agricultural Entrepreneurs Programme (YAGEP); Skills Training and Entrepreneurship Programme (STEP); and Production and Processing Support Programme (PPSP), all aimed at diversifying the economy of the State and empowering the beneficiaries to become makers of the cake rather than sharers of same. The programme has become a huge success to the acclamation of Deltans.
The average Deltan is a hardworking, talented and intellectually endowed person. On their own some have stamped their feet in the creative industry and other ventures that require skills. What these programmes have done is to give more impetus to the natural endowments of the people.
While YAGEP is training youths in agriculture and agribusiness and helping them to establish their own ventures, the STEP trains youths in different skills/trades as well as help them to establish their own enterprises. The alumni of these programmes are known as YAGEPreneurs and STEPreneurs.
Apodor who hails from Bomadi Local Government Area and a graduate of Economics from Delta State University, Abraka is an alumnus of the STEP programme. Apodor, a STEPreneur, currently has nine products under the Chevonne brand name and her products line spans skin care and households. Yet, she was only a few years back an unstable jobseeker. She recounts her experience.
"I was unemployed for six years after graduation from the university. I was in and out of private jobs for those years without a steady means of livelihood. I was discouraged and confused but I believed that someday there would be a change. Suddenly the change came. It was a drastic change. I was trained for three months by the Delta State government. After the training I was given a starter pack and money for take-off. I started from home but now I own my own shop and my business is growing," she said. Like other beneficiaries, Apodor has trained others in addition to expanding her product line.
Another beneficiary of the empowerment programme is Chiweike Nwankwo, a native of Ibusa in Oshimili North Local Government Area. He is a YAGEPreneur (2015 Cycle). He was trained in fish production. A holder of a Bachelor of Science degree in Technical and Vocational Education from the Delta State University, Abraka, he has within a year and two months of establishment grown his fishery business from the pond to plate. He has scaled up into fish processing and is growing brooder stock for fish hatchery. From his initial three ponds at the Agricultural Development Programme (ADP) site at Ibusa, he has acquired a vast expanse of land to be used as his permanent site.
Nwankwo sees a bright future for his business and thanks Governor Okowa whom he said gave him hope at a time he lost all hope of getting any meaningful job.
"I graduated in 2010, but I remained unemployed. I looked forward to getting a government job without success until I was given hope by the Delta State Government through its job creation programme, the Youth Agricultural Entrepreneurs Programme (YAGEP).
After the training which lasted for three months, I was given a starter pack which consisted of three concrete ponds at Agricultural Development Programme (ADP) at Ibusa, 2,000 fingerlings, 145 bags of fish feeds and a monthly stipend of N10,000 for three months. I also received a smoking kiln from the state government through my cooperative group."
Asked if he still longs for regular salary job, he quips: "No, I am a very busy man now and I employ people".
In barely two years, he has grown his fish stock to over 15,000 scattered in seven ponds with two annex ponds located in Asaba. Besides, he now processes his fish to add value, to control price and to prevent wastages. Nwankwo, the yesterday jobseeker is now a job creator. He has trained over a dozen persons including members of the NYSC sent to him by the state government. Not only that, he now has his own staff as he continues to expand his business.
Since the launch of YAGEP and STEP in August 2016, a total of 4,274 unemployed youths have been transformed into business owners with some employing as many as five persons. In addition, over, 15,000 persons have also been trained and established in their choice enterprises through the Ministries of Agriculture, Youth Development, Women Affairs and the Micro, Small, Medium Enterprise Development Agency.
The multiplier effect is not just that the beneficiaries are now employers of labour, their success stories has spurred other youths in the state to voluntarily embrace farming and skills acquisition as against the chase for white-collar jobs. It also reflects in the intake in admission of students into the various technical colleges and vocational centres scattered across the state.
Without any doubt, Okowa's development-centric government is positioning Delta to lead a productivity revolution in Nigeria. Across the nation and as far as the United Kingdom, some of the products from these initiatives have continued to compete with others in the marketplace.
In major markets and super stores in Nigeria, cosmetics, processed cassava products including garri and starch, rice, an assortment of spices, fabrics and clothes from Delta State courtesy of the STEPreneur and YAGEPreneurs have continued to attract increased patronage.
During the Products Exhibition and Business Fair for beneficiaries of the STEP and YAGEP, it was self-evident that Okowa has effectively lit the fire of entrepreneurship among the young men and women of Delta State. About 450 exhibitors showcased their products and exhibited their skills to the admiration of the throng of people who witnessed the two-day event.
Nigeria has an actively growing population with a youth bulge many believe demands urgent attention because of its obvious security implication. Experts say the most effective way to deal with the challenge is to actively engage these youths and keep them busy. Agriculture, skill acquisition come highly recommended.
This is exactly what Okowa is doing in Delta, unlocking and unleashing the power of youth entrepreneurship, changing the narrative from youth job seekers to youth job and wealth creators. He is building the youths and securing their tomorrow.