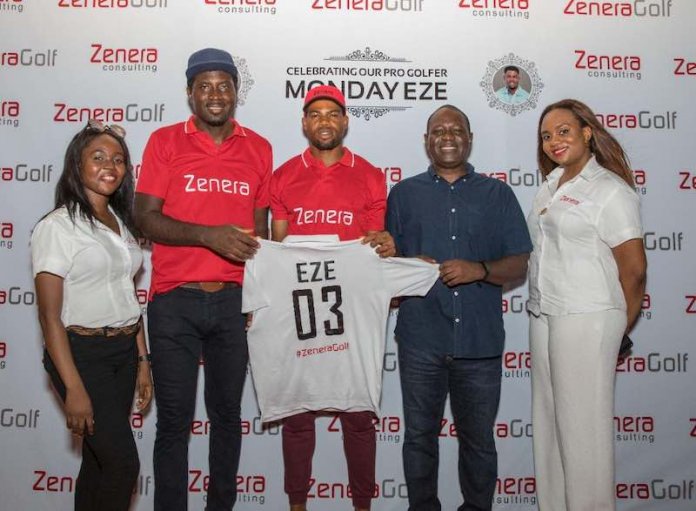 After years of training, consistency and dedication, Zenera Consulting's protégé on the golf scene, Monday Eze, has officially joined the league of professional golfers in Nigeria.
Eze, who has been under the mentorship and sponsorship of the branding and advertising firm, was last Friday, February 21, 2020, formally inducted into the Professional Golfers Association of Nigeria after emerging victorious in the Qualifying Exams.
For four years, the organisation invested in Eze through several trainings to London, Kenya and other countries. Zenera also sponsored him to competitions as an amateur
Speaking shortly after his induction into the Pro rank, Eze expressed his appreciation to the entire Zenera team and their support so far.
"A player may be good at what he does but if no one believes in him, his success makes no difference. Zenera Consulting through the leadership of Meka Olowola has been my pillar of support, throwing their weight behind my career all these years and trusting my ability to deliver. I am happy to make pro rank and happier that this feat makes Zenera proud of me. With this endorsement, I look forward to more winnings and more success stories," stressed Eze.
On the poor appreciation of golf in Nigeria, the Managing Partner of Zenera Consulting, Meka Olowola who is an avid golfer and a member of the Ikoyi Golf Club noted that, "Golfing in Nigeria is still not as developed as it should be. Its challenges range from inadequate facilities, poor funding and low awareness of the game.
"In addition to education and youth development, we have also elected to support the beautiful game of golf and we are therefore glad and fulfilled that our premiere protégé has reached this milestone in his career."
The Zenera CEO expressed appreciation to members of Ikoyi Golf Club, Lakowe Golf Club, Concierge Spot, friends in London and Kenya and others who were instrumental to Eze's success, noting that if all young talents got support like this, the country would be thronged and bursting with professionals who can represent her well in world competitions.
PG 2