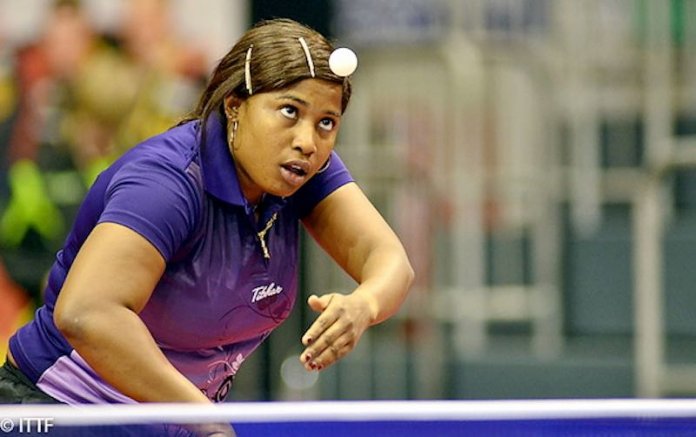 ITTF AFRICA CUP
* Battle for Tokyo 2020 tickets to begin Thursday
Duro Ikhazuagbe
Team Nigeria's push to get several of her compatriots to qualify for the 2020 Olympic Games in Tokyo, Japan was boosted yesterday with the qualifications of both Aruna Quadri and Offiong Edem for the finals of the men and women's singles of the ongoing ITTF Africa Cup in Tunisia.
Although not an Olympic qualifying tournament, Aruna was in his element as he fought back from two sets deficit to claim a 4-3 semi-final victory (5-11,6-11,11-4,14-12,7-11,11-5,12-10) over Omar Assar of Egypt to reach the final.
Offiong on the other hand also secured a place in the final to face Africa's foremost female player Dina Meshref also of Egypt.
She defeated favourite Helmy Yousra a 4-2 (6-11,14-16,11-811-7,11-7,11-6) to set up the mouthwatering clash with Meshref.
To reach the semi finals, Offiong's 4-1 (11-8, 7-11, 11-5, 11-8, 11-6) defeat of Fadwa Garcii in one of the quarter finals of the tournament was least expected.
The 33-year old Nigerian who has won bronze at the last two editions of the event, began with an 8-11, 11-9, 11-7, 11-6 win over Tunisia's Safa Saidani.
Her quarter-final place was secured with an 11-3, 8-11, 11-3, 11-7 win over South Africa's Simeen Mookrey.
Aruna Quadri who is a two-time champion had recorded wins on the opening day as he seeks to improve on his runner-up finish at the past two editions of the event.
Before earning a quarterfinal triumph, the Nigerian star won in straight games against Tunisia's Adam Hmam 11-5, 14-12, 11-4, followed by a dominant 11-2, 11-9, 11-2 triumph over Algeria's Sami Kherouf in Group 1.
For Omotayo Olajide, he was bounced out after being unable to survive highflying Egyptian Omar Assar in the quarterfinal of the competition.
Meanwhile, battles for places in the table tennis event of Tokyo 2020 will start tomorrow, February 27 through February 29.
Top four players in men and women singles will qualify for Tokyo 2020 while winners in mixed doubles will represent Africa at the Games in Japan.