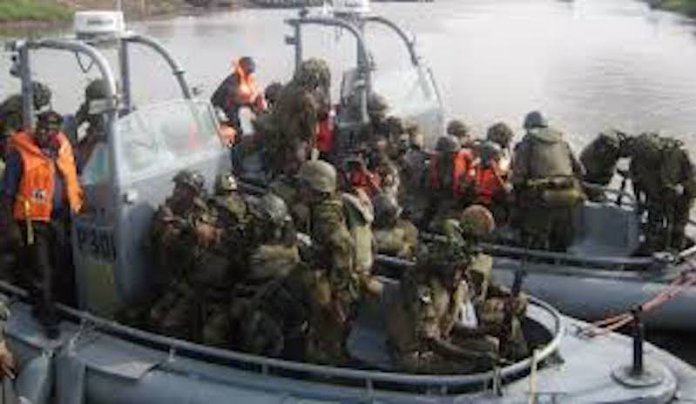 James Sowole in Akure
Palpable tension enveloped some riverine communities in Ilaje Local Government Area of Ondo State as Naval officers stormed the area in search of some suspected sea pirates who last year allegedly kidnapped two foreigners and killed four naval ratings and bolted away with their arms and ammunition.
The action of the naval officers from the Forward Operation Base (FOB) in Igbokoda had been criticised by the people of Gbagira and Awoye communities who said their economic and social lives had been disrupted.
They complained that they were prevented from carrying out their economic and social activities as the naval officers moved from house to house in search of arms and ammunition.
The face-off between the community and the naval men had made Ondo State Government to call for cautions.
The government, in a statement by the Commissioner for Information and Orientation, Mr. Donald Ojogo, appealed to the men of the Nigerian Navy to de-escalate tension in the area by dialoguing with the leadership of the community to achieve positive approach.
The state government also called on the community leaders to show enough cooperation and understanding with the security agencies in fishing out criminals and make the waterways safe.
Ojogo said: "Ondo State Government deems it pertinent to intervene in the ongoing faceoff between men of the Nigerian Navy and the riverine communities of Ilaje Local Government Area of the state.
"Specifically, Governor Oluwarotimi Odunayo Akeredolu, SAN expresses concern over reported cases of incessant altercations between the Navy and the communities believably, as a result of the former's efforts to recover arms allegedly in the possession of some youths.
"For the records, government received series of reports in respect of this development and has followed up with efforts geared towards the recovery of such arms allegedly in the hands of some youths."
He, however, expressed the desire of the state government to return peace to the area while maintaining that criminals should not be harboured in the communities. He sought the help of the community leaders in ensuring peace and unity.
"It is worthy of mention that the desired success in this regard can only be achieved through community based intelligence gathering. It is believed that under circumstances as such, the communities are possibly, likely to be more helpful.
"Incessant altercations can only lead to needless fear, create apprehensions and brood friction and inadvertently, sustain suspicion.
"Confirmed reports of collaboration between community leaders and criminals will not be overlooked as government will leave no stone unturned to bring perpetrators to face the full wrath of the law," Ojogo said.