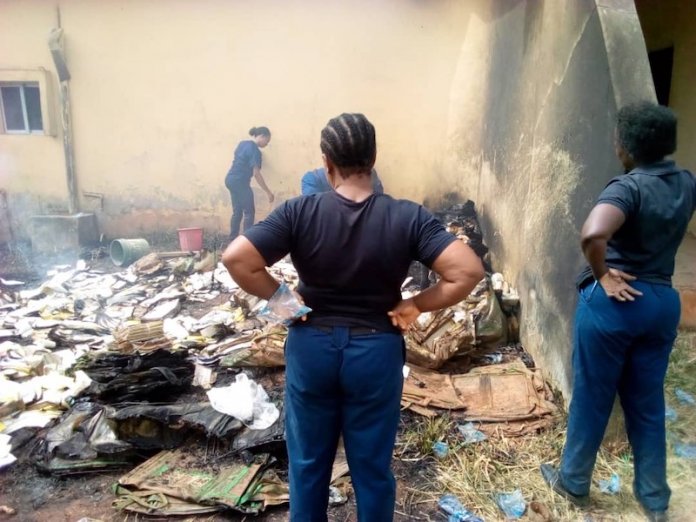 David-Chyddy Eleke reports that since October 2019, it has been one fire incident after another in Anambra State, mostly involving petrol tankers, which necessitated a clarion campaign by stakeholders for measures to be put in place to stem the tide
On October 16, 2019, a major disaster hit one of the biggest markets in Onitsha, Anambra State, when a petrol tanker carrying petroleum product lost control and fell at Upper Iweka. The incident did not attract much attention in the area until close to an hour later, when shops in Ochanja Market, about five kilometers away from Upper Iweka where the tanker had fallen, went up in flames.
The liquid content of the tanker which poured into a drainage canal had flowed down to Ochanja Market from where it came in contact with fire and exploded. At the end of the day, goods worth hundreds of millions were razed from uncountable shops, while about five persons, including a nursing mother and her newborn, lost their lives in the fire.
The incident was such a tragic one it attracted attention from all across the country, turning the scene as a tourist site, as people trooped to catch a glimpse of how it had happened.
Just days after the incident, another fire broke, also around the Enugu – Onitsha expressway, in the same city, when another petroleum tanker which was parked in a fuel station awaiting discharge of its product in the early hours of the morning, suddenly started burning. The fire extended to a nearby mechanic workshop where it razed over 20 vehicles in two automobile mechanic workshops.
Since after the incidents, more fire incidents have been registered in Onitsha, Awka and Nnewi, the three major cities in Anambra State, most of which resulted in the loss of lives and property.
In several communities in Anambra, fire incidents were
also registered, including the recent gutting of old spare parts market in Obosi, in which a trader who is said to own three shops rushed to the scene of the fire in the dead of the night, collapsed after seeing his wares go up in flame, which eventually led to his death.
In Ojoto, Idemili South Council Secretariat and Nnewi North Council Secretariat, vital documents of the council were on February gutted by fire emanating from burning refuse and burning bush respectively. Also, in Ogidi, Idemili North Local Government Area of Anambra State, the Independent National Electoral Commission (INEC) office in the area was also destroyed by fire, with several vital documents lost to the fire.
Following this incessant outbreaks, stakeholders have been seeking a way to stop it, leading to campaigns among citizens in the state. It is believed that since October 2019, over 50 cases of fire of various degrees have been registered in the state. But the Anambra State police command insists that only 25 cases of fire have been registered within the period.
The state police command's spokesperson, SP Haruna Mohammed said, "Between October 16, 2019 till date, the command has recorded about 25 cases of fire incidents officially reported as follows: six cases involving trucks, 10 cases involving residential buildings, two
cases involving markets, two cases involving schools, three cases involving government offices, one case each affecting a church and hotel respectively.
He added that, "the Commissioner of Police, CP John Abang is hereby urging "Ndi Anambra" and residents alike to endeavour and take preventive measures in order to avert or minimise cases of fire outbreaks ravaging the state."
He revealed that statistics by the command showed that the major causes of fire incidents in Anambra State are basically harmattan fire, electricity or power surge, careless handling of gas cookers, over-speeding by tanker drivers, overloading of trucks and potholes etc.
Abang cautioned the public against bush burning, reckless driving especially by trucks laden with inflammable substances, and overloading, which incessantly cause electric sparks when in contact with EEDC cables hovering across the highways.
As part of the preventive measures, he enjoined residents of Anambra State to always switch off all electronic appliances in their homes and various offices when not in use to avoid electric power surge.
Meanwhile, seeking a means of prevention, a philanthropist, Dr Obiora Okonkwo rather took Anambra State government to task over the incessant fire, insisting that the state government has a big role both in sensitising the people on ways of preventing fire and also tackling incidences of fire.
Okonkwo, who was recently at the Automobile Spare Parts market in Obosi, which was recently gutted by fire said: "
It is sad that one person died here. Human life is precious and very important. People should be safe and secure in their business place. That is what defines good society. An organised society must care for its citizens wherever they are. You people pay taxes, rates, and duties to the government which is good.
"Government uses that to work for the people. But I can't see the presence of government in this market. Government has not done anything here. I can't see it. I also observed that there are so many young men in this market working hard to earn their living. I have never seen a gathering of young men like this except in the stadium where they gather to watch football match. You people need special attention. You need special provision. We have a foundation called Pro-Value Foundation. We look into issues concerning the young people and their welfare."
Rendering his support, Okonkwo who is the founder of Pro-Value Humanity Foundation and a strong contender for the Anambra State governorship position said he plans to use his foundation to launch a massive sensitisation campaign in the state on ways to avoid fire outbreaks. On his donation, he said, "To be sure that the tempo of this rebuilding work is sustained, I will give you one trailer load of cement. You'll receive it between now and Monday."