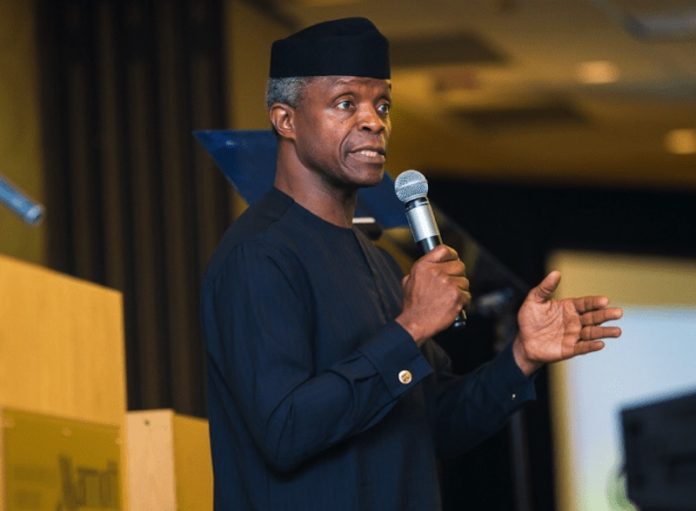 Seriki Adinoyi in Jos


The federal government yesterday expressed worry over the rate of population growth in the country, describing it as 'pretty high'.
It said between 1991 and 2006 when the last population census exercise was conducted, Nigeria's annual growth rate stood at 3.18 percent (NBS 2018), noting that at this annual growth rate, it is estimated that Nigeria's population in 2050 will be about 543 million.
The federal government added that the rising population has far reaching negative consequences on the country's socio-economic and infrastructural development if nothing is done to address the inherent challenges.
Vice President Yemi Osinbajo, who expressed the concern at the National Institute of Policy and Strategic Studies (NIPSS) in Jos while inaugurating the Senior Executive Course 42 of participants of the institute, however, added that the government was determined to tackle the challenge through the appropriate policy framework.
He said: "Clearly, this population size will be more of a burden than an asset unless there is an appropriate and commensurate growth in the economy to take care of it."
Osinbajo, who was represented at the occasion by the acting Head of Service of the Federation, Mrs. Folashade Yemi-Esan, pointed out that it was in order to address the problem that the federal government recently approved 'Population Growth and Human Capital Development, Challenges and Opportunities' as the focus of study for this year's Senior Executive Course 42 participants is to enable them articulate evidence-based and appropriate responses to the issues.
He charged the participants, saying: "The federal government has high expectations of the nominees of Senior Executive Course No.42, 2020, given the critical role of human capital development as a response mechanism to rapid population growth in our national economy.
"You should research carefully into this theme in order to proffer policy options that will enable the government to fashion out appropriate responses to the challenge of rapid population growth and slow pace of human capital development. A well-articulated human capital development can in itself be an effective antidote to exponential population growth.
"Specifically, the government expects that at the end of the course, you will provide solutions to such issues as the existing gaps in the institutional, legal and policy frameworks for human capital development and how these frameworks can be strengthened to make them more responsive to the challenges of population growth.
"You should also examine the experiences of other countries in managing high population growth and human capital development. As you progress in your research, you may notice additional issues, which will need to be interrogated in order to address and add value to the theme of the course," he said.
Director General of NIPSS, Prof. Habu Galadima, in his remark, said a total of 77 participants, comprising members of the Armed Forces, professional bodies and top civil servants among others, were selected for the 2020 SEC 42 after the president approved the list of the nominees.