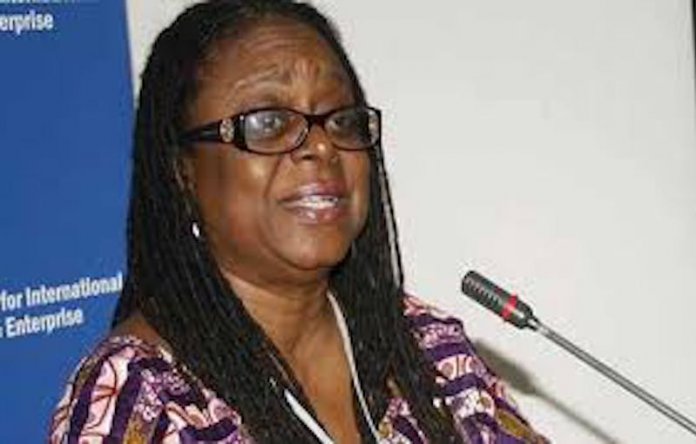 The newly elected President of the Lagos Chamber of Commerce and Industry, Mrs. Toki Mabogunje, in this interview, highlights her agenda for the Chamber. Dike Onwuamaeze brings the excerpts:
What are your major areas of priorities as you begin you term as the president of LCCI?
There are many areas, but I will just speak of one or two priority areas. One priority area is the cross border trading. And one of the big mandates of the LCCI, is the promotion of cross border trade. That being our area of focus we continue in our promotion of diplomatic relations. Just a few days ago I had diplomatic luncheon. We will continue to receive trade group here. We also have trade missions going out.
Our members belong to the different sectors of the business economy. So those fairs that attract the attention and the interest of our members we arrange for them to go out there. We will continue to engage government agencies and stakeholders wherever we feel that there may be hiccups or challenges for them. For example, the ETLS we all have been talking about, that is, the ECOWAS Trade Liberation Scheme, we engaged with them last year and will continue to engage with them. Our SMEs have complained that the process is a little complicated for them and we looking for ways to simplify it a little bit for them and in supporting them in getting those licenses.
That is part of it. At the federal level we are engaging the federal government about our preparedness for the African Continental Free Trade Area (AfCFTA) agreement. We engage with the export promotion council on issues that have to do with exports. Remember that the LCCI has membership that cut across all sizes of businesses, from the really big one to the small ones and our focus is on all of them as we cannot discriminate against any of them. Our vision is that whether you are big, medium or small enterprise the chamber is there for you and will engage in facilitating your growth. The entire objectives are two things: the growth of our businesses and the development of the Nigerian economy. These are the things that drive us.
How do you intend to engage with the Lagos state government in improving the business environment?
Lagos State has actually made big strides, though more could have been done. There can be much more private-public collaboration in terms of trade. As a chamber of commerce we actually have a strong relationship with Lagos State Government. We have a strong relationship with the Lagos State Ministry of Commerce. We tend to be consulted on several issues around trade and trade facilitation in Lagos state.
Our flagship annual activity which is the Lagos International Trade Fair is well supported by the government by their presence. They normally take a pavilion and bring their SMEs to the fair. We find them to be an open and listening government. The Secretary to the State Government was present at the diplomatic luncheon I mentioned earlier. There could be a lot more of that kind of collaboration: more dialogue, more discussions around the barriers that already exist for players in the market.
Traditionally, when a new president comes on board he actually visits the Lagos State's governor and the Speaker of the House of Assembly where we talk about laws that govern business and trade in the state. We also talk about other issues with the government on the business environment in the state. This is where we let them understand some of the issues that we are having. One of the challenges the state government is grappling with is the issue of being the former capital of the country.
So, there are many places where they have to collaborate with the federal government in other for things to move, especially on issues such as port congestion, which is one of our biggest issues right now. We have talked about it with both the state and the federal governments. It appears as if there is more collaboration between the Sanwo-Olu administration and the federal government. I saw in the news recently that there was a stakeholders meeting with those resident and doing business in Apapa who are getting together to see how they can help themselves. There is to be more around that.
What efforts are you making to promote the application of technology in driving business?
Lagos State has technology as one of its priority areas. I know that they want to turn Lagos into a smart city. We need to do a lot more dialoguing with them. We actually have a small fair that takes place every July called the ICTEL. The intention is actually to engage with stakeholders and to see how we can get outcome from that conference that we can take to the authorities and engage with them on how to enable technology to thrive in the business environment. Lagos is the commercial capital of the country and if we are talking about technology and trade and it is not happening in Lagos it means we are in trouble.
What are you doing to encourage more investments into Lagos?
With investment I think Lagos has the advantage of the first place of call. When people fly in they generally fly into Lagos. We are speaking with Lagos about more investments friendly policies. Lagos has some agencies already like the Lagos Free Trade Zone where issues like land where such industries will be located and all of that. We have another agency that deals with foreign investments, so what we do at the LCCI is to engage more with them. And whenever we have investment conference or forums we invite them so that we can carry them along to let them know the way the private sectors are thinking about these things.