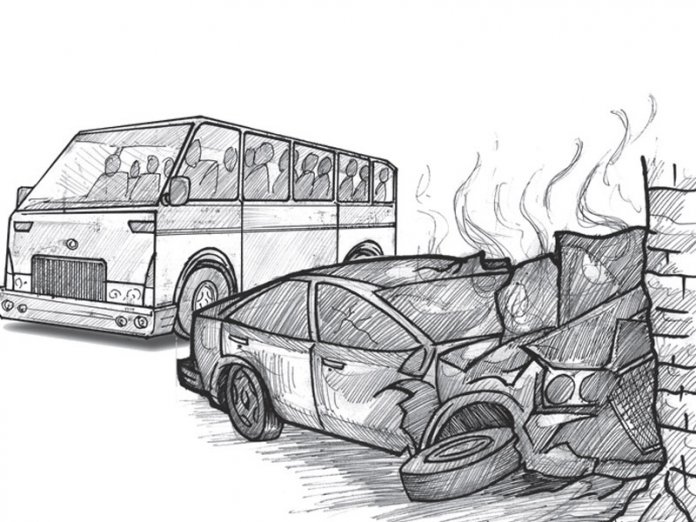 Olawale Ajimotokan in Abuja


Eight persons have died on the spot in separate motor accidents that occurred last Sunday night in three metropolia of the Federal Capital Territory (FCT).
The fatal accidents coincided with the referral of16 drivers by Federal Capital Territory Administration (FCTA) for psychiatric evaluation for violation of traffic regulations.
Seven persons were pronounced dead in one of the accidents in Kubwa on the Outer Northern expressway.
The accident involved a Bedford lorry (tipper) loaded with gravel, which crushed a Toyota Camry car, killing the driver and all six passengers.
The second accident occurred at Kugbo hill, some metres away from the Nyanya junction.
According to eyewitnesses' accounts, one life was lost after a vehicle that was descending the hill developed hydraulic failure, prompting it to plough into another trailer.
Due to the severity of the accidents, all the occupants of two affected vehicles had their legs amputated as rescue workers struggled to remove them from the wreckage.
The third accident happened in the Central Business District of Abuja.
According to the Chairman of FCT Task Force on Traffic, Ikharo Attah, the accident resulted from driving under the influence of alcohol.
Although no life was lost in the accident, three persons in one of the vehicles were treated in a hospital for severe head injuries.
The victims were said to be returning from a bar located in one of the open parks in the city last Sunday night before they had the accident.
According to eyewitnesses, different bottles of alcohol were found in the vehicles after the accident.
Meanwhile, the Director of Directorate of Road Traffic Service (DRTS), Wadata Bodinga, said 16 of the traffic offenders who were recommended for psychiatric test were among the 34 persons arrested for traffic violation and arraigned before the traffic mobile court.
Bodinga disclosed at a joint briefing with the acting Director Service Improvement, Dr. Jummai Ahmadu and Attah that fines ranging from N30,000 to N40,000 were imposed on the 34 offenders when they appeared before the mobile court yesterday.
He said the culprits committed offences varying from violation of traffic light to driving against traffic and resisting arrest by traffic inspectors.
According to Bodinga, "The operation was basically successful except some little challenges that had to do with the people that resisted arrest. We have only one case of someone who tried to run with our officer, and along the line, there was a minor road accident but fortunately for us, nobody got injured.
"The person has since been remanded at Kuje Prison because of his action-deliberate dangerous driving and intention to abduct our officer."