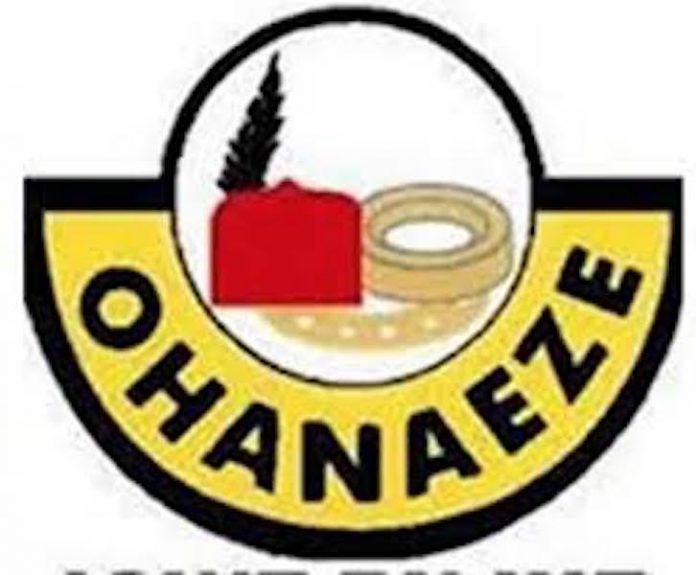 Amby Uneze in Owerri
Ohanaeze Youth Council (OYC) has described as ridiculous statement credited to the Secretary-General of Ohaneze Ndigbo (the parent body of Ohaneze Youth Council), Mr. Uche Okwukwu, for trying to drag the body into politics over his recent comment.
Okwukwu allegedly said: "A great number of states in Igbo land would be won by the All Progressives Congress (APC) before the 2023 general election."
This statement was made during a congratulatory message he sent to the new Imo State Governor, Hope Uzodinma, on his victory at the Supreme Court.
OYC in a statement signed by its National Publicity Secretary, Kalu Nwokoro Idika, said the body considered such statement as "irresponsible and does not in any way reflect the interest of Ndi-Igbo."
According to him, Ohaneze Youth Council is one indivisible and independent body led by Igboayaka .O. Igboayaka, and in no capacity does Mr. Uche Okwukwu represent or speak for the Igbo nation. In 1997, Ime Obi which is the supreme body for decision making in Igbo land formed the youth wing. Okwukwu didn't consult Ohaneze Youth Council despite knowing that the youths are strategic to the well-being of any nation.
"For clarity and posterity sake, Ohaneze Youth Council desire to use this veritable medium to warn Uche Okwukwu not to drag Ohaneze Ndigbo into any dirty partisan politics. The era when political manipulators take undue advantage of Ndigbo is far gone. No Igbo enclave will pitch tent with any political party but will only accept and work with any party that will solely articulate and address the myriad of problems stagnating the economic wellbeing of Ndigbo.
"After all, the eight years of Senator Rochas Okorocha as the governor of Imo State was a massive failure. Till date, we are yet to recover from the political mishap in the state. OYC is more interested in having credible and responsive leaders irrespective of the party they will come from. Political party affiliation means nothing to us.
"Ohaneze Youth Council wishes to make it bold to all and sundry that any political party that won't adopt her seven-point agenda won't see the light of the day in Igbo land. Concomitantly, any political leader from Igbo extraction that attempts to sabotage or continue to lick the anus of the caliphate surrogates at the expense of Ndigbo will be considered a saboteur," the body noted.
He maintained that the APC-led government in Nigeria has only brought untold hardship and death to Igbo land. It is unfortunate that the same Okwukwu who is hailing APC couldn't utter a word when over 200 innocent Igbo youths were massacred in Afaraukwu in Abia State during the infamous Operation Python Dance while thousands of Boko Haram members who killed and displaced millions of Nigerians are being pampered and compensated for the carnage they have committed, and keep committing in the country.
"The present APC-government in Nigeria is shamefully enmeshed in selective justice, marginalisation, tribalism and all manner of despicable acts," he said.