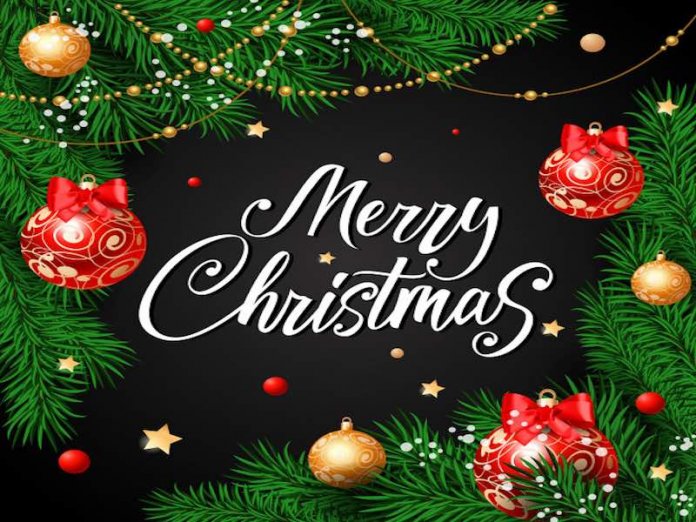 Xmas messages… Xmas messages…
Our Correspondents
The Christian Association of Nigeria (CAN) has expressed worry that many Nigerians will be observing this year's Christmas celebration in hardship and difficulties.
In his Christmas Message, the President, Rev. Samson 'Supo Ayokunle urged Nigerians not to despair but to have hope that things will certainly get better.
"Tough times never last but tough people do. God is aware of our pains and is doing something about it. Joy shall come in the morning for us in the name of Jesus," he said.
Ayokunle urged Christians to remember that the Lord is the source of everything good in your life and to give him praise.
He said that Christmas is a season of joy and happiness, when Christians celebrate the birth of Jesus Christ, "but things are pretty difficult people are experiencing lean times; untold hardship in many countries including Nigeria".
Niger Govt, PDP, Police Greet Christians
The Niger State Government, the state chapter of the Peoples Democratic Party (PDP) and the Niger State Police Command have felicitated with Christians on the celebration of this year's Christmas.
In separate statements, they urged Christian faithful to allow the spirit of the season to permeate their everyday life even after the festival.
The state government's statement was signed on behalf of Governor Abubakar Sani Bello by his Chief Press Secretary, Mary Noel Berje, that of the PDP by Alhaji Tanko Beji, the state Chairman, while Alhaji Adamu Usman, state Commissioner of Police signed for the Force.
Bello admonished Christians to celebrate the occasion by reflecting on the true essence of life and creation generally.
Beji in the PDP's felicitation message said the party would continue to strive "to remain the best option for Nigerlites in terms of giving the people the good of democratic experience."
Beji prayed for better life and prosperity for Nigerlites but took a swipe at the ruling APC in the state for what he described as "the wide spread poverty, insecurity and economic debauchery".
On his part, the state police commissioner, Alhaji Adamu Usman, urged Christians and the people of the state to celebrate with moderation and be very security conscious.
Tinubu Calls for Peace, Truth, Kindness in Nigeria
As Christians in Nigeria join their counterpart all over the world to celebrate Christmas, National Leader of the All Progressives Congress (APC), Bola Ahmed Tinubu, has said while celebrating this holy day, whether Christian or of another faith, must also devote this time to reflect on the lessons of peace, truth, kindness and compassion that described the life and teachings of Jesus Christ.
He said Jesus Christ taught that people came into existence to live for a purpose greater than themselves.
Tinubu in a statement by his media office, said the season is an opportunity for everybody to be thankful for God's blessings in their lives and to ask for His help that the light of progress and good may forever shine upon, and sustain, their precious nation.
"As we mark this day, let us do so in a way that comports with the spirit of Jesus. Our economy is growing and distributing prosperity and a good livelihood to many. Yet, among us are also those in want. Our nation is strengthening making communities more secure. Yet, among us are those still weak and put upon. Our nation is reforming in ways that give new opportunities to our people. Yet, among us are still those who have been forgotten and feel left behind."
Ekweremadu Preaches Peace, Love
Former Deputy Senate President, Senator Ike Ekwremadu, has called on Nigerians to pursue peace and show love in order to move the nation forward.
Ekweremadu who made the call in his goodwill message to the Christian faithful at Christmas called for the revival of the values of love and unity in order to move the nation forward.
"The core message of Christmas is love as demonstrated by God, who gave His only begotten son, Jesus Christ, to be born as man for our salvation. This season is therefore a call to show unconditional love, for we cannot claim to love God if we do not show love to our fellow men created in the image and likeness of God."
Lessen Hardship on Nigerians, APGA Tells FG
The National Chairman of the All Progressives Grand Alliance (APGA), Chief Victor Oye, has urged the federal government to ensure that it focuses on policies that will alleviate poverty in 2020 to ease the current hardship Nigerians are facing.
He said that this year's celebration is coming at a very critical time in our nation's history.
In his Christmas message to Nigerians, Oye said despite the social, economic and political challenges facing our nation, there is still every reason to be grateful to God, at least, for keeping us alive and united to face these challenges.
He expressed the hope that the coming year will be fruitful, peaceful and progressive for Nigerians adding that the efforts made in the past five years to take Nigeria to the 'next level' will begin to bear fruits.
"We urge the federal government to factor the sufferings of the people into whatever programmes it plans for 2020 as anything outside of this will increase their hardship.
"The federal government owes the people of Nigeria adequate security; more amenities such as steady electricity, potable water, and medicare; more food; quality education; and general atmosphere of peace and tranquility," he said.
ACF, PDP BoT Chair, Felicitate with Nigerians
The Arewa Consultative Forum (ACF) and the Chairman, Board of Trustees (BoT) of the Peoples Democratic Party (PDP), Senator Jibrin Walid, have facilitated with Nigerians at Christmas.
In their separate Christmas messages yesterday in Kaduna, they called on Christians and Muslims to live in peace noting that Christianity and Islam share a lot in common.
The PDP BoT Chairman in his message, said Christianity and Islam share a lot in common.
He called on adherents of the two religions to focus on things that unite them, saying that Muslims too believe in the birth of Jesus.
"If Muslims believe how Jesus was born, then there should be peaceful coexistence by Christians and Muslims.
"Christians and Muslims must unite because what unite us is more than that what divide us. We must continue to live in peace," he said.
On its parts, the ACF in a statement by its National Publicity Secretary, Muhammad Ibrahim, called on all Nigerians to embrace the teachings of Jesus Christ namely, tolerance, love, good neighborliness and peaceful coexistence.
"In the spirit of the seasons, ACF hereby appeals to all Nigerians to embrace the teachings of Jesus Christ namely, tolerance, love, good neighborliness and peaceful coexistence that comes with core value of humanity," the statement said.
Minimum Wage: NLC Threatens to Visit Non-compliant States with New Year Gift
The leadership of the Nigeria Labour Congress (NLC) has said that it will not hesitate to take measures against any state government that fails meet its December 31 deadline on conclusion of negotiations on the minimum wage consequential adjustment.
In a goodwill message sent Nigerians to mark this years Christmas celebration, NLC President, Ayuba Wabba, said that the organised labour has already demanded that states which are still negotiating with labour and those yet to set up their negotiating councils must conclude negotiations before the end of December 2019.
He said: " We have already demanded that states which are still negotiating with labour and those yet to set up their negotiating councils must conclude negotiations before the end of December 2019 or we will send them a not too friendly New Year gift".
Wabba said that NLC will continue to work hard to ensure that workers and pensioners recoup a measure of the joy that they invest in others.
House Minority Leader Urges Nigerians to Eschew Divisive Tendencies
The Minority Leader of the House of Representatives, Hon. Ndudi Elumelu has urged Nigerians to use the occasion of Christmas to rekindle their love and also eschew all divisive tendencies
Elumelu in his Christmas message also admonished Nigerians to use the yuletide season to forgive one another and rededicate themselves to acts that bring peace, unite and bind us together as a nation.
He noted that Christmas underlines the infinite love and generosity of the Almighty God, which he demonstrated in the gift of his precious son, Jesus Christ, as a sacrifice to bring salvation to humanity.
He equally assured Nigerians of the commitment of the Minority Caucus of House of Representatives in protecting their interest at all times.
Share with the Needy, Glo Charges Nigerians at Christmas
As the world marks Christmas in commemoration of the birth of Jesus Christ, telecommunications firm, Globacom, has charged Nigerians to show love to one another and to be liberal during the Yuletide by sharing their material possessions with the needy.
In a goodwill message issued in Lagos, the company encouraged Christians to be mindful of the real essence of Christmas, saying that sharing is a cardinal principle of Christianity as exemplified by the teaching of Jesus Christ.
"As we celebrate Christmas, let us prepare for the second coming of Christ in our acts and deeds and in caring for our loved ones and neighbours. We should always remember that the advent of Christ is near," the company stressed.
PDP Urges Unity at Christmas, Tasks Leaders on Selflessness
The Peoples Democratic Party (PDP) yesterday saluted Nigerians on the occasion of this year's Christmas and Yuletide celebrations, urging them to use the period to rededicate themselves to exhibiting the virtues of love, forgiveness and selfless service to others and the nation at large. The party said in statement by the National Publicity Secretary, Kola Ologbondiyan said though many Nigerians are hurting and are not able to celebrate Christmas and yuletide the way they use to do in the past due to the biting economic hardship of the last five years, they must keep hope alive by being one another's keeper, particularly at a time like this.
The party said, "Our party is deeply disturbed that most Nigerians are celebrating the season under serious economic stress; many did not travel to celebrate with their loved ones because of pervading economic deprivations, insecurity and sorry state of our highways; many have become despondent, they have lost confidence in those who manage the affairs of our nation at the center and it appears that there is no hope in sight".
Imbibe Virtues of Jesus Christ, APC Urges Nigerians
The All Progressives Congress (APC) has urged Christians and all Nigerians to imbibe the positive lessons of the birth of Jesus Christ to rededicate themselves for the greatness of Nigeria.
The National Publicity Secretary of the party, Mallam Lanre Issa-Onilu, in a statement yesterday said that the special day is as momentous as it is significant. According to him, "While we celebrate with our family and loved ones, all Nigerians must fully appreciate the need to redouble our efforts in the quest to ensure the peace, progress, stability and economic prosperity of our great country. "Achieving these noble objectives would only be realised if exemplary virtues such as peaceful disposition, sacrifice and tolerance, which Jesus Christ's life embodied, are practised in our day to day life."
Ugwuanyi Prays for Sustained Peace, Unity, Progress
As Christians commemorate the birth of Jesus Christ, Governor Ifeanyi Ugwuanyi of Enugu State, has called on Nigerians to take advantage of the religious event to offer special prayers for sustained peace, unity and progress of the country.
Ugwuanyi, in a message, felicitated with his fellow Christian faithful, wishing 'Ndi Enugu' and indeed all Nigerians Merry Christmas and a prosperous New Year.
The governor noted that the festive season offers yet another opportunity for the people to promote peace, good virtues, love and unity as well as dedicate their lives to the service of God.
He, therefore, thanked Ndi Enugu for their love, unceasing prayers, goodwill, solidarity and support, reassuring them of his firm resolve to sustain the tempo of peace and good governance in the state as well as continue to serve them with the fear of God.
Fayemi Greets Christians at Christmas
The Governor of Ekiti State, Dr. Kayode Fayemi, has congratulated Christians in the state and the country in general for witnessing another Christmas. He urged them to continue to live by example in matters relating to love, goodwill and peace.
Fayemi, in a Christmas message signed by his Chief Press Secretary, Mr. Yinka Oyebode, also called for the celebration of the essence of Christmas through practical demonstration of love and peaceful co-existence with one another.
The governor said the commemoration of the birth of Jesus Christ calls for joy and felicitations among the people of God, urging Nigerians to make out time to make rejoice and celebrate with family and friends and renew themselves in the light of peace and joy that Christmas represents. He urged Nigerians irrespective of their religious beliefs to open their hearts with love in relation to one another, celebrate and pray for the unity and progress of the country as well as a better tomorrow.