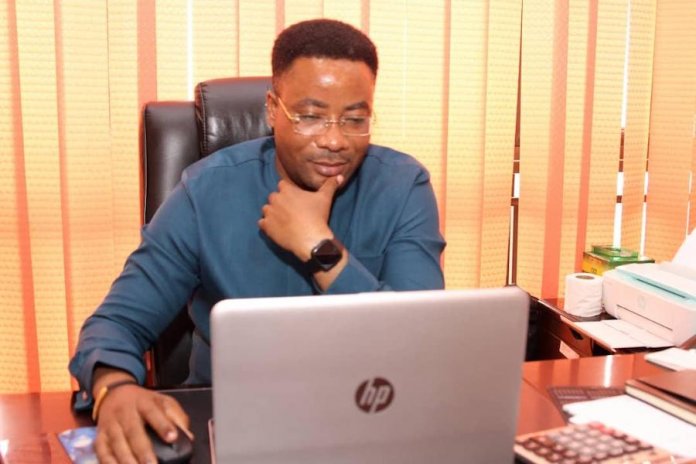 The Managing Partner, Advanced Concrete Technologies, Mr. Collins Balogun, whose company is a provider of construction chemical solution, concrete accessories and comprehensive waterproof system, in this interview, speaks on the importance of manufacturing to the economy. Nume Ekeghe presents excerpts:
May we meet you?
My name is Collins Balogun. I turned 40 on October 15, 2019. I am a Nigerian, father of three and an entrepreneur.
Briefly tell us about your professional background.
I am a concrete technologist by training, I started my career in the year 2000. I worked with UACN for about 10 years and in 2012, my partner and I started our company, the Colton Group. As a founding partner, I provide strategic direction. 
How was growing up in Nigeria. Any challenges?
Well as an individual, I grew up in a family of six. Growing up was very interesting, except for the usual Nigerian challenges – no electricity, no good roads and no water. Growing up was interesting.
You mentioned how you started your business earlier, tell us more about it.
We started our company Colton Group around 2012/2013. Under the group, we have Advanced Concrete Technologies, Colton construction, Colton industries, and Costar building products. The manufacturing aspect of our business is the Colton industry that sees the production of building chemicals. We have a foreign, strategic technical partnership and our production outfit can cater for the whole of West Africa today.
At the time we started, we saw a need in our sector. We discovered that a lot of people worried about building collapse, water infiltration into their buildings and there was a clear gap between the solution and people's yearnings. So, we quickly took the opportunity. We came in as an applicator and started by fixing leakages. We worked closely with construction companies, builders and others and our job was to waterproof buildings and take water out. 
The first two years were very challenging because the technology was strange. Then, they were like how did you do this? You are going to take water out of my house, and you are going to waterproof it? What is waterproof? 
You know, people knew it back in the days as felting, but our technology was different because it is all-encompassing from above the grade to below the grade, providing comprehensive solution. 
The growth was rapid. They knew us in the industry, and we were doing good. But we had cycles of growth. Over the years, we got to the peak of it and we started importation. We started bringing in those materials and we use them, and it was also successful. 
From that point, we migrated to being distributors to one of the largest brands in the world and we not only started importing for ourselves but also for other construction companies and selling to people. It was a huge success and from that stage of growth, we metamorphosed into manufacturing of construction chemicals. Presently, we have one of the biggest, if not the biggest, construction chemical production outfit in West Africa.
Can you tell us some of the challenges you have faced in business and how you overcame it?
Well, ours is peculiar because we are one of the pioneers and the pathfinders. So, in creating roads for others, the challenges were enormous, but God helped us. We are still having challenges but with God, we are overcoming them. 
Some of the major challenges we face, I would say, is the challenge of importation, double taxations. And in our career, the biggest challenge that comes to mind happened in 2016. At that time, we lost more than 70% of our capital as a result of dollar fluctuation.  
It was a breaking point because we get goods from our foreign partners and at the point of shipping, we pay 30% and after 90 days we pay 70%. When they invoiced us, the dollar was N170 to $1 and when the proforma matured, the dollar became N520/$1. So, it became a serious problem.
We had two options then – either to shut down and move to Canada just as some of our friends did or to remain here. A whole lot of our friends closed their shops and said: "Let me take my family to Canada" but we decided to stay. 
We had to start all over again but there is an adage that says whatever does not kill you makes you stronger. We had thick skin because of that experience in 2016, and we became more experienced and careful and today we thank God for where we are.
You just clocked 40, have you ever been told or felt you're too young for the successes you have achieved? 
I have had instances like that. In our industry, there is a whole lot of assumptions like "you are too young for this brand". Who are these young persons and all of that? But we believe that it is not about age, it is about determination, vision, passion, what you have in mind. 
From the beginning, we have believed that age is not a determining factor for us. We want to shine the light of Africa to the world; we want to tell people that from Nigeria and from this part of Africa, you can have the most quality affordable products. Not just servicing Nigeria and the ECOWAS corridor as we presently do but servicing the whole world. For us, age is not just it and for those that have this perception I think it is changing now.
Many young Nigerians are embracing more flamboyant sectors like media, technology, travel and more, why the choice of manufacturing? 
It wasn't about us, but the statement we wanted to make. Our industry is heavily dominated by foreigners. I can say we are the only locals playing in this industry. Others are Germans, Americans and Indians, but manufacturing is the main pathway for economic growth. 
Every other industry is fantastic but the first path to economic sustainability is manufacturing. If you do not manufacture or produce, every other secondary industry as I choose to classify them cannot be in existence. The media you are talking about, for instance, if a camera is not manufactured, there would not be media. 
And when you look at it for the so-called world powers, what are they using to rule the world? It is manufacturing. They have got the technology; they have got the manufacturers. 
Look at China today. Why are they a world power? It is not just because of the media or the technology. It is because they have the manufacturing capacity. They are not just manufacturing goods; they are manufacturing machinery that would be used to manufacture goods.
The ERGP of President Buhari talks about agriculture. Agriculture is fantastic, especially when you look at the hierarchy of human needs. But after that, it should be manufacturing. When manufacturing is encouraged, the economy grows faster. 
How did you meet your partner?
My partner, Anthony Ajulo and I have been childhood friends.  You see, our parents are family friends and fortunately, we have been together since childhood. We are business partners not just because we are childhood friends, but because we also have an aligned personality. In my area of weakness, he is very strong and in his area of weakness, I am very strong. We complement each other and our visions and philosophy for life align as well.
Would you like to tell us your academic qualifications?
Yes, I had my first degree in Accounting. I am a trained and certified concrete technologist, as I had my training in Dortmund, Germany. I had my internship in the US, where I became a member of American Concrete Repair Association and a member of the ACIS.
What do you say to young Nigerians as Nigeria seeing as Nigeria just celebrated 59 years anniversary?
Yes, to Nigerian youths, the message is very simple. if you do not like what you see, change it. The future belongs to us and the earlier we start doing something about it, the better. If you do not like the dirt in your environment, pick a broom and sweep. Nobody is going to do it for you. 
You are also a pastor. How do you balance business and religion in a country where there is a growing distrust for religious leaders?
Thank you! There is a place for reality and there is a place for spirituality. The ability to know the balance is very key in this part of the world. You do not spiritualize things that are practical, and you do not practicalize things that are spiritual.
For instance, there is no amount of prayer you would pray that will change your government. This is because, if you do not take your future, your destiny into your own hands and do something; and you are praying, it is just a wish. When you look at other nations who do not even know God, they have things working for them. That is where you would know that prayer is not everything.