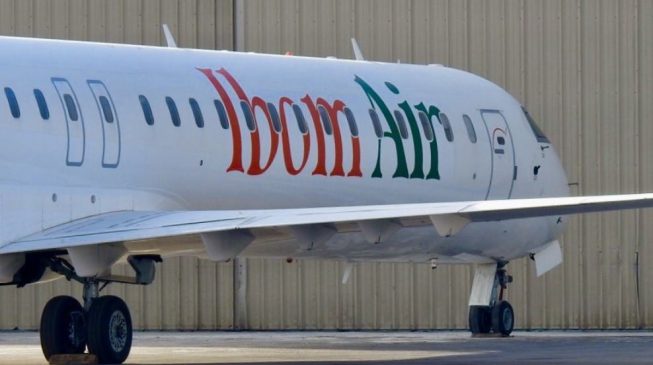 Chinedu Eze
Three months after Ibom Air started operation, the airline has reported that it has airlifted 50,000 passengers.
The Akwa Ibom state owned airline, which started service in June currently operates between Lagos to Uyo and Uyo to Abuja, but hopes to add more routes in no distant time.
By recording the aforementioned number of passengers in few months, it indicated that the airline, which operates three Bombardier CRJ 900 aircraft, commands high load factor in its operations.
"On Tuesday 10th September 2019, exactly three months and a day since we began commercial flight operations, Ibom Air carried our 50,000th passenger. And what a pleasant surprise it was when at the 'count up' during the boarding of flight Z4100 from Uyo to Lagos, passenger number 50,000 turned out to be first time Ibom Air traveler, Ms Ruth Nsaka.
"Nsaka was 'ambushed' by an excited team of Ibom Air Executives led by Chief Operating Officer Mr George Uriesi. She was handed a '50,000th Passenger Certificate', which entitles her to a free return ticket on any of Ibom Air's routes. She was also upgraded to our Premium Economy cabin for her flight and treated with lots of Ibom Air goodies," the management of the airline said in a statement.
Completely surprised by the gesture, Nsaka said, "I can't believe this. This is my first flight on Ibom Air. I have heard so much about the airline and it's services and looked forward to this first experience. And now this! I'm calling my Mom".
Nsaka called her Mom who spoke to the crew at the end of the flight and thanked them for the recognition of her daughter.
On his part, Ibom Air Chief Operating Officer, Mr George Uriesi said, "This is one of the ways in which Ibom Air will be giving back to our customers and the communities in which we operate.
"We are excited to carry our 50,000th passenger within three months of operations and heartily congratulate Ms Nsaka for being 'the one'! We are thankful for the support of our passengers and thoroughly excited about the future".
The success of Ibom Air has elated the Akwa Ibom government, which said that it would use its new airline, as vehicle to promote and grow tourism in the state.
This was disclosed by the state Commissioner of Information, Charles Udoh, who said the state has tourism potential by its location, culture and development.
Udoh, said the plan would be galvanised, stressing that creating the needed synergy to develop the tourism potential of the state would be easily achieved.
Udoh, acknowledged that by her geographical location, Akwa Ibom State was an end point, which must attract visitors, as people rarely pass in transit.
Explaining that tourism flies on the wings of aviation, the Commissioner said, "The rising economic and tourism strength of Ethiopia, UAE, etc were driven largely by their airlines, which have massive government interest.
"Ibom Air hopes to extend its efficient service by operating to more destinations and it is expected that it would soon start operating the lucrative Lagos-Abuja route."