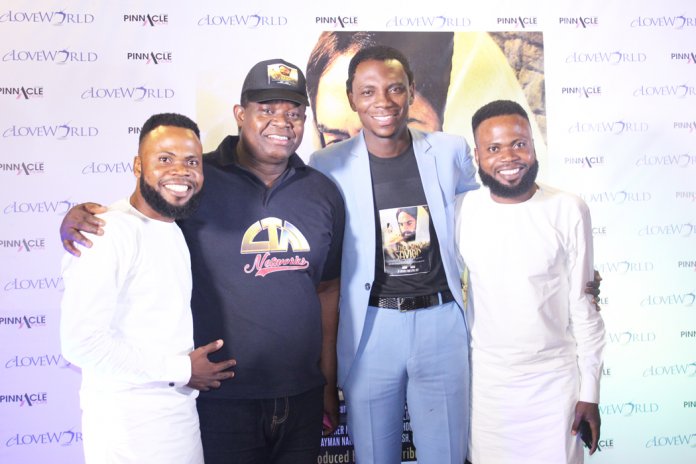 By Chinedu  Ibeabuchi
New faith-based movie, The Savior, will be in cinemas nationwide, starting Good Friday, April 19.
The Savior ignites the spirit of Easter, just as good old days, when Jesus' movies set an ambience to relish the season. The movie is coming on the heels of renewed interest by film lovers in faith-based genre which is fast making a return to cinemas after years of absence.
The movie takes its audience on a journey into the earthly ministry of the Lord Jesus, from the Nativity to His growing years and His baptism to His three- year ministry in Israel. Viewers will also experience the chills of His gruesome execution, and be inspired by His glorious resurrection.
A Cloveworld Production in collaboration with Loveworld Television Ministry, the movie boasts of high visual effects and stellar cast performance, thus bringing fascinating touch to a bible story. Although the drama is relatable being a biblical story, its setting and plot create a vivid picture in the minds of its audience as though they were physically present in that age. 
The Savior is one movie you won't want to miss. Like other Hollywood Jesus' movies with remarkable box office returns, The Savior is bound to give cinema visitors a run for their money.
Speaking about his expectations after the premiere of the epic drama at Silverbird Cinemas Ikeja to an array of celebrities and movie enthusiasts, EliJ, a gospel artiste said: "I am touched by the movie. There are different versions of Jesus movies over the years but there is something unique about this. It was like a story telling movie well connected from the beginning to the end. It's a movie for all ages."
On why Cloveworld Production in collaboration with Loveworld Television Ministry chose to embark on this project, Pastor Sunday Akebor, project manager for the movie said, "When I saw the trailer of the movie, I knew that it is a movie for this time because it is different from the ones we have known about the life, ministry, death, resurrection and ascension of Jesus Christ.  In the Savior, you can easily relate what the bible was trying to describe about Jesus. It gives you a vivid mental notation of biblical narration. It's very captivating and a must watch for all movie lovers."