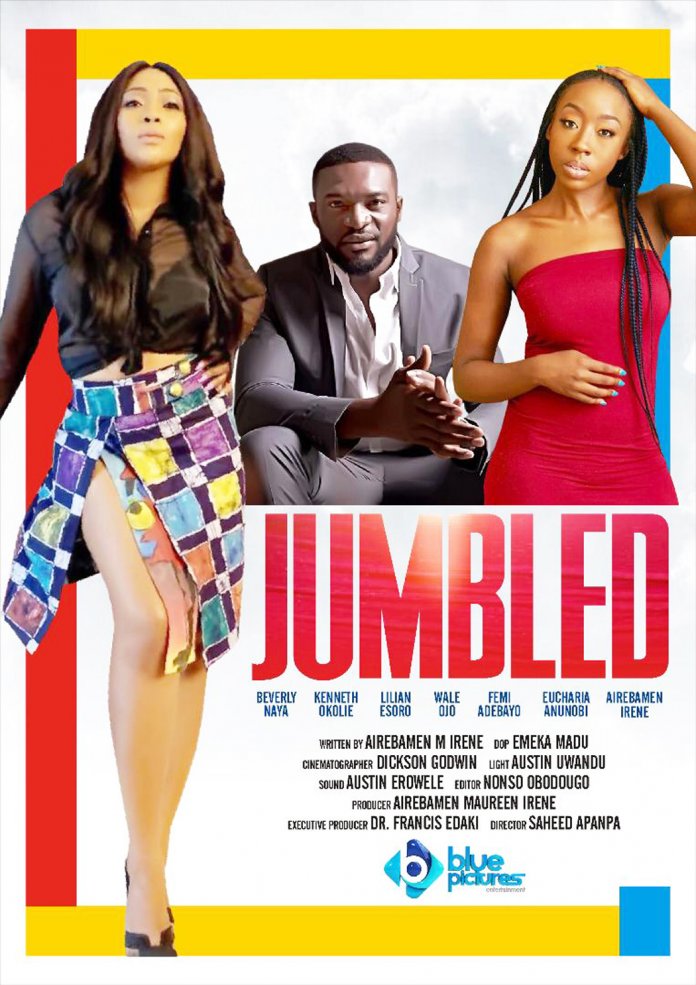 From the working title, Entangled, to the released name Jumbled, Bami Gregs' debut movie pushes a number of sensitive issues. Ferdinand Ekechukwu reports
"I  couldn't have asked for a better cast for the movie 'Entangled'. That was scriptwriter, actress and debutant movie producer Airebamen Maureen Irene, well known as Bami Gregs within the Nollywood circuit. An elated Bami Gregs would further state, post production that, "I have a blend of the old and the new Nollywood. I also have a very popular Yoruba actor on board which I am very excited about. My cast is also a blend of ethnicities."
True to her, and to her crew at the private screening of the movie on Tuesday April 11, it was quite a pleasure having the guests sit-tight as the new film which is now showing at the cinemas premiered to the delight of her guests with the title 'Jumbled'. On the movie and the name change, Irene explains. "The movie was formerly named Entangled but we later changed it to Jumbled early this year because we found out a 2018 movie had the same title. So, when you see a movie poster with the same storyline and actors titled Entangled, do not be confused."
Shot in Lagos, the movie stars veteran actress Eucharia Anunobi, Wale Ojo, Femi Adebayo, Beverly Naya, Kenneth Okoli, Emem Ufot, Lillian Esoro and a host of other sterling actors whom the producer describes as purposeful cast. "The cast was very intentional because I took my time to pick out actors including myself that could thoroughly interpret each role. The director of the movie Saheed Apanpa said the movie which is a reflection of a true life story causes viewers to return true finesse and adequate values."
Packed full of hilarious scenes with a mix of romance and action, Jumbled tells the story of Adaeze (Lillian Esoro) who in her early 30s faces heart breaks until she finally meets the supposedly perfect man Dami (Kenneth Okolie) only to find out that he's just the worst of them all. Jumbled is a suspense-packed movie that takes viewers on a very intriguing and emotional journey. The film drives a number of sensitive issues including marital trouble, sickle cell anemia, and betrayal.
A rebound lover in the movie, Lillian Esoro, who in real life has faced marital challenge, shares her take away from the movie as it appears real. "Oh yes very real. Because, I mean like I said in the movie, is relatable to everyone. It's something that we all go through every other day and we tend to sweep a lot of these things under the rug which I think we need to start pinpointing out because you can't use your hurts in previous relationship to get into a new one you have to heal first.
"You heal yourself before you go into another relationship if not you carry the same hurt into that relationship. And the person gets the burnt. So, I think its best you fix yourself first before you go and try to fix someone else." For the first time filmmaker Bami Gregs, who scripted and also acted in the movie, explains how long it took her to come up with the work. "It took me over two years to write the story, because I wanted something different, I didn't want the regular Nigerian home movie. I wanted something different, something intriguing, something with suspense even though it is a drama that people would be eager to know what happens next."
Bami Gregs who cut her teeth producing talk shows explains her experience. "I have done talk shows to be honest. I have done series of talk shows on Mnet in terms of production basically. So this is my first proper movie that I produced and for the cinemas. Moving from TV to the big screen was God's grace because I actually wanted to do a TV production but the people around me especially my executive producer encouraged me to go bigger instead of smaller. And he's like 'no let's do it big you know even in terms of the promotion and marketing you have seen the trailers out there we are not doing it small.
"And like I would say also it was natural. Looking at it my mind was a bit scared but as I went through all the phases it was opening up to me easily. It wasn't too much of a problem. It was natural it was easy because I had a lot of help coming in from different directions. My director was helpful, my actors was very easy to work with I didn't have problem with any of them. And then I had a lot of mentors that I was looking up to that helped me like Mike Ezuronye. Also Eucharia Anunobi was helpful to me same with Femi Adebayo, so I had a lot of hands on."
At the occasion of the movie premiere, Eucharia Anunobi dispelled rumours that she's on a long acting sabbatical. The actress with over a hundred titles to her name in over 21 years of acting insists she has never been away from acting as widely reported. "I never went out of the industry and I have never stopped working. In almost 21 years, there has never been a year, if you check the records, that I stopped working. I mean once in a while you realise that we may not work the ones too famous but then you should also realise that a lot of the movies that are been shot these days are only released via cinemas.
"So, if you don't see the posters in the market, it doesn't mean the actors are not working; if you don't see the CDs, it doesn't mean the actors are not working, because a lot of people are putting their movies in cinema. So I never stopped working. I'm working and I'm not going anywhere . . . until I'm very old, 120, I will be acting."